Due to the coronavirus MVAC's 2020, 2021 and 2022 Annual Awards and fall lectures were cancelled. We look forward to future lectures and again having the opportunity to recognize individuals and organizations for their outstanding support of MVAC and archaeology.
Awards
2022 Support and Volunteer Recognition
The following friends have provided donations, in-kind donations, and volunteer services.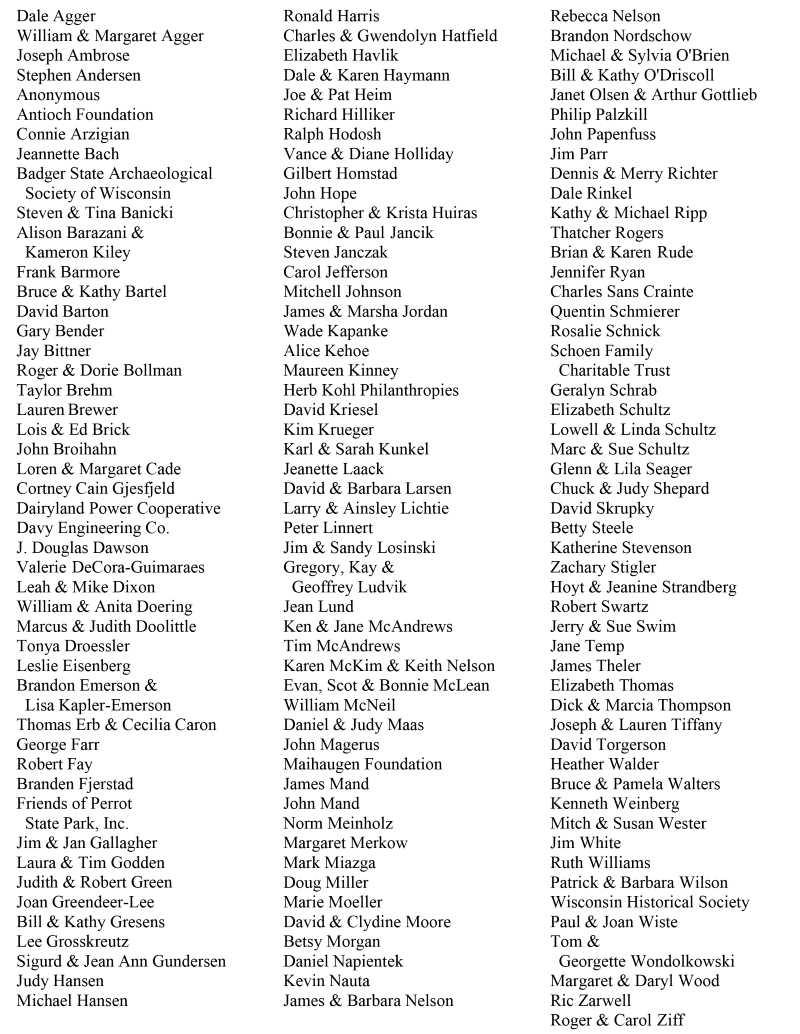 2022 donor list
Past Award Recipients
| | |
| --- | --- |
| Year | James P. Gallagher Award in Archaeology Excellence |
| 2019 | Dave and Barb Skogen |
| 2019 | Marvin Wanders, 360 Real Estate Solutions |
| 2018 | Wisconsin Valley Improvement Company |
| 2017 | Dr. Thomas C. Pleger |
| 2016 | Gundersen Health System |
| 2015 | City of Onalaska |
| 2014 | Ruthann Benson |
| 2013 | Joseph A. Tiffany |
| 2012 | A-1 Excavating, Inc. |
| 2011 | Constance M. Arzigian |
| 2010 | Prairie Sand & Gravel, Inc. |
| 2009 | James L. Theler |
| 2008 | Carole McGinley Edland |
| 2007 | Katherine Stevenson |
| 2006 | Kathleen Brosius |
| 2005 | William "Bill" Gresens |
| 2004 | John Magerus |
| 2003 | Elmwood Partners |
| 2002 | James P. Gallagher |
| 2001 | Susan Motschman |
| 2000 | Robert Thorud |
| 1999 | Richard Hilliker |
| 1998 | Dr. Adolf Gunderson |
| 1997 | Robert "Ernie" Boszhardt |
| 1996 | Frank Linder |
| 1995 | Jim Terman |
| 1994 | University of Wisconsin – La Crosse Sociology/Archaeology Department |
| 1993 | Wisconsin River Power Company |
| 1992 | Wisconsin Valley Improvement Company |
| 1991 | Gunderson Clinic |
| 1990 | United Fund for the Arts and Humanities |
| 1989 | Charles D. Gelatt |
| 1988 | Charles F. Mathy |
| 1987 | University of Wisconsin – La Crosse Foundation |
| | |
| --- | --- |
| Year | Regional Archaeology Award |
| 2019 | Hoyt and Jeanine Strandberg |
| 2016 | Suzanne Harris |
| 2015 | Gene and Jeanne Hynek |
| 2014 | Jay Bittner |
| 2013 | Robert "Bob" Halseth |
| 2012 | Dan and Judy Maas |
| 2011 | Mississippi Valley Conservancy |
| 2010 | Todd and Andrea Trocinski Family |
| 2009 | Robert Keiper |
| 2008 | John Ebersold |
| 2007 | James Losinski |
| 2006 | Fort Crawford Museum |
| 2005 | Mauston Panther Spirit Mound Project |
| 2004 | Steve Allen |
| 2003 | Todd Murphy |
| 2002 | Dan Wendt |
| 2001 | Bill Schneller |
| 2000 | Daniel Arnold |
| 1999 | Craig Malven |
| 1998 | Al Reed |
| 1997 | Jeff Woodward |
| 1996 | Todd Reichert |
| 1995 | LeVern DeVries |
| 1994 | Loren Cade |
| 1993 | Betty Steele |
| 1992 | Harland Stone |
| 1991 | William "Bill" Gresens |
| 1990 | Paul Wiste |
| 1989 | Gary Steele |
| 1988 | Tim Blumentritt |
| 1987 | Steven Raith |
| | |
| --- | --- |
| Year | Archaeology Education Award |
| 2019 | Summit Environmental School, La Crosse School District |
| 2016 | Jack Larson |
| 2015 | Marilyn Burkhart |
| 2014 | Norskedalen Nature and Heritage Center |
| 2013 | Loren and Margaret Cade |
| 2012 | Robert and Gretchen Chalsma |
| 2011 | John Morris |
| 2010 | William "Bill" Gresens |
| 2009 | Robert "Ernie" Boszhardt |
| 2008 | James L. Theler |
| 2007 | Effigy Mounds National Monument |
| 2006 | Jim and Donna Rankin |
| 2004 | Susan Motschman |
| 2003 | LeVern DeVries |
| 2002 | James P. Gallagher |
| 2001 | Greg Walsko |
| 2000 | School on the River, Longfellow Middle School, La Crosse, Wisconsin |
| 1999 | Carol Ziff |
| 1998 | Onalaska Middle School – 6th Grade Teachers |
| 1997 | Betty Hembd-Steele |
| 1996 | City of La Crosse Park and Recreation Department |
| 1995 | La Crosse North Woods Elementary School |
| 1994 | Marilyn Van Wyk |
| 1993 | Cooperative Educational Service Agency District #4 |
| 1992 | La Crosse School District |
Year

Special Awards

2019
Special Recognition: Chuck Thompson
2019
Special Recognition: Marcee Peplinski
2018
Special Recognition: Cathy Wendt
2016
Special Recognition: McHugh Excavating
2013
Distinguished Service Award: George Garvin
2007
Distinguished Service Award: Dairyland Power Cooperative
2006
Common Ground Award: Chloris Lowe
2005
Common Ground Award: Jay Toth
2004
Distinguished Service Award: John and Otto Swennes
2003
Distinguished Service Award: Jason Gilman
2001
Common Ground Award: Ho Chunk Historic Preservation Office
Distinguished Service Award: City of La Crosse
1999
Special Award: Connie Arzigian
Distinguished Service Awards: Timme, Inc., and Mead and Hunt, Inc.
1998
Common Ground Award: Merlin Red Cloud Jr.
Distinguished Service Awards: Dean Wilder and Paul Stoelting
1997
Salute: Jim Gallagher
1995
Salute: William "Bill" Gresens
1994
Salute: Jim Theler