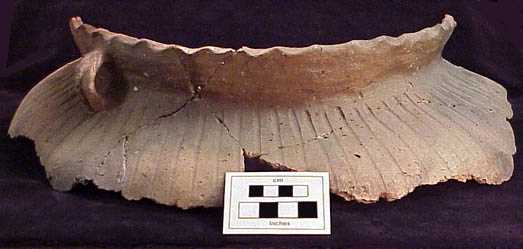 Pottery The human story of western Wisconsin spans 12,000 years, from the first Native Americans to today's diverse rural and urban populations. Over the past one hundred years, archaeologists have recorded and investigated thousands of sites left by western Wisconsin's earlier inhabitants. Through the study of these sites and their accompanying artifacts archaeologists are working to reconstruct the unique and changing lifeways of the region's early inhabitants. Visit the links shown below to learn what archaeologists have discovered about how these early inhabitants lived in the region we now call western Wisconsin.
The Point Guide will help you learn how archaeologists identify projectile points. Information about preserving cultural resources can be found in the Stewardship section. Artifacts presents some of MVAC's artifacts.
Oneota Pottery provides an introduction to changes in Oneota pottery designs.
The Pre-European People section provides an overview of Wisconsin's first inhabitants.
The Process of Archaeology section provides information about the archaeological process.
The Specific Sites Section allows you to explore some of the sites that the Mississippi Valley Archaeology Center has investigated. These sites represent just a few of the many sites MVAC has worked on since its beginning in 1982. There is a major section on rock art. Investigations at Trempealeau in the 1920 and 1990's are discussed. Descriptions of projects involving the public include La Crosse County, Sand Lake Archaeological District, and Second Ft. Crawford. Additional pages provide an overview of Silver Mound and MVAC's work at Valley View and Seventh Street. Site Snippets provides brief information about some of the area's interesting sites.
The Native Knowledge section provides information about connections between the archaeological records and historic and contemporary Native People. Native Voices section contains excerpts from interviews with Ho Chunk tribal members. It provides easy access to the interviews that are otherwise located in several different sections of MVAC's website. The Technologies section explores how the area's first inhabitants created stone tools, ceramics and artifacts from copper and catlinite. The Garden section shows the experimental garden that was planted at the UW-L Archaeology Center and Laboratories and the processing of the plants and produce harvested from the garden. The Artists section explores possible links between pre-European craftspeople and contemporary Native American artists. The Games section looks at archaeological, ethnographic and archival information related to Native American games.
The Mound Maintenance section provides information about the Wisconsin Archeological Society's draft Mound Maintenance Protocol which deals with how to best preserve and protect Native American Mounds in Wisconsin.
Archaeology Terms and FAQ (Frequently Asked Questions) both provide useful information about the archaeological process.
The Links Section provides a link to the University of Wisconsin-La Crosse's Department of Archaeology & Anthropology and will guide you to some additional archaeology related sites.