Excavation at Seventh Street
by: Wendy Holtz-Leith, Research Archaeologist, MVAC
2000 Excavation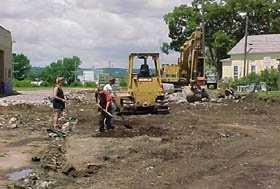 Checking the road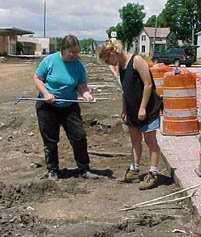 Archaeologists at site The 1999 excavations took place in a small triangular shaped block. Over 50 storage/refuse pits were found within this area. This area appears to have been very heavily used, as many of the pits overlapped each other. Most had artifacts such as broken pieces of pottery, chipped stone from making stone tools, stone tools, animal bone and shell, and plant remains from what the early residents had eaten.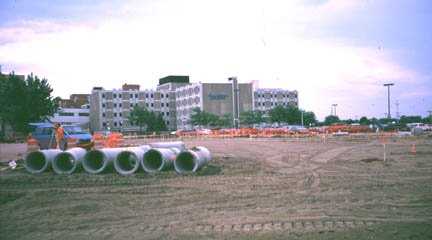 Excavation site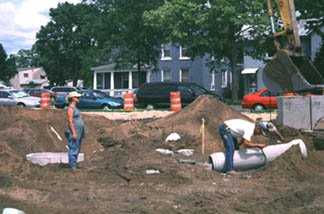 Archaeologist monitoring construction Excavations within these undisturbed areas have given us more information on how this village may have looked and how it may have changed over time. The features excavated in 2000 did not overlap like the features from 1999. There were also fewer artifacts with the features. This may show that areas of the village were used in different ways.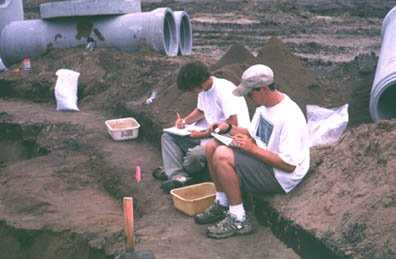 Completing paperwork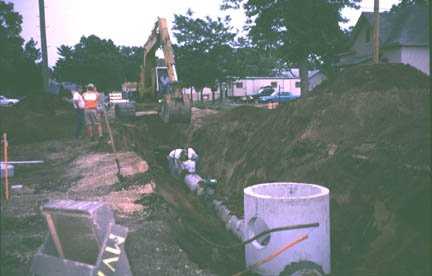 Excavation During 1999 and 2000, archaeologists from the Mississippi Valley Archaeology Center have been excavating near the Gundersen Lutheran Medical Center for the Wisconsin Department of Transportation. These excavations allowed us to learn more about the prehistory of this interesting area. As construction and rebuilding continues in our area, urban "digs" become more familiar. We are glad to be in such a central location, so that we can share the excitement of "urban" archaeology with you.
1999 Excavation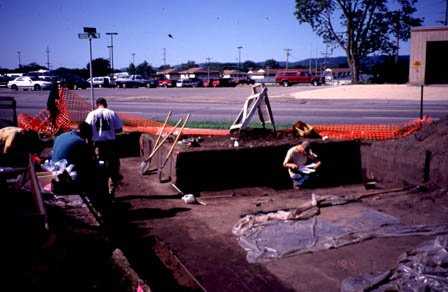 Excavation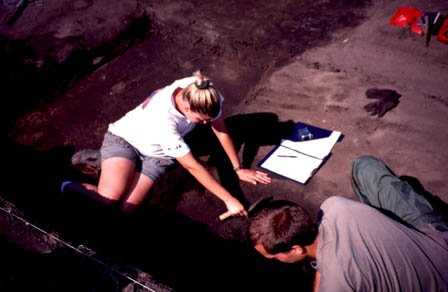 Excavating During the summer of 1999 MVAC personnel, under contract with the Wisconsin Department of Transportation, excavated part of an Oneota village located at Sixth and Tyler Streets in La Crosse, Wisconsin. The project area was located within the Sanford Archaeological District, a late prehistoric Oneota village and cemetery complex that encompasses 26 city blocks centering around the Gundersen Lutheran Medical Complex.
Oneota occupation of the La Crosse river terrace began around 1300 A.D. and lasted until approximately 1650. The Oneota were corn-based agriculturalists who heavily exploited riverine and wetland resources as well as hunting for deer, elk, and bison. Below a historic layer the prehistoric living surface/midden of the Oneota was encountered. Within and below the midden are storage/refuse features. Over 30 of these features were fully or partially excavated.
The Oneota dug these deep storage pits to be used much like today's root cellars, to store perishable foods. The pits were lined with grass mats, the food was placed inside, and then covered. A storage pit could only be used a year or two before it would become infested with rodents. The pit would then be used as a garbage receptacle. The garbage would then decay and leave a dark stain. Some of the features excavated contained many artifacts, while others were almost completely sterile. Stone tools, stone waste flakes, broken pottery sherds, animal bones, mussel shell, plant remains and fire cracked rock were commonly found at the site.
The pottery from the site indicates two different Oneota occupations. The largest component of the site dates from 1300-1400 A.D., the earliest of the Oneota occupations in La Crosse. A smaller component of the site begins around 1500 A.D. and continues until the French came to the region around 1650.