For more information contact: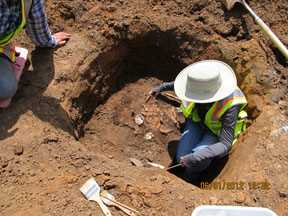 Excavation Dr. Katherine Stevenson or Vicki Twinde-Javner
Mississippi Valley Archaeology Center
Archaeology Building
1725 State Street
La Crosse, WI 54601
Phone: 608.785.8451 (Stevenson) or 608.785.6475 (Twinde-Javner)
Fax: 608.785.6474
Email: kstevenson@uwlax.edu or vtwinde-javner@uwlax.edu
Contract services for
Cultural Resource Management

needs
Quality service in
Timely

fashion at

Reasonable

cost
Compliance
Section 106, ARPA, NAGPRA, CFR Part 79, MOU's, DRP's… Federal, state and local regulations pertaining to cultural resources can be confounding. With over 30 years of experience and nearly 700 completed projects in the Upper Midwest, MVAC can facilitate and solve your Cultural Resource Management requirements. We assist all levels of government agencies as well as private engineering firms and developers, and residential customers. In fact, we have trained regulatory personnel in understanding their own guidelines. We customize our services to your specific needs, ensuring regulatory compliance and project progression. Give us a call at 608.785.8451 (Katherine Stevenson) or 608.785.6475 (Vicki Twinde-Javner) and we will walk you through the steps involved.
Planning
Cultural Resources Management Services:
Evaluation of CRM needs
Coordination with federal, state, and local agencies and tribal groups
Integration with GIS and other planning tools
Preparation of National Register nominations and planning documents
Project Implementation
Prehistoric and Historic Archaeology:
Literature and records review
Field work:
Phase I survey to establish the presence or absence of archaeological sites
Phase II evaluation to determine eligibility for the National Register of Historic Places
Phase III excavation to recover data in advance of construction
Laboratory analysis and data management
Cartography and GIS data integration
Report preparation, submission, and follow‑through
Permanent artifact curation in federally approved facility
Environmental Archaeology, Geoarchaeology, and Geomorphology:
Detection and analysis of buried sites
Soil coring and analysis
Paleo‑landscape reconstruction and other environmental studies
Analysis of plant and animal remains
Historic Preservation Services:
Historical Research
Historic Properties Survey – Section 106
Public Outreach
Many Phase III projects require an outreach component in order to share the information gained with the public. People are fascinated by the previous inhabitants of their area, and we have a national reputation for making archaeology inviting and exciting! MVAC is one of the only firms in the Upper Midwest that produces exhibits, public talks, school programs, and interpretive information. Our public outreach products are of exceptional quality, always benefiting the regional heritage tourism industry.
Reputation for Excellence
Cultural Resource Management Services in:
Archaeology
Geomorphology
Historical Archaeology
Public Education
We finish the project on time, within budget, with satisfied clients that utilize us again and again. We have a skilled and flexible staff, and an extensive equipment reserve. With our help, your project will be completed in a reasonable time frame. We are ready to meet your needs.
Right: 2012 WisDOT Tribal Excellence awarded to MVAC for providing exemplary contributions and services to building and enhancing partnerships with Wisconsin DOT and Wisconsin Tribal communities.
Competitive Cost
We have a solid history of successful contract bidding. Since we specialize in the archaeology and history of the Upper Midwest, we know what to look for. Our central location minimizes travel costs, making us the cost effective choice.
Professional Staff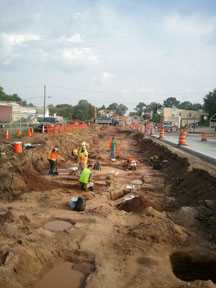 Excavation
Our staff has earned MVAC the reputation of one of the top cultural resource organizations in the Midwest.
Senior staff with advanced degrees in Anthropology/Archaeology, qualified to serve a Principal Investigators under the Secretary of the Interior's Standards and Guidelines for Archaeology and Historic Preservation.
Archaeologists approved to conduct burial site authentications in the state of Minnesota, and burial sites investigations in Wisconsin.
Specialists in paleoethnobotany, archaeozoology, and archaeology outreach.
Michael A. Bednarchuk M.A. – MVAC Laboratory Manager
Jean M. Dowiasch B.S. – MVAC Research Archaeologist, Educational Coordinator, Graphic and GIS Specialist
Wendy K. Holtz-Leith B.S. – MVAC Research Archaeologist
Bonnie L. Jancik M.E.P.D. – MVAC Director of Public Outreach
Timothy L. McAndrews Ph.D. – MVAC Director; Professor, UWL, Dept. of Archaeology & Anthropology
Katherine Stevenson Ph.D. – MVAC Projects Director
Vicki L. Twinde-Javner M.S. – MVAC Senior Research Archaeologist
David Anderson Ph.D. – MVAC Research Associate; Associate Professor, UWL, Dept. of Archaeology & Anhthropoogy
Constance M. Arzigian Ph.D. – MVAC Senior Research Associate; Associate Lecturer, UWL, Dept. of Archaeology & Anthropology
Suzanne M. Harris M.S. – MVAC Research Associate
Amy Nicodemus Ph.D. – MVAC Research Associate; Assistant Professor, UWL, Dept, of Archaeology & Anthropology
James L. Theler Ph.D. – MVAC Senior Research Associate; Professor Emeritus, UWL, Dept. of Archaeology & Anthropology
Associate:
Strata Morph Geoexploration, Inc. ‑ Geoprobe and vibracore deep coring and geomorphology
Satisfied Customers
As of 2013, we have successfully completed numerous projects and nearly 1,000 project reports in our Reports of Investigation series. Whether it is a planned road, cell tower, sewage treatment facility, or floodplain stabilization, MVAC is the best choice. A sampling of our clients:
Corporate Clients
Dairyland Power Cooperative
Gundersen Lutheran Medical Center
Northern States Power Company
Tri-Leaf Engineering
Wisconsin River Power Company
Wisconsin Valley Improvement Co.
Government Clients
Wisconsin Department of Transportation
Natural Resources Conservation Service
U.S. Fish and Wildlife Service
St. Paul District Corps of Engineers
Ho‑Chunk Nation
National Park Service
Municipal Clients
La Crosse County, WI
Adams County, WI
Richland County, WI
Houston County, MN
Carroll County, Iowa
City of La Crosse, WI
City of Fond du Lac, WI
City of Prairie du Chien, WI
Village of Bagley, WI
Village of Hatley, WI
Quotes from Clients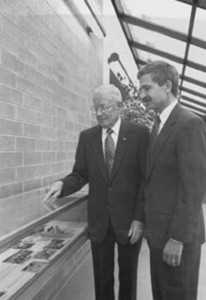 Two people looking at a display case.
"An Oneota Village was uncovered during the early stages of our building construction. Not wanting to destroy it, we contacted MVAC. They quickly mobilized a skilled team of archaeologists and rescued the site. The findings are displayed in our corporate headquarters and are one of the most popular aspects of our building tour."
– Frank Linder, retired General Manager, Dairyland Power
"We were planning to develop land in an area that was likely to contain burials. MVAC's team quickly determined that our plans could proceed without impact to the site. Our concerns were alleviated in a matter of days."
– Bruce Larson, Northern States Power Company
"We were really pleased with the quick response and cooperation of MVAC's archaeologists in this project. Within two days the artifacts that had been present were rescued and the site cleared for construction."
– Paul Gleason, Vice President, Elmwood Corporation