The genre of archaeological fiction is the vehicle through which many people first get involved in archaeology. For others it is a way to stay involved. If you're an armchair archaeologist or one who has the bad knees from hours of kneeling with your bottom towards the sky – if you're just getting involved in archaeology or have years of experience – we think you will enjoy Bill Gresens' reviews of books which highlight the realities and misconceptions of archaeology to take the reader on a journey. And isn't that what archaeology is about – taking a journey to the past, discovering lives that we can only dream about, solving mysteries? We hope you enjoy our book reviews and that they encourage you to take a journey filled with mystery and adventure. Start your adventure by checking out one of the book listed below. Enjoy!
Do you have a book you would like to recommend? Link to e-mail your recommendations or comments. Please include book title, author, publisher, publication date and your comments. Share your favorite archaeology fiction book with us today!
Meet MVAC's Book Reviewer – Bill Gresens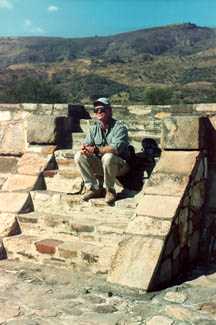 Bill pondering his next book review.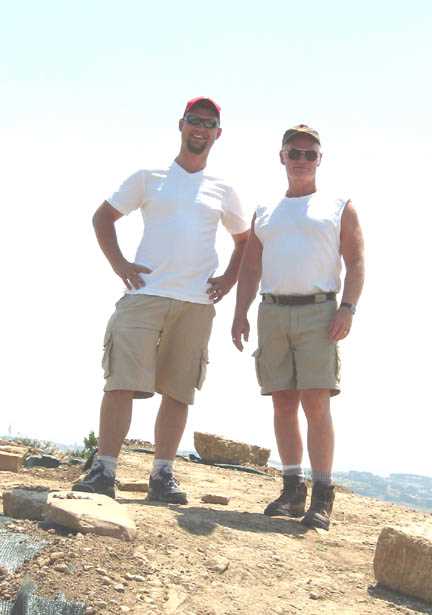 Reviewer and son Nick at 3rd Century BC Elymean site in western Sicily.Bill Gresens was the Grants & Contract Officer at the University of Wisconsin-La Crosse for thirty some years before retiring. He was also a member of the MVAC Board of Directors during its first 20+ years of existence. He hopes to spend much of his retirement life working in the archaeology laboratory during the winter and doing field work during the summers. He spends much more time than he should reading fiction that uses archaeology as a theme or backdrop. On a fairly erratic basis he will review the archaeology and fiction books he's recently read—including the good, the bad and the truly atrocious.