Copper Artifacts – Sand Lake Archaeological District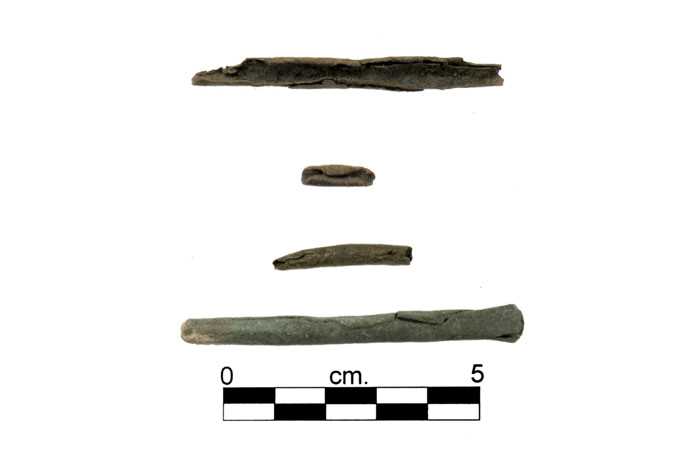 Copper artifacts These four pieces of copper were found during 2008 excavations at the Sand Lake Archaeological District near Onalaska, Wisconsin. All of the copper was in good condition. The cultural affiliation of these artifacts is hard to determine, but Sand Lake is best known as a late precontact Oneota site.
Three of the pieces are rolled copper beads or sheets (rows 1-3). The most common copper artifacts at local Oneota sites are tubular beads. The beads found in 2008 are similar to those found at other Oneota sites in the La Crosse area. One has a narrow/pinched opening at one end that might have kept the bead/ornament in place on a piece of clothing or the hair.
The fourth, awl-like item (row 4) found in 2008 is not a typical Oneota artifact. It is rolled and pounded, with one end rounded and closed and the other end flattened to a blunt tip. It was found just outside of a pit feature in what looked to be sterile (non-cultural) soil. It could have been used to hold a perishable liner in the storage pit. It might be of Oneota manufacture, or it might have been reused from an earlier occupation.