Dime – Second Fort Crawford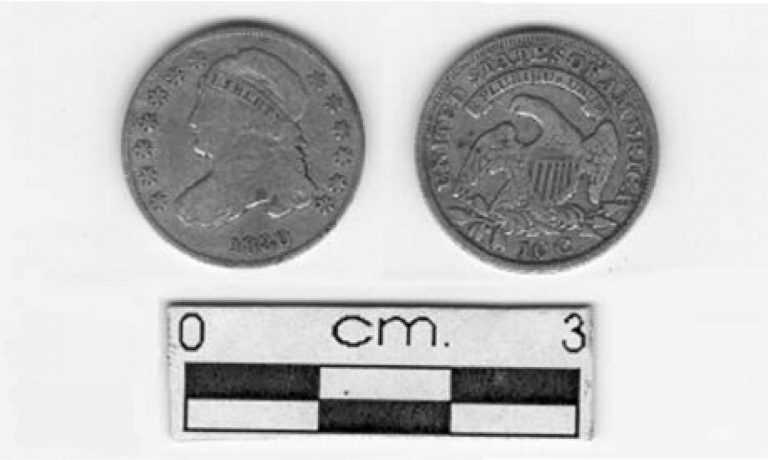 Dime During the 1999 excavations at Second Fort Crawford in Prairie du Chien, Wisconsin, a 1830 Liberty Head, Capped Bust dime was found in the Boardwalk outside the Enlisted Men's Quarters. First used in 1809, the Liberty Head, Capped Bust dime was similar to the Capped Bust half dollar first issued in 1807. The dime features Miss Liberty on the front with her hair in a cloth cap, secured with a band that says "LIBERTY," and her tresses flowing down to her shoulders. A brooch or clasp secures a cloth or gown around her bust. There are seven stars to the left of her head, six stars to the right, and the date below. The reverse side depicts an eagle perched on an olive branch, holding arrows. A scroll above the eagle says "E PLURIBUS UNUM." Around the outside are the words "UNITED STATES OF AMERICA" and, at the bottom, "10c." Dimes of this style that were minted later, from 1828 to 1837, are slightly different from the 1809–1827 style. The later dime is slightly smaller in diameter and has more closely spaced denticles on the outside, and slightly smaller stars (Bowers 1989:68).
Bowers, Q. David
1989 United States Coins by Design Types. Bowers and Merena Galleries, Inc., New Hampshire.