Foundation – Limestone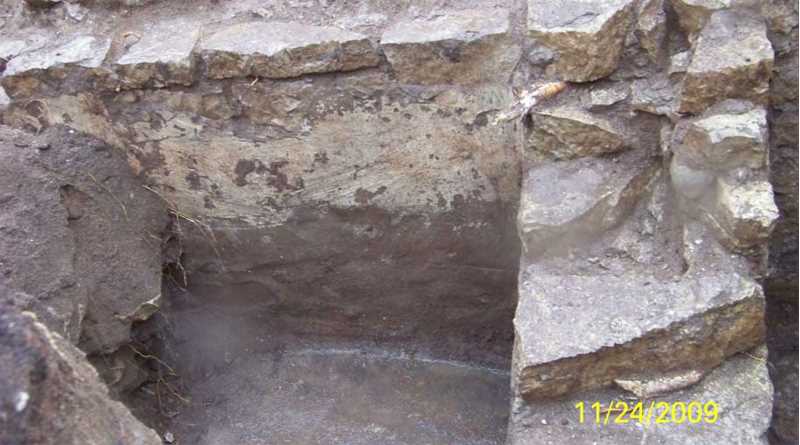 Limestone Foundation
The field crew unearthed a bit more than just a plain limestone foundation while excavating in Prairie du Chien, Wisconsin, in 2009. Whitewash was found still adhering to an exposed interior wall of the foundation. For scale, the perpendicular wall (far right) was about 50 cm (1.64 feet) wide. According to deed and tax roll research, the foundation was part of a building that likely was used for various businesses, including a doctor's office and retail shops, from 1858 to possibly the late 1890s or early 1900s. Whitewash, or limewash, was historically used as a simple, cheap coating for walls of buildings and other structures that offered antiseptic, antifungal, mildew-reducing, and other benefits (Fink 1922:503; Frantom 2021). A basic formula for whitewash consisted of a mix of slaked or hydrated lime (calcium hydroxide) and water, to which a coloring agent could be added if desired. More complex blends with different additives were also made for greater effectiveness or for specific purposes (Fink 1922:503; Frantom 2021).
Fink, G. J.
1922 Investigation of Whitewashes and Aqueous Lime Paints. The Journal of Industrial and Engineering Chemistry 14(6):503–511.
Frantom, Marcy
2021 Limewash: An Old Practice and a Good One. Electronic document, https://www.nps.gov/articles/limewash-an-old-practice-and-a-good-one.htm, accessed February 27, 2023.