TD Pipe – Lessard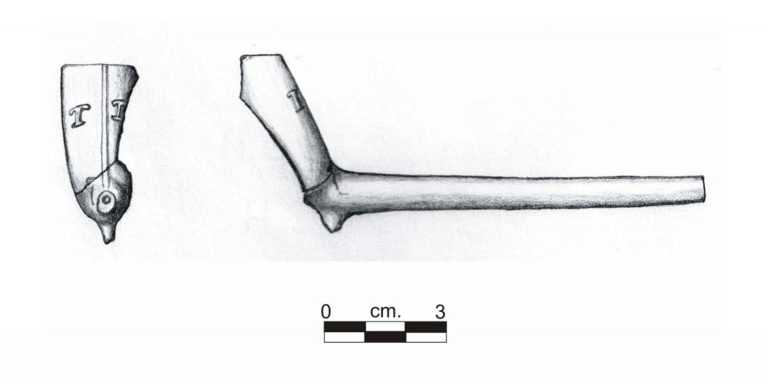 TD Pipe This pipe was recovered during the 2006 excavation of an early 1840s-1860s privy at the Lessard site in Prairie du Chien, Wisconsin. The pipe is marked with a "TD," with the T and D spaced rather far apart. TD-marked pipes are often found on historic sites in a variety of sizes, shapes, colors, and styles of marking. The original maker of TD-marked pipes is not certain. The pipes are believed to have originated at the time of the Revolutionary War. Most clay pipe authorities believe that the first TD-marked pipe was made by Thomas Dormer, a well-to-do London merchant, and the only pipemaker in London with these initials recorded as an exporter (Alexander 1978:3). Others have speculated that Thomas Dennis of Bristol made the first TD pipes (Walker 1966:96). TD-marked pipes were produced in England, Ireland, Scotland, France, Holland, Germany, Japan, and the United States for over 200 years (Alexander 1978:3).
Alexander, L. T.
1978 Clay Tobacco Smoking Pipes from the Caleb Pusey House. Paper #9. The Archaeology Society of Delaware. (Also available in The Archaeology of the Clay Tobacco Pipe VIII. America. BAR International Series 175:195-233).
Walker, Iain C.
1966 TD Pipes—A Preliminary Study. Archeological Society of Virginia 20(4):86-102.