Yellowware Rockingham Baker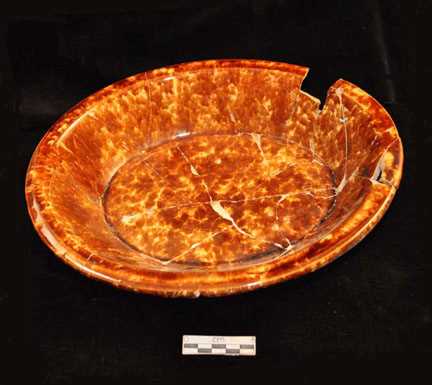 Yellowware baker A distinctive type of decoration called Rockingham was produced by adding manganese brown glaze to the basic yellowware, resulting in a tortoiseshell effect. This glaze was dipped or spattered onto a revolving piece of yellowware, which caused it to streak and run, creating a molten effect (Leibowitz 2002:9-10, 14).
This Rockingham vessel, historically referred to as a "baker," was found during the 2006 excavation of an early 1840s to 1860s privy in Prairie du Chien, Wisconsin. It would have been used to bake food and could also have been used as a serving dish. This oblong baker is about 12 inches across at the rim and 8 inches at the base. Bakers of this type generally date from 1860 to 1900 (Leibowitz 2002:85).
Leibowitz, Joan
2002 Yellow Ware, The Transitional Ceramic. Schiffer Publishing, Atglen, Pennsylvania.