Bromo-Seltzer Bottle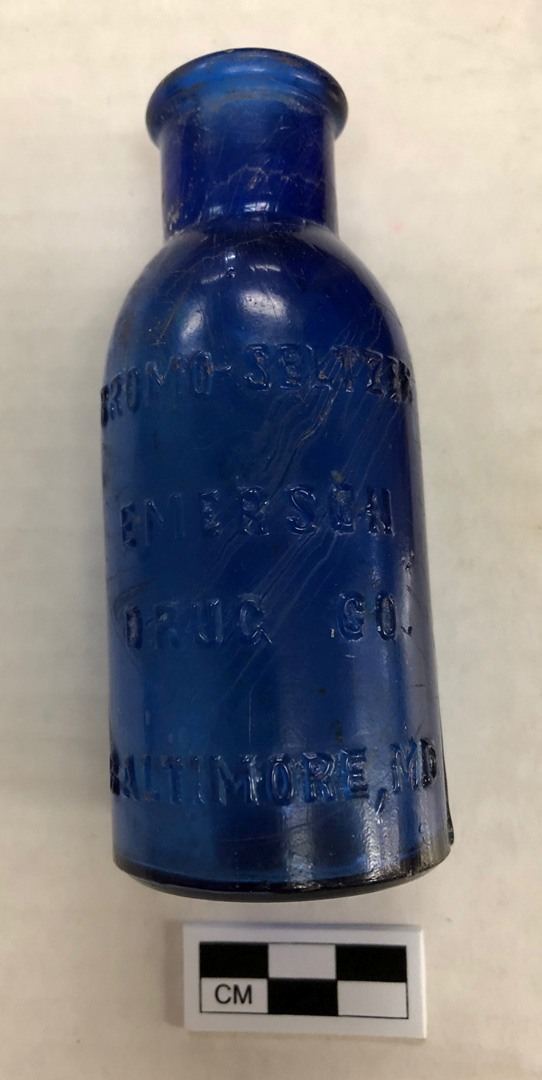 Bromo-Seltzer Bottle This 13-ounce blue bottle was found during the construction of Centennial Hall at the University of Wisconsin-La Crosse. It was produced for the Emerson Drug Company of Baltimore, Maryland, and originally held "Bromo-Seltzer," a type of antacid. This type of bottle was one of the last produced for the company using the old mold method, in which hot glass was placed into a mold before being blown into the shape. Specifically, this bottle was produced using the "cup bottom mold," named for the horizontal seam encircling the bottom section of the bottle and characterized by a vertical seam running from the base to about one-third of the way up the neck. This process was discontinued after 1911 in favor of automated processes. This manufacturing information, along with the knowledge that the 13-ounce bottle was introduced around 1910, allows us to date the artifact as being produced ca. 1910, with 1911 as a set upper limit. Historical records reveal one of two possible manufacturers: the Cape May Glass Company; or more probably, the Maryland Glass Company, as there is uncertainty concerning the Cape May Company's involvement with the Emerson Drug Company. All told, this bottle was probably produced about 1910 by the Maryland Glass Company for the Emerson Drug Company and was later discarded, accidentally or otherwise, by its owner before or during construction of one of the buildings that once occupied the plot of land where Centennial Hall now stands.
Sources:
Society for Historical Archaeology. (0AD). Retrieved from https://sha.org/.
Lockhart, Bill; Lindsey, Bill; Shriever, Beahttps://sha.org/u; Schultz, Pete; Serr, Carol, "Bromo-Seltzer in the Cobalt Blue Bottles" https://sha.org/bottle/pdffiles/Bromo-Seltzer.pdf.
https://www.uwlax.edu/info/uw-la-crosse-history/ UW-La Crosse history. (0AD). Retrieved September 27, 2019, from https://www.uwlax.edu/info/uw-la-crosse-history/.
(Entry by UWL Archaeology student Jasen Kracht)