Buttons – Military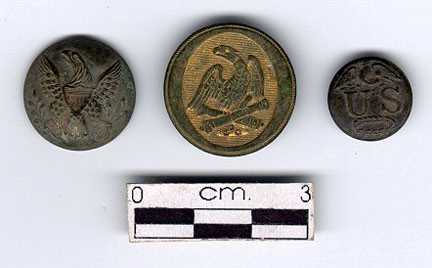 Military buttons MVAC found these military buttons at Second Fort Crawford, Prairie du Chien, Wisconsin, in 1999.
Left – Symmetrical Spread Eagle button – circa 1847-1872 or 1880. By 1854, this button became the standard issue for all enlisted men.
Center – Ordnance Officer's button – circa 1816-1821. This button has an eagle on crossed cannons, surrounded by the letter "O."
Right – Great Coat button – circa 1820-1850. These buttons were worn on great coats, fatigue clothing, overalls, and infantry soldiers' coats.