Durst Stemmed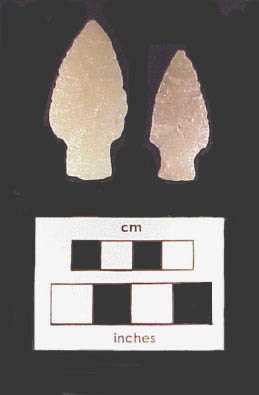 Durst This type is named after the Durst Rockshelter site in Sauk County, Wisconsin.
Other Possible Names or Related Points: Durst Stemmed points resemble Table Rock points. They are a regional variant of the Lamoka type cluster found throughout the northeastern United States.
Age: 3,000 B.P. These points are well-dated at several Wisconsin rockshelters and a few open-air campsites, stratigraphically above Raddatz Side-Notched points and below layers containing Woodland pottery.
Distribution: The type is common in Wisconsin, northern Illinois, and eastern Iowa.
Description: Durst Stemmed points are usually small spear tips with long, slightly expanding stems and rounded shoulders. They are roughly flaked, having a relatively thick body. Bases are usually rounded, with stems accounting for one-half to one-third of the total point length. Stem edges may be ground.
Length: 2.5–5 cm/1–2 in. Width: 2–4 cm/0.5–1.5 in.
Material: South of the La Crosse River valley, most are made from Prairie du Chien chert (sometimes heat-treated). North of the La Crosse River, many are made of medium to coarse grained (non-Hixton) silicified sandstones.