Oneota Pottery - Midway Incised – Sand Lake Archaeological District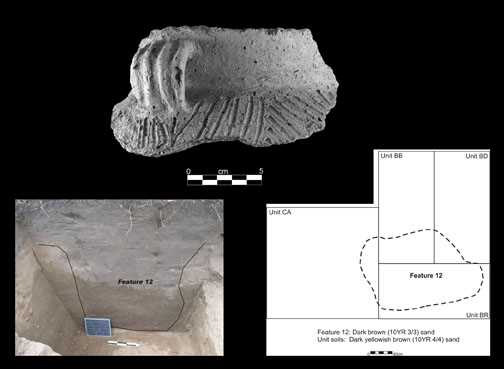 Oneota pottery, profile map, plan map
Feature 12 was an oval, basin-shaped Oneota storage/garbage pit 220 cm long, 140 cm wide, and 120 cm deep (87 by 55 by 47 inches). Despite its large size, the feature had relatively few artifacts, and they were scattered throughout the fill. No zones were noted in the profile walls. Three shell-tempered rims were found.
The pictured rim sherd is from a vessel with probable finger notching on the lip top and a Midway Incised motif on the shoulder. The lip notches are narrow for finger notches (only 7.0 to 9.2 mm, about ¼ inch), but they appear to have been made with a small finger– not with a tool, like the pottery of the Valley View phase. A wide strap handle is attached below the rim. This rim/handle/shoulder combination is characteristic of the Pammel Creek phase and dates from about A.D. 1400 to 1500.
Pictured: Midway Incised rim sherd, feature profile, feature plan view. 2008 excavations at the Sand Lake Archaeological District, located north of La Crosse, Wisconsin.