Preston Corner-Notched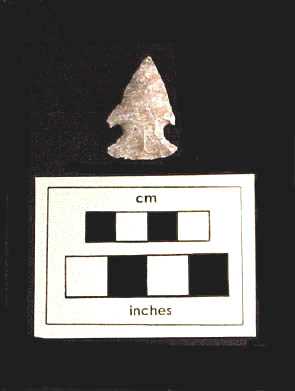 Preston This type was defined on the basis of type specimens from the Preston Rockshelter site in the Driftless Area of southwestern Wisconsin.
Other Possible Names or Related Points: Monona Stemmed, Merom Expanding Stem, Trimble Side-Notched (Wabash Valley), Springly (west-central Illinois).
Age: 3,500 B.P. Stoltman recognized this type as occurring stratigraphically between the Raddatz and Durst levels at the Preston Rockshelter site and the type definition includes Wittry's Monona Stemmed forms from the Raddatz and Durst shelters.
Description: These are small corner-notched to expanding stemmed forms. The blade is more triangular in shape than subsequent Durst points, with a distinctly sharper shoulder. Because of their relatively small size, these might be confused with arrow tips. However, the average weight of Preston points is nearly 4 grams, while late prehistoric arrow tips weigh on average only 1 gram. It is possible that Preston Corner-Notched and equally small Durst Stemmed points (see next entry) represent stone tips for detachable foreshafts of compound spears.
Length: 2.5–4.5 cm/1–2 in. Width: 1.7–2.5 cm/.75–1 in.
Material: The points are made from local cherts, sometimes heat-treated.