Raddatz/Osceola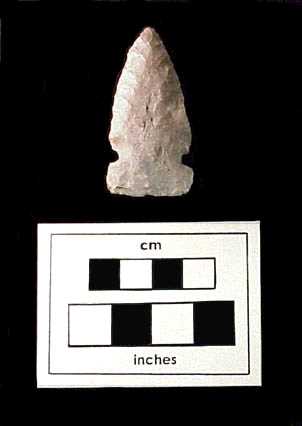 Raddatz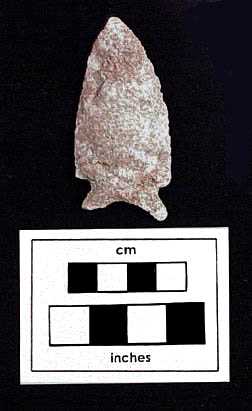 Raddatz These points are named after specimens found at the Raddatz Rockshelter site, Sauk County, Wisconsin, the Osceola site in Grant County, Wisconsin, and at the Airport site near Madison, Wisconsin.
Other Possible Names or Related Points: Godar. Osceola points are very similar to Hemphill points.
Age: 5,000 to 3,500 B.P. They are accurately dated stratigraphically below Durst points in several rockshelters and at several open air sites.
Distribution: Found throughout the Midwest.
Description: These points are medium-size side-notched spear tips. Blades are triangular to parallel sided, with Osceola predominantly parallel, and converge sharply at the tip. Notches are moderate in size and tend to be U-shaped, inserted at right angles to the blade. Basal ears tend to line up with the blade edges. The bases are slightly concave to straight and are sometimes ground (usually on concave bases). Concave forms tend to be larger and are probably an early variant, having evolved from Early Archaic notched forms. A few serrated or beveled examples are known. Raddatz points with straight or slightly convex bases are generally smaller, and may represent a shift in hunting technology to compound shaft darts. The Madison Side-Notched variant usually has a wide base with shallow side notches just above the base. These points are relatively crude and are best described as wide Raddatz points with shallow side notches. They should not be confused with small, Late Woodland Madison triangular points.
Length: 4–9 cm/1.5–3.5 in. (Raddatz) Width: 3–4 cm/ 1–1.5 in. Length: 9–24 cm/3.5–9.5 in. (Osceola) Width: 3–4 cm /1–1.5 in.
Material: In the Upper Mississippi Valley these points are usually made of local chert such as from the Prairie du Chien formation and are often heat-treated, resulting in a lustrous finish.