St. Charles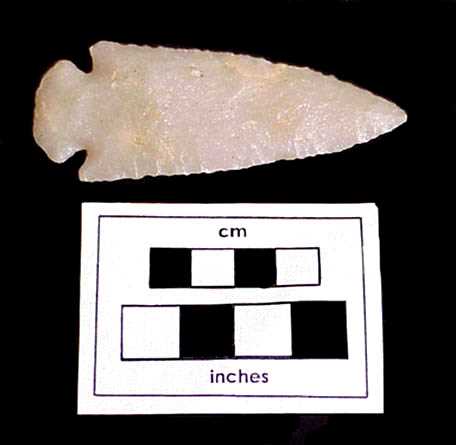 St.Charles This point type was named after examples found in central Illinois and eastern Missouri. The type site is the Gronefeld site, St. Charles County, Missouri.
Other Possible Names or Related Points: Dovetail, Plevna, and Circle-top.
Age: 10,000 to 8,000 B.P.
Distribution: St. Charles points are found throughout the eastern United States and in the Midwest, primarily south of the Wisconsin River. A few examples have been found north toward Silver Mound in western Wisconsin as well as in northeastern Iowa and southern Minnesota, including an expended specimen made of Burlington chert that was excavated from the Challey-Turbenson Cedar Valley chert workshop site.
Description: St. Charles points are medium to large spear-knife points. The blades are well made with convex sides, widest at the midsection or toward the shoulder. The points are sometimes unifacially barbed and/or serrated, and well-used points typically have beveled edges from repeated resharpening. The notches are deep and narrow or moderately V-shaped. The stems are generally short and narrow. The bases are usually ground and strongly convex.
Length: 4–10 cm/1.5–4 in. (may extend to 7 in). Width: 2.5–5 cm/1–2 in.
Material: In the Upper Mississippi Valley, some of these points were manufactured from Hixton silicified sandstone and Burlington chert.