Steuben/McCoy/Monona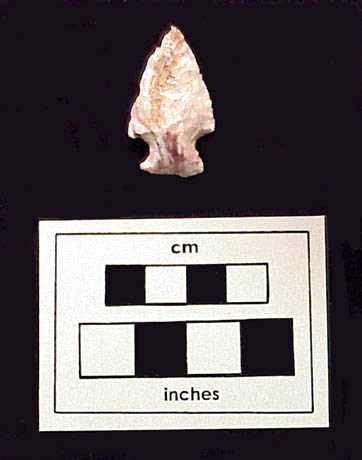 Steuben Steuben Expanded Stemmed points were first defined at the Steuben site in Illinois. McCoy Corner-Notched points are named after the Silver Creek Site I within the bounds of Fort McCoy in the La Crosse River valley of west-central Wisconsin. Monona Stemmed points are named after the Black Hawk Village site near Lake Monona in Madison, Wisconsin.
Other Possible Names or Related Points: Steuben points are also known as Lowe Flared Base in southern Illinois, and the type has been divided into three varieties: long and slender, squat and thick, and small and thin. Preston Notched points, a recently recognized Late Archaic type, are similar to Steuben points and they may be mistaken for one another.
Age: 1,700 to 1,500 B.P. The type is diagnostic of the Millville phase in southwestern Wisconsin.
Distribution: Steuben points are common throughout Illinois, Missouri, Iowa, and into southern Wisconsin.
Description: These are small to medium spear points. The blades are triangular with convex edges, and shoulders are straight to sloping. The basal edge is straight to slightly convex while stem edges are concave. Stems expand from the shoulder to the base and account for approximately one-quarter of the point's length. Basal edges are rarely ground. These are sometimes difficult to distinguish from Durst points of the Late Archaic. Both are characterized by expanding stems, but points within the Steuben family usually have sharper shoulders and are made of chert, whereas Durst points tend to have rounded shoulders and may be made of chert or silicified sandstone.
Length: 3–10 cm/1.5–4 in. Width: 2.5–4 cm/1–2 in.
Material: These points are typically made of local cherts that may be heat-treated.