Throwback Thursday – Cool Archaeology Hats: Part 1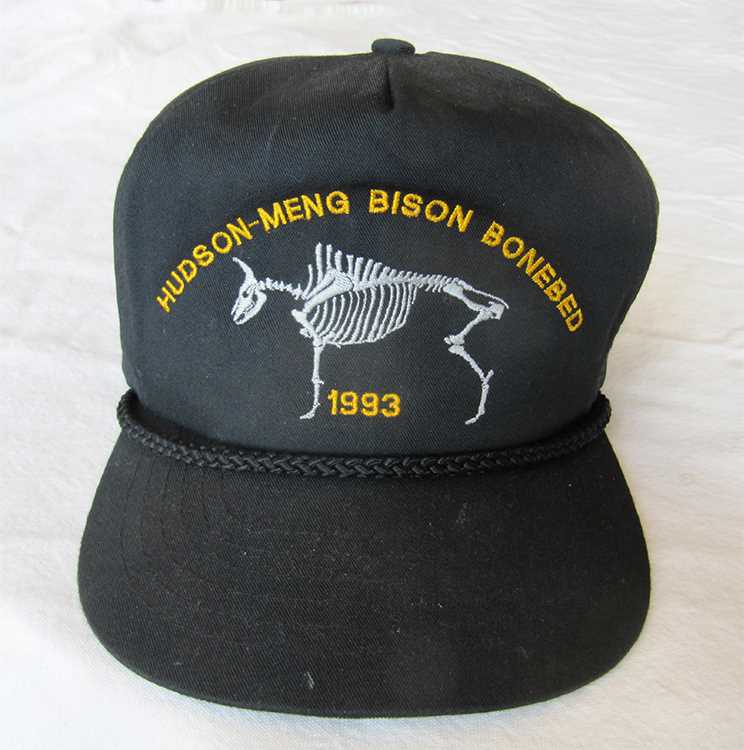 Cool hat Throwback Thursday – Jim Theler writes— I've participated in archaeology projects across the Great Plains, and sometimes I get hats with interesting designs produced specially for the project. This one is from the Hudson-Meng Bison Bonebed excavations in extreme northwestern Nebraska.
The Hudson-Meng site contains skeletal remains of some 500 bison that died about 9,500 years ago. During 1990s excavations directed by Dr. Larry Todd, I collected and analyzed land snails from the site to be used as proxy data for past habitat conditions at the time of the bison kill. It's unclear whether the bison bones represent a kill by human hunters, or the natural death of a herd from lightning strike(s) or freezing during a harsh winter, or a combination of causes. The site has produced small numbers of artifacts, including projectile points, associated with the time of the kill. For more information, see the references below.
It's an interesting place to visit, with part of the excavated bison bonebed displayed in an enclosed building. Traveling from the Midwest, it's on the way to Yellowstone National Park, and well worth the stop. The Hudson-Meng Education and Visitor Center website has information on the site and a short video. Tripadvisor.com also has information and a slide show.
Agenbroad, Larry D.
1978 The Hudson-Meng Site: An Alberta Bison Kill in the Nebraska High Plains. University Press of America.
Todd, Lawrence C. and David J. Rapson
2016 Research and Public Visitation at Hudson-Meng, 1991-1996: Integrating Observations and Interpretation. In Pisskan: Interpreting First Peoples Bison Kills at Heritage Parks, edited by L.B. Davis and J. W. Fisher, pp. 195-223. University of Utah Press.
(Entry by Dr. James Theler)