Throwback Thursday - Old Friends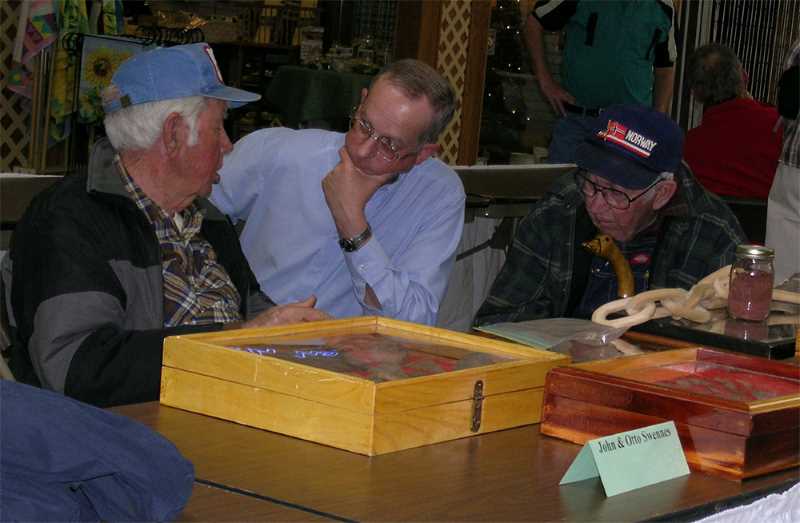 Here the late John (right) and Otto (left) Swennes sit in discussion with Jim Theler at the 2005 MVAC Artifact Show.
Throwback Thursday - Old Friends: Jim Theler and the MVAC staff remember John and Otto Swennes
These bachelor Norwegian brothers, known widely as the "Swennes Boys," grew up on a farm just northwest of the Valley View Mall, near where Interstate-90 now crosses the La Crosse River. They grew up speaking Norwegian at home, and in the 1980s still did a considerable amount of their farm work with Percheron horses. The construction of I-90 in the 1960s resulted in the loss of part of their home farm, so they moved a little way north to Long Coulee, near Holmen.
Jim Theler says, "I met John and Otto in 1985 at their Long Coulee farm. I had called ahead, as I wanted to visit a rockshelter they still owned near the La Crosse River, and they asked me into their house. On an enclosed porch, placed strategically on a table so I couldn't miss it, was a leg bone of a mastodon. I said, 'Holy cow!', and with big smiles they asked, in near unison, 'What is it?' I told them it was the front leg bone (ulna) of a mammoth or mastodon. They had found it in a small creek near their house following a flood event." Later they donated the bone to MVAC, and it has been a feature at many of our Artifact Shows (see link below).
John and Otto became great friends of MVAC and the staff. Over the years they hosted multiple UW-L/MVAC undergraduate, teacher, and public field schools at sites on their farm. Twice they allowed an overwintering experiment of storing corn in a pit, and provided the organically grown corn. They also donated various artifacts, including a fragile, Native-made bag woven of nettle fibers (see link below). Such things are rarely preserved in this region; they had found this one in a dry rockshelter on their farm. John and Otto were warm, generous men who were always curious about the world around them. They were also very kind—even when an MVAC atlatl demonstration led to a dart embedded in the new metal roof of their house (see link below). John died in 2010 at age 78, and Otto followed him a year later, at age 92. Our lives were richer for having known them, and we miss them very much.