Whiskey Flask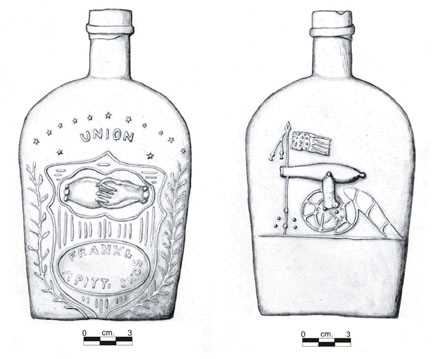 Drawing Whiskey Flask This complete, quart size, blue/aqua, whiskey flask is a variant of the Union and Clasped Hands. The front (left) has 11 stars above the word "Union" and one star on each side of the word. Below this decoration is a shield with a design of clasping hands, and under this are the words "W[M] FRANK & SONS//PITT," for the Pittsburgh manufacturing company that produced the bottle. On both sides of the shield are vines running up the sides of the bottle. The back of the bottle (right) has a cannon and a flag. The Wm. Frank and Sons factory produced these flasks from 1858 to 1876 (Innes 1976:220). This particular example is about 7¾ inches high.
Recovered during 2006 excavations in Prairie du Chien, Wisconsin.
Innes, Lowell
1976 Pittsburgh Glass, 1797-1891. Houghton Mifflin, Boston.