Rothschild: Archaeology of the Rodney Clark Site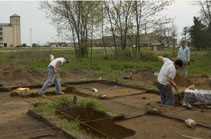 Excavating An archaeological study was conducted before the Cedar Creek Bridge was built on the former Clark family farm near Rothschild. Native American mounds and campsites had been reported on the Clark property as early as the 1890s, and the Clark family had collected many artifacts from their fields. Excavations at the Rodney Clark site in 2003-2005 provided new insights into Native American activities in this area from 5,000 – 1,000 years ago. A critical resource for those people was glass-like flint stone for making tools.
Archaeology of the Rodney Clark Site Overview
Project sponsors: This information is sponsored by the Wisconsin Department of Transportation, Federal Highway Administration, Tribes of Wisconsin, Village of Rothschild, Marathon County, and the Mississippi Valley Archaeology Center at the University of Wisconsin – La Crosse.