Site Snippets
Second Fort Crawford – Lead and Pewter Military Buttons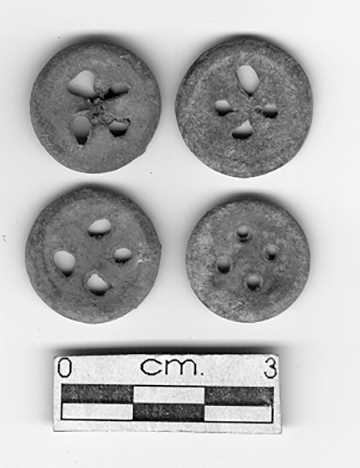 Lead and Pewter Military Buttons Seventy-five lead and pewter 4 holed military buttons were recovered during the 1999 excavations at Second Fort Crawford in Prairie du Chien, Wisconsin. This included fifty-seven from the Enlisted Men's Quarters, eleven from the Boardwalk outside the Enlisted Men's Quarters, and twelve from the Officers' Quarters. These buttons were used on shirts and trousers by all branches of the military from the War of 1812 until the Spanish-American War. They are common in any contemporary military outpost, camp, or battlefield scattered across the United States (de Quesada Jr. 1996: 63). Three of the buttons recovered from the Enlisted Men's Quarters were rusted to one side of a metal file, while one was found with a round headed pin through one of the holes. Spatially, only 12 of the buttons were recovered in the Officers' Quarter, while the rest were in rooms in the Enlisted Mens' Quarters or the Boardwalk outside of it.
de Quesada Jr., Alejandro M.
1996 The Men of Fort Foster: Enlisted Uniforms, Equipment, and Artifacts of the United States Armed Forces, 1835-1842. Pioneer Press, Union City, Tennessee.