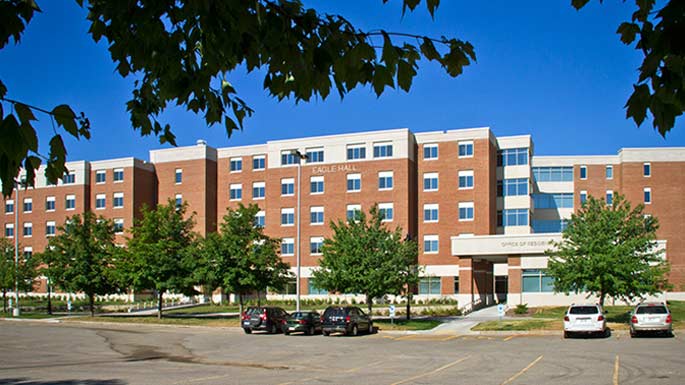 Parking
Parking permits may be purchased online, at Parking and Transportation Services, or at the Recreational Eagle Center. Parking and Transportation Services is located at the parking ramp at the intersection of Farwell and 17th streets on campus. The office is open by 8 a.m., and permits may be purchased in the office prior to checking into the residence halls. Staff will also be available at the Recreational Eagle Center. We encourage you to purchase your permit online or visit our office to purchase permits and expedite your check-in. Cash, check (payable to UWL, separate from campus housing), and credit cards are accepted. Teams that arrive after 10 p.m. should visit Parking and Transportation Services no later than 9 a.m., Friday, June 1. Vehicles without permits will receive citations.
Full event parking is $20 per car, $25 per bus. Daily parking is $8 per car and $20 per bus. Day passes will be sold at UWL entrances each morning to anyone staying off campus. Day passes are sold at UWL entrances (cash only).
Purchase of a permit does not guarantee a spot closest to your assigned residence hall. Buses must park on Farwell, 16th, or 17th Streets. Unattended buses parked in UWL lots will receive citations.
Instructions to order an online permit (Cost includes a vendor fee and is the same price as it is on campus.):
1. Visit this link to order a permit.
2. Select Standard Auto or Bus. Bus parking is defined as any vehicle that takes up more than one space. Certain vans may be too large to park in a standard space.
3. Select All Days or daily parking for June 1 or June 2. Selecting All Days provides parking from Thursday-Sunday and includes overnight parking on campus.
4. Select the number of permits and add them to the cart.
5. Select Continue Checkout under Guest Checkout.
6. Enter the billing information and payment information. It is not necessary to include vehicle information or to create a user account. Required information is indicated by red asterisks.
7. Customers will receive a receipt with individually numbered permits. The permits should be printed out and displayed on the dashboard.
8. Permits are valid for any UWL lot. Police may direct customers to park in certain lots depending on when they arrive to campus each day.
Please contact Parking and Transportation Services at 608.785.8061 or by email with questions.