WIAA
Permits
Volunteers
UWL will utilize a "free flow" parking model that reduces congestion and improves traffic flow. Customers will pay for parking online, with the Passport Parking mobile app or with a pay station. This will enable customers to park and get to the stadium more quickly. University Police and Parking Services staff will direct you to specific parking lots.
We highly recommend purchasing your permit online or downloading the Passport Parking mobile app prior to arriving on campus.
Purchase permit before you leave the parking lot.
Failure to purchase permit will result in a citation.
---

Volunteers will receive specific parking instructions from WIAA officials, which may include a complimentary dashboard parking permit valid for a specific lot(s). The dashboard permit must be displayed to enter any of the "Volunteer & Meet Personnel" parking lots. UWL is not responsible for lost or stolen permits.
If you do not receive a parking permit from the WIAA or wish to purchase additional permits, you may do so by following the instructions below.
Permits may be purchased online, with the Passport Parking mobile app, or at pay stations (not available in all lots).
Your license plate will be your permit so make sure that you accurately enter your vehicle information.
We encourage you to purchase your permit online prior to arriving on campus.
Day permits are $10 per car and $20 per bus/oversized vehicle.
Meet permits are $25 per car and $50 per bus/oversized vehicle (valid Thursday-Saturday).
Buses must park on 16th, or 17th Streets. Unattended buses parked in UWL lots will receive citations.
University Police and Parking Services staff will direct customers where to park.
Online Parking Portal (recommended) (may purchase multiple days or full meet permit)
**You will not be able to log back into your account. Please make sure to purchase the permit(s) at the time you create your account. Contact the Parking Services Office (608-785-8061) if you need to make any changes or if you have any issues.
Create a Guest User Account (select State Track Meet Attendee for classification)

Click Get Permits

Click Next to continue

Select Permit Auto/Van or Bus/RV and date or full meet. Bus/RV

parking is defined as any vehicle that takes up more than one space.

Certain vans may be too large to park in a standard space.

Select Permit Agreement and click Next

Add vehicle

Select vehicle and click Next

Choose location (WIAA Parking Lot)

View cart

To purchase multiple permits, click Add Permits

Repeat steps 3-9

Select payment method

Confirm Purchase

Checkout

Enter credit card or electronic check information and click Next

Enter email

Submit payment

Payment receipt

You will receive two email confirmations.
Passport Parking (must download mobile app) (only available on day of use)
Select Zone




351

Spectators (valid in the ramp, C-1, C-7, C-10, and C-12)




450

Buses (valid on 16

th

& 17

th

Streets and East Avenue North)




450

Oversized Vehicles (valid in C-7 and C-10

)

Enter vehicle information

Enter payment information
Pay Stations (only available on day of use)
Enter license plate

Choose WIAA Event Rate

Enter payment information
Please contact Parking Services at 608.785.8061 or by email with questions.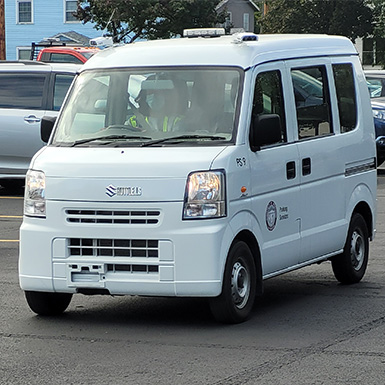 Parking topics