WIAA
About
Coaches/Athletes
Checklist for preparing for your stay at UWL
Housing Assignment Details
Assignments will be made prior to teams arriving. You will find out your team's assignment when you check-in at the REC. Groups will be assigned to halls in the order their reservations are received. We will provide assignments within the following guidelines:
Only members of the same team will be assigned in the same bedrooms.

Coaches will only be assigned with other coaches. Athletes will only be assigned with other athletes.

Male and female guests will be assigned to separate bedrooms.

Single rooms are not guaranteed to be provided.
Campus housing is limited due to multiple residence hall projects in White and Sanford Halls. In the event that received reservations exceed our available campus housing, we will notify the latest submitted reservation contacts as soon as possible.
Housing Accommodations
Each guest will be provided with the following:
Linens (sheets, pillowcase, towel and washcloth) will be available for pick up on the first floor or basement of your assigned residence hall.
One pillow per person will be provided.
Fans are in non-airconditioned rooms.
Guests are encouraged to bring their own blanket.
Eagle Hall is the only hall with air conditioning and elevator service. This summer Eagle Hall will be the same housing rate as all other residence halls. Groups will be assigned to halls in the order their reservations are received. Groups can indicate their interest in being assigned to Eagle Hall in the housing reservation form.
Check-in
Housing check-in is at the Recreational Eagle Center (REC) 3pm-10pm, June 1, and 8am-noon, June 2.
To make your check-in easier, bring your completed emergency contact/agreement form and your completed coaches cell phone list.
Once we have confirmed your assignment and collected your payment, we will direct you to your assigned residence hall. You can pick up your team's keys at the front desk and head to your rooms.
If your arrival time changes and you anticipate arriving outside of our check-in hours (see above), please call the housing office 608.785.8075. We can provide directions for check-in at that time.
Payment
Payment must be made at the time of check-in at the REC. Payment can be made by check, cash or credit card. An ATM is available in the Student Union.
Hall Pricing
$28.75/person/night (All Halls)
Questions?
If you have any questions concerning this information, feel free to contact the Office of Residence Life at 608.785.8075 or wiaahousing@uwlax.edu. We look forward to your visit.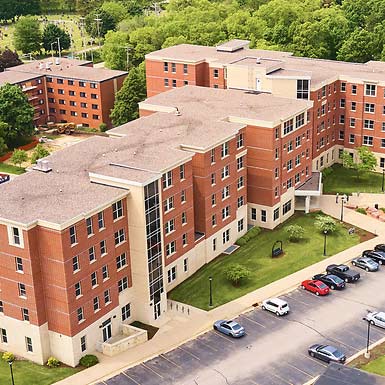 Housing topics