Posted 11:01 a.m. Wednesday, Feb. 24, 2021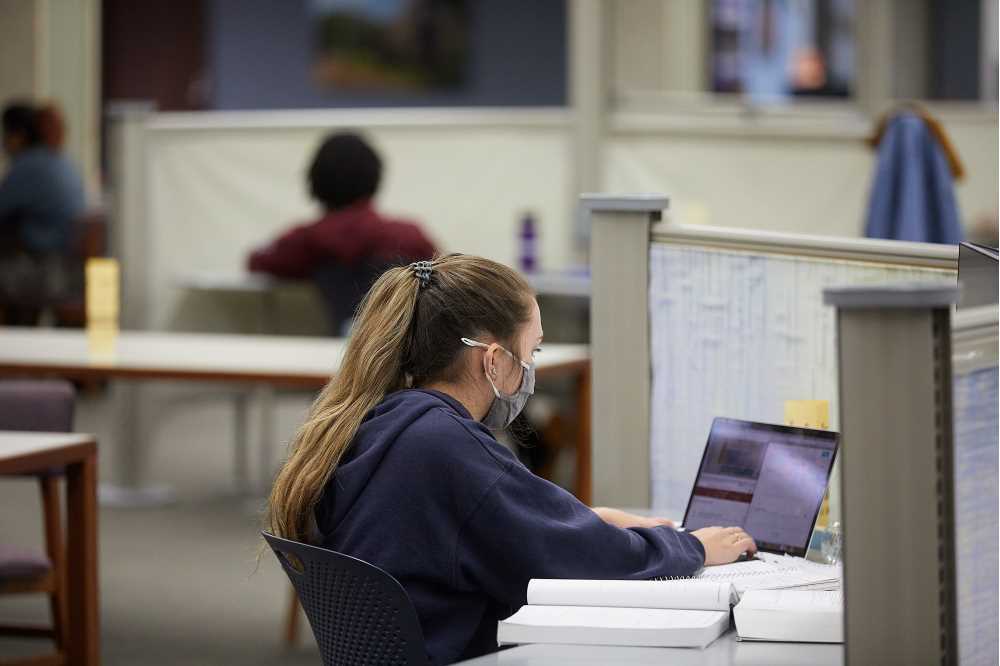 The Impact of COVID-19 on Library Resources
By Pamela Cipkowski and Katherine Fish
The COVID-19 pandemic has drastically impacted life at the University of Wisconsin – La Crosse. Murphy Library has had to manage the transition of many of our services to an online environment, a number of our personnel working remotely, a building closure while trying to maintain access to as many of our resources as possible and more.
In addition to these changes, the library has needed to address budgetary concerns that have arisen due to the pandemic. When we received news last fall that we would suffer a 20 percent cut to our collections budget, librarians immediately set out to work on how to address this issue.
In light of the fact that Murphy Library has not seen an increase to its collections budget since before the year 2000, this budget cut is especially challenging. The collections budget is used to purchase books, e-books, journal subscriptions, databases, DVDs, streaming video and other library resources. While our budget has remained flat over the years, costs for these resources, particularly journal and database subscriptions, have continued to rise. Journal subscriptions now account for the majority of our collections budget. We knew we wouldn't be able to meet this cut without making some tough cancellation decisions.
With that in mind, we began a meticulous examination of our journal subscriptions. Our decision-making process involved soliciting feedback from faculty as well as evaluating other factors such as curriculum needs, resource costs, current and historical use, and whether we have access to the content through other online sources.
Many a day was spent locked away in a conference room, physically distanced and fueled by slowly dwindling piles of chocolate, as we pored over the data and agonized over the decisions we needed to make. "Did you dream about spreadsheets and statistics again?" was the familiar refrain each time we met. When not in the conference room, work-from-home days resounded with the familiar incoming Microsoft Teams call notification. Discussions continued for hours on end.
As part of this undertaking, conversations continue with faculty on what resources are most important to them. We have held dozens of discussions with publishers and vendors to see if we could negotiate reduced pricing and conducted a survey to gather faculty input about journal subscriptions. We continue to assess that data and incorporate feedback from our users to see how we can best meet this budget cut while maintaining a balanced collection that serves the teaching and research needs of the campus community.
To learn more about the evaluation process and stay up to date on our progress, please visit our Journal & Database Cancellation Project webpage (a link to this page can also be found under the search box on the Murphy Library homepage). This budget cut to our library collections affects everyone who uses our resources—faculty, staff, students and the public. We value your input, so please feel free to send us your thoughts using the feedback form on the bottom of that page.