Admissions
A page within Admissions
Embark on your path
Experience innovative academics along Wisconsin's beautiful west coast! You'll see why we rank among stellar Midwest universities and are a Kiplinger's top value. We're:
Welcoming
Nestled around towering bluffs and meandering rivers, La Crosse is the region's cultural hub.
Active
Be part of an involved, active campus. Be inspired along new paths.
Driven
Enhance your education through stimulating academic, social and cultural experiences.
Engaged
Discover small class sizes and awesome faculty who engage students in and out of class.
These fine qualities lead to high retention rates and strong graduation rates. Our students aren't only successful on campus – they also find lasting careers.
Embark on your path.
We'll show you the way.
---
Enjoy life in a relaxed college town. Look for bald eagles soaring overhead and listen for nostalgic riverboat whistles. You'll feel right at home. Discover for yourself. Whether trekking the La Crosse River marsh or hiking the bluffs, your path runs through UW-La Crosse!
City: La Crosse
Population: 51,320, Metro: 136,985
City website: explorelacrosse.com
A diamond in the bluffs
Recognized as one of the best places to live with its arts, restaurants and shopping, historic downtown La Crosse is just steps, or a free bus ride, from campus. With a population of 52,000, there's plenty to see beyond the city limits. Get out there and explore the surrounding bluffs. Camp, hike, kayak and bike. The views will remain etched in your memory for a lifetime. After all, hitting the books may be good for your brain, but nature feeds the soul.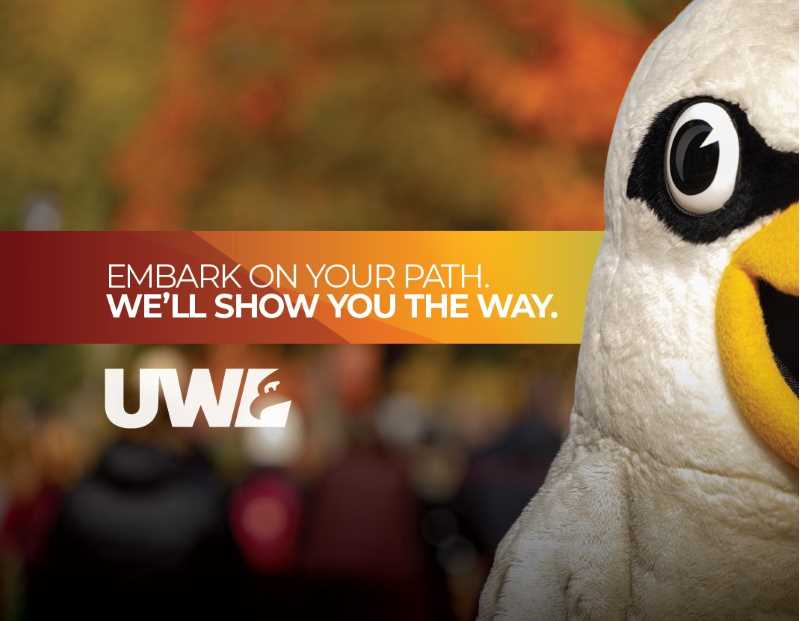 we don't bite
Get to know us
With every school you consider, you should ask, "How will this place help me on my journey?" You'll find many clear answers to that question at UWL. Thank you for learning more about how we'll help you discover your path and prepare you to walk toward the future with confidence.
We've earned
our right to brag.
You will, too.
---
#1
Comprehensive University in the UW System
U.S. News & World Report
98
Percent overall career placement rate
74
National championships in men's and women's sports
campus is so photogenic
#uwlax on Instagram