University Police Department
A page within University Police Department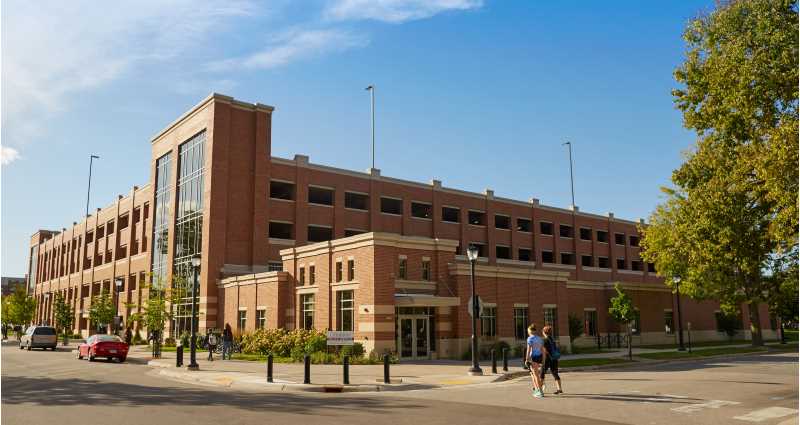 University Police is located next door to the parking ramp, at 605 17th St. North
University Police serve a busy and vibrant campus, 24 hours a day seven days a week. Emergencies happen without warning so take a few moments to be prepared while knowing you can count on a prompt and professional response from our certified police officers and dispatch staff. Located at 605 17th St. North, our new state of the art facility gives us access to all we need to respond efficiently.
Mission Statement
Our mission is to serve the University of Wisconsin-La Crosse and the surrounding community where education can thrive by upholding the constitution, the community, and the agency we serve. We also support the University of Wisconsin-La Crosse's academic research and public service missions with professionalism, integrity, and impartiality.
Core Values
Professionalism - We will treat the public and our colleagues with courtesy and respect. We understand that our appearance, words, and demeanor contribute to the public's confidence in us. We are responsive to the community's needs and will deliver services promptly and efficiently.
Integrity - We are committed to the enforcement of laws and the preservation of order and property. We are honest, truthful, and consistent in our words and actions, and therefore worthy of the public's trust. We exercise discretion in a manner that is beyond approach. We will always accept responsibility for our actions.
Transparency - We will operate in a manner that is open and straightforward; ensuring all operations are performed at a high level, delivering superior service to the University and surrounding community.
Impartiality - We will strive to treat everyone in a consistent manner and without favoritism. Decisions and actions will be based on objective criteria, free from the influence of bias, prejudice, or personal feelings.
Often it is not emergencies that bring us together but rather problems, incidents or issues which affect our quality of life on campus. Our staff shares a great sense of community and strives hard to work in partnership to resolve these matters. Further, we provide services and programming to make our University a better place. Please explore the website and learn more about Emergency Preparedness, UWL Alert, Crime Prevention, Alcohol, Marijuana, and Traffic Diversion programs, and many other programs. Feedback and involvement from outside the department is encouraged and helps us improve our performance and provides transparency essential in today's policing.