Crime prevention
A page within University Police Department
The UWL Police Department offers a variety of crime prevention programs. These programs are intended to educate people in ways to keep themselves and their property safe from crime.
The following programs are available:
Alcohol Awareness: This program will provide information on City of La Crosse ordinances, University regulations and Wisconsin laws dealing with the use, possession and consumption of alcohol. Participants will also be given information on the use/abuse of alcohol within the University community, including house parties.
Self Defense: The UW-La Crosse Police Department is working with the Eagle Recreation Center staff to provide students with a basic, interactive Self-Defense program.
Additional questions: Contact Officer Barton @ dbarton@uwlax.edu
This program provides the student with an easy-to-learn yet effective system that emphasizes instinctive movements, practical techniques and realistic training scenarios. Utilizing the principle that it is best to move from defense to attack as quickly as possible with fast-escape maneuvers combined with powerful counterattacks. Whether you are big or small, male or female, this program will give you the skills and confidence to feel safer and more secure every day.
Mock Party Bust: This program will provide the same information as the Alcohol Abuse and Laws program, but is done with officers to the residence hall and acting out a party bust. After the party bust, officers will talk about alcohol laws and answer questions. The hall sponsoring this program usually provides non-alcoholic beverages for participants and sets a party atmosphere.
Theft Prevention: Gives faculty, staff and students tips on how to prevent theft from occurring within the residence halls and University buildings.
Blue Lights: Currently UWL has over 40 blue lights which can be utilized to contact the UWL Police Dispatch Center with a touch of button. Below is a map of the current Blue Light locations: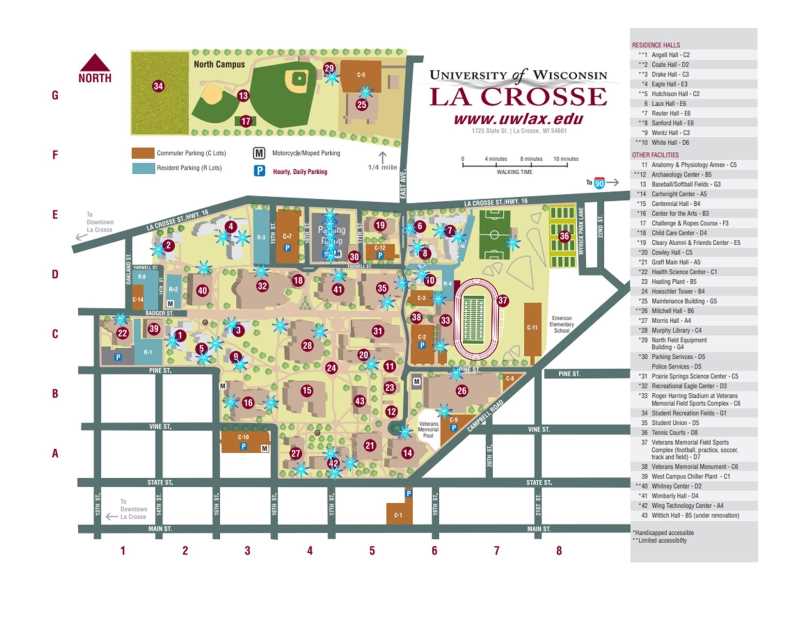 UWL Blue Light Location