Admitted international student
A page within Admissions
Pre-departure & arrival
Congratulations and Welcome to UW-La Crosse!
The university, campus community, the Admissions Office, and the International Education & Engagement Office look forward to welcoming you to our campus.
Please see these sites for important information:
Next steps
Below you will find helpful information for your journey to UWL. If you are transferring from another institution in the US, scroll down to the next section. If you have any questions, please feel free to contact us.
Visa/Immigration Process
Obtaining a visa & entering the U.S.
Visa Interview: When preparing for your visa interview, you will need to remember the following:
Pay the SEVIS I-901 fee at least 3 days before your visa interview and bring the receipt with you to your appointment.
Complete the Nonimmigrant Visa Electronic Application (Form DS-160).
Pay the visa application fee. See your local embassy or consulate website for more information
Prepare the following documents for your interview:
Valid passport
Receipt of SEVIS I-901 fee payment
I-20 (

Certificate of Eligibility for Nonimmigrant (F-1) Student Status)

or DS-2019(

Certificate of Eligibility for Exchange Visitor (J-1) Status)

Proof of funding
UWL admission letter
Two 2x2 inch (5x5 cm) passport size photographs
Information showing strong ties to your home country (family, job prospects, etc.)
Check your local embassy or consulate website for any additional information they may require.
To obtain a student visa, you must demonstrate the following to the consular officer:
You are a student with an educational plan
You have the financial resources to study in the U.S. for at least one year
You have strong ties to your home country
You plan to return to your home country after you have completed your studies
Port of Entry & Customs
Port of Entry: International Students on an F-1 or J-1 visa can enter the U.S. no earlier than 30 days before the program start date listed on their I-20 or DS-2019.
When you arrive in the U.S., your first stop will be Customs and Border Protection (CBP). Make sure to carry these items with you for inspection. Do not pack them in your checked luggage!
Passport: Must be valid six months into the future
F-1 or J-1 student visa: Must not be expired
Proof of Funding
I-20 or DS-2019
UWL admission letter
Customs: After you complete the CBP immigration inspection, you must go through customs. At this time you will be asked to declare what you have brought into the U.S. There are prohibited and restricted items which may not be allowed into the U.S. or items which are only allowed in limited quantities. This includes alcohol, cigarettes, food, and medicine. Please check the Customs and Border Protection website for current restrictions and limitations. If you are carrying over $10,000 in any currency or travelers' checks, you must declare it on your customs declaration form!
Students Transferring from Institutions in the U.S.
If you are transferring from an institution in the United States and already have a valid F-1 visa, you must do the following in order to ensure that your immigration record is transferred.
Complete the UW-La Crosse SEVIS Transfer-In form. Bring this form along with your UW-La Crosse acceptance letter to your current international student adviser (the person who signed your I-20). This will allow them to transfer your immigration record to our university.
How do I get to La Crosse?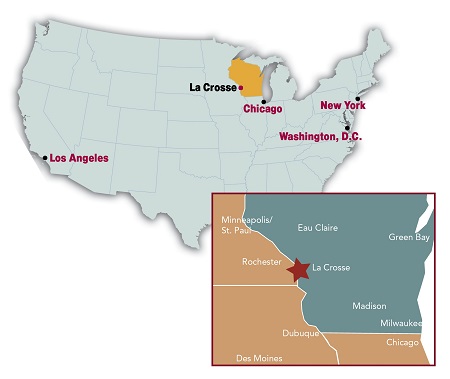 UWL US and Wisconsin Maps
La Crosse Regional Airport (LSE) is served by American Airlines. The International Education & Engagement Office recommends arriving at La Crosse Regional Airport, as it is the closest airport to UWL. Several flights arrive at the La Crosse Regional Airport daily, making it the most convenient choice.
Students who arrive during the designated arrival times will have the option of being picked up by the International Education & Engagement Office from the La Crosse Airport. If you arrive outside of the designated arrival dates you must arrange your own transportation to campus. Please be sure to submit your arrival information after you book your flight to La Crosse! Please click the appropriate link at the top of this page to submit your arrival information.
Weather in Wisconsin
Wisconsin's climate has four distinct seasons: fall, winter, spring and summer. Weather ranges from hot and humid conditions in the summer (70 to 90 F or 21 to 32 C) to cold, freezing and snowy weather in the winter (below 0 to 35 F or -18 to 0 C). Summer conditions require hydration while winter weather conditions require appropriate warm clothing.
International Student Orientation
Orientation is mandatory for all new international students!
Coming to a new country can be an exciting opportunity, but also a challenging experience. Per immigration rules and regulations and to help with the transition from your home country to the U.S. and UWL, we require all new international students to attend New International Student Orientation and then campus' New Student Orientation (NSO).
Orientation will provide you with information about campus life, the La Crosse community as well as immigration regulations. Life as an international student means balancing the requirements of U.S. immigration regulations and maintaining high academic standards. American culture requires you to take personal responsibility for learning, understanding, and following all regulations. During orientation week, you will be introduced to upcoming opportunities and provided resources to help with any questions you might have.
We will offer a campus tour, a shopping trip, information about maintaining your immigration status, a banking session, and evening social events to help acquaint you with your fellow students. IEE staff and current students will be available to help you find your way around campus, answer your questions, and be a friendly face throughout orientation week and beyond.
Note: Students may be charged a daily $26 move in fee if living on campus prior to 08/30/2023.
Upon your arrival at UW-La Crosse, you will receive a detailed orientation schedule.
Important Dates
| | | |
| --- | --- | --- |
| | Fall 2023 | Spring 2024 |
| Arrival Dates | August 27 - August 29 | January 16-17 |
| Orientation Dates | August 30 - September 4 | January 18-21 |
| La Crosse Battery Exam (ESL) | N/A | N/A |
| Classes Begin | September 5 | January 22 |
All new freshmen, exchange students and some contract students are required to live in campus housing. All housing contracts are for a full academic year, unless you are on a one semester exchange/contract program.
If you are required to live in campus housing or wish to apply to live on campus, you must apply online.
For a list of estimated housing costs, please visit the Office of Residence Life website.
Residence Hall Options
Eagle Hall - Triple rooms are available in a shared suite setting.
Reuter Hall - Single rooms are available in a shared apartment setting. This hall is generally for students older than 20.
Follow these instructions to begin your housing application:
To reserve a place in our residence halls go to http://uwlax.edu/ResLife/ and click on the Apply for Housing tab on the left.
Follow each step which includes accessing the Housing Portal, and completing the housing application. Due to the demand for on-campus housing, you are encouraged to reserve a place as soon as possible.
Review and agree to the housing contract terms and conditions
Review your application summary for accuracy
This is a legally binding contract that cannot be cancelled without penalty after May 1, 2023 if you attend UW-La Crosse during the academic year 2023-2024.
Off-Campus Housing
Living off-campus is not recommended for freshmen/first year students. If you prefer to live off-campus, you should make arrangements prior to your arrival in La Crosse. Finding off-campus housing may take time and fills quickly as many other students are also searching or already have made arrangements for cheap and convenient rentals. To assist you with the process of finding off-campus accommodations, UWL has developed a guide to renting off-campus
The online Undergraduate and Graduate Catalogs provide descriptions of all courses offered at UW-La Crosse, as well as current academic policies, program descriptions, and degree requirements. You can use the Timetable to search for classes and times offered for each term.
When you applied, you received an email from the UWL Admissions Office with information regarding how to access your WINGS account, including your student ID number. With the information provided in this email, you will be able to register for courses using your WINGS account after your enrollment appointment. Feel free to email your assigned adviser if you need assistance with course selection. Advisers are not able to register you for your courses. If you are having difficulty logging in to WINGS, please contact the Eagle Help Desk.
Graduate Students
Please contact your program advisor for information about course registration. Their contact information can be found on your admission letter.
Undergraduate Students
In your WINGS Student Center, you will notice an Enrollment Appointment. After the date of your enrollment appointment, you will be able to register for courses using your Student Center. If you need help selecting courses, please let us know.
Courses may fill up quickly, so register early!
Exchange Students
Below is the contact information of the academic advisors in each college. If you plan to take courses with prerequisites, you must contact the appropriate academic advisor.
College of Business Administration
College of Arts, Social Sciences, and Humanities or School of Visual and Performing Arts
College of Health and Science
School of Education
You are strongly encouraged to register for your classes before arriving at UWL. Please contact Miranda Panzer if you have difficulty registering for courses.
Vice Chancellor's Scholarship for New International Students
This merit-based scholarship is awarded each semester to new international students with excellent academic records. Undergraduate degree-seeking students may apply for this scholarship after they are admitted.
Eligibility Requirements*
Undergraduate Degree-seeking student at UWL
Satisfy the English proficiency requirement
3.0 GPA (out of 4)
*Fulfilling these requirements does not guarantee an award. Awards are granted based on availability. Students who apply early will have a better chance of being awarded a scholarship.
Malaysian American Degree Transfer Program (ADTP) Scholarship
This scholarship is automatically awarded each semester to transfer students from American Degree Transfer Programs in Malaysia. The scholarship amount is 50% of the non-resident tuition, which is approximately USD $4,400 per year. * Note: students receiving this scholarship are not eligible for the Vice Chancellor's Scholarship for New International Students.
Other Opportunities
Visit the UWL Foundation for information on campus UWL Foundation scholarships and various external scholarships.
Graduate students - Contact your program director about non-resident tuition waiver and/or graduate assistantship opportunities.
Course descriptions must be submitted before you begin your studies at UW-La Crosse.
Additional information may be requested on a case-by-case basis.
How will your credits transfer?
An official credit evaluation is performed after admittance to the university.
Please review the Transfer Credit Policy for guidance on how your credits might transfer to UW-La Crosse, including information about Advanced Placement (AP), College Level Exam Program (CLEP), and International Baccalaureate (IB) credits. For questions about scheduling and academic advising, please consult the Academic Advising Center's list of frequently asked questions.
Credit is generally awarded for college-level course work completed at institutions accredited by a regional or national accrediting organization recognized by the Council for Higher Education Accreditation (CHEA). Foreign institutions must be recognized by the appropriate authority in that country, such as the Ministry of Education. Courses must be similar in nature, level, and content to a course in our undergraduate curriculum and applicable to one of our academic programs. Continuing education courses, graduate-level courses, and courses that are remedial, technical, vocational, or doctrinal in nature are not transferable.
International Coursework: Course descriptions from all university-level courses are required. If detailed course descriptions are not provided, transfer credit will not be awarded. Please note that English language courses are not transferable to UW-La Crosse, as they are not offered at university-level in the United States.
University of Wisconsin Placement Tests
We are happy to share that the at-home exams for University of Wisconsin Placement testing are ready and available to complete. Remember, this is a required step for course registration at UWL.
The University of Wisconsin Placement Tests are used by all UW System schools. If you attended/are attending/had planned to attend another UW System school, you may have already taken these exams.
If you have taken the tests within the past two years, we can add these scores to your academic record for UW-La Crosse. In order to do this, please provide your full name, date of birth, and the approximate test date you took the exams, to the C. Criss Gilbert, Testing Coordinator in the Counseling & Testing office.
You will use your UWL Net ID and password to access the test registration form. These are the same credentials you use to access your UWL email account and WINGS Student Center. If you have not activated your account, or forgot your password, please see this site: https://www.uwlax.edu/info/password-reset/
You will be given information about the expected standardized conditions for taking the tests and urged to comply with time limits as best as you can. Complete the exams without outside assistance to ensure an accurate placement into UWL courses at your skill level.
It is recommended that the test be taken from a desktop or laptop computer or tablet, but NOT on a phone as the screen is too small.
Upon completion of the test, you will need to click on a button to submit your scores. If you do not, your exam will still be open and your test scores will not be sent to UWL.
Technical support will be available. Scantron will provide telephone and email support to students during testing. Monday - Thursday 8:30 am to 8:00 pm, Friday 8:30 am to 5:30 pm, & Saturday 8:30 am to 4:00 pm. Note: all times are CST.
Register for the placement tests at https://exams.wisc.edu/placement/regionaltesting/information.php