Transfer Student
A page within Admissions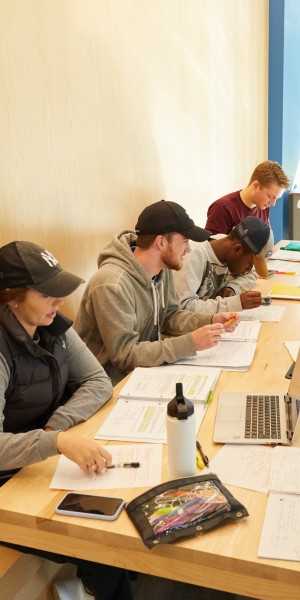 Applying for Admission
While academic preparation is the primary criterion used in the admissions review process, we consider other nonacademic secondary factors that may contribute to the strength of an application, including demonstrated leadership, extracurricular involvement, special talent, personal statement, recommendations, or adding a diverse dimension to our campus community.
A student who holds one bachelor's degree may be admitted to the university to earn a second bachelor's degree. Each applicant must complete the UW System application and have one official transcript sent from each university attended. Questions about earning a second bachelor's degree at UW-La Crosse should be directed to the Transfer Admissions Office.
Which type of admitted student are you?
Credit transfer
All admitted transfer students will receive an official credit evaluation upon admittance.
Note: Criteria such as number of schools attended and/or number of credits earned may extend time necessary to complete your transfer credit report.
We will notify you via email when your transfer credit report is complete and direct you to your WINGS Student Center to view it. See the transfer credit report narrative for assistance in understanding your transfer credit report.
In the meantime, you can use the resources below to learn how your credits may transfer.
Transferology

expanding section

Transferology is a nationwide network designed to help you explore your college transfer options. UWL enters all of its transfer equivalencies in Transferology to help you determine how your credit will transfer. Simply click on the icon above to create a free account. Enter the coursework you've completed, then use the search to see how your coursework transfers.
Courses displayed as "maybes" in Transferology does not imply a lack of transferability; it means UWL has yet to evaluate the course's equivalency. For more information, contact our transfer staff.
Transfer Guides

expanding section
If you are transferring from one of the institutions listed below, we have developed general education equivalency guides to indicate how courses from various institutions will transfer to UW-La Crosse and if there are any additional program transfer agreements in place.
| | | |
| --- | --- | --- |
| Wisconsin | Minnesota | Illinois |
| | | |
Please view the information about our Transfer Credit Policies, including information about Advanced Placement (AP), College Level Exam Program (CLEP), and International Baccalaureate (IB) credits. For questions about scheduling and academic advising, please consult the Academic Advising Center's list of frequently asked questions.
Credit is awarded for college-level course work completed at institutions accredited by a regional or national accrediting organization recognized by the Council for Higher Education Accreditation (CHEA). (Foreign institutions must be recognized by the Ministry of Education in that country.) Courses must be similar in nature, level, and content to a course in our undergraduate curriculum and applicable to one of our academic programs. Continuing education courses, graduate-level courses, and courses that are remedial, technical, vocational, or doctrinal in nature are not transferable.
Second degree students will not receive a credit evaluation and should consult with the Dean's Office of their College (see letter of admission) to determine which courses are needed to complete the second undergraduate degree.
Articulation Agreements
UW-La Crosse has Articulation Agreements in place with with following Wisconsin Technical College Campuses: