Transfer Student
A page within Admissions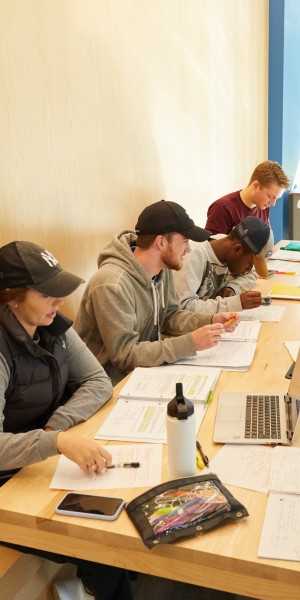 Applying for Admission
We take a comprehensive, holistic approach when reviewing each application. While your demonstrated academic performance is an important component, we also consider factors such as extracurricular activities, demonstrated leadership, essays, and letters of recommendation.
UWL does not have an application deadline. When we have reached the maximum number of students we can enroll for a given term, admission will close. We recommend that you apply for admission as soon as possible.
| | |
| --- | --- |
| Starting Term | Application Opens: |
| Winter (J-term) or Spring 2024 | April 1, 2023 |
| Summer or Fall 2024 | August 1, 2023 |
UW System application - https://apply.wisconsin.edu
Nonrefundable application fee
NOTE: Students directly transferring from a UW System Campus within one year are exempt from paying the application fee.
Official high school transcript that includes a high school graduation date.
Official college transcripts sent directly to UW-La Crosse Admissions Office from all post-secondary institutions attended, even if no credit was earned.

Transcripts should include all college-level coursework completed to date.
If you completed college courses during high school, we need official transcripts from the institution(s) that granted the credit.

List of courses in progress – if currently enrolled – with course numbers, titles, and number of credits for each course.
Please note that transcripts need to be OFFICIAL copies
UWL accepts transcripts sent directly from the issuing institution(s) or through an electronic secure document sending service. Transcripts that are marked "Issued to Student" or that are hand delivered by a student will not be accepted unless the transcript remains sealed in the original stamped envelope from the issuing institution(s). For transcripts sent via USPS, please use the following mailing address: UW-La Crosse Admissions, 1725 State Street, La Crosse, WI 54601
To be considered for transfer admission:
Students with at least a 2.25 cumulative grade point average in transferable credits will be stronger candidates for admission.
Students with a cumulative grade point average between a 2.00 and 2.24 in transferable credits will be considered for admission if space is available.
Students transferring from a UW System Campus with a cumulative G.P.A of 2.00 and 18 transferable credits are encouraged to apply.
---
Please Note: Students who were not admissible as new freshmen must have earned at least 18 transferable semester credits to be considered for transfer admission.
---
After all materials required for your application are received, an admissions decision will be mailed via USPS in two to four weeks:
| | | |
| --- | --- | --- |
| ADMIT | POSTPONE | DENY |
| Watch for your admissions packet to arrive via USPS. Check out the admitted transfer students webpage for more information regarding your next steps. | Some applicants may be placed on a postpone list, meaning an admission decision will be made at a later date. If you would like your application to receive further consideration, please follow the instructions in your admission letter. | For some transfer students, it is possible to be considered for a later term. For assistance, please contact the Admissions Office. |
A student who holds one bachelor's degree may be admitted to the university to earn a second bachelor's degree. Each applicant must complete the UW System application and have one official transcript sent from each university attended. Questions about earning a second bachelor's degree at UW-La Crosse should be directed to the Transfer Admissions Office.
Which type of admitted student are you?
Credit transfer
All admitted transfer students will receive an official credit evaluation upon admittance.
Note: Criteria such as number of schools attended and/or number of credits earned may extend time necessary to complete your transfer credit report.
We will notify you via email when your transfer credit report is complete and direct you to your WINGS Student Center to view it. See the transfer credit report narrative for assistance in understanding your transfer credit report.
In the meantime, you can use the resources below to learn how your credits may transfer.

Transferology is a nationwide network designed to help you explore your college transfer options. UWL enters all of its transfer equivalencies in Transferology to help you determine how your credit will transfer. Simply click on the icon above to create a free account. Enter the coursework you've completed, then use the search to see how your coursework transfers.
Courses displayed as "maybes" in Transferology does not imply a lack of transferability; it means UWL has yet to evaluate the course's equivalency. For more information, contact our transfer staff.
If you are transferring from one of the institutions listed below, we have developed general education equivalency guides to indicate how courses from various institutions will transfer to UW-La Crosse and if there are any additional program transfer agreements in place.
| | | |
| --- | --- | --- |
| Wisconsin | Minnesota | Illinois |
| | | |
Please view the information about our Transfer Credit Policies, including information about Advanced Placement (AP), College Level Exam Program (CLEP), and International Baccalaureate (IB) credits. For questions about scheduling and academic advising, please consult the Academic Advising Center's list of frequently asked questions.
Credit is awarded for college-level course work completed at institutions accredited by a regional or national accrediting organization recognized by the Council for Higher Education Accreditation (CHEA). (Foreign institutions must be recognized by the Ministry of Education in that country.) Courses must be similar in nature, level, and content to a course in our undergraduate curriculum and applicable to one of our academic programs. Continuing education courses, graduate-level courses, and courses that are remedial, technical, vocational, or doctrinal in nature are not transferable.
Second degree students will not receive a credit evaluation and should consult with the Dean's Office of their College (see letter of admission) to determine which courses are needed to complete the second undergraduate degree.
Articulation Agreements
UW-La Crosse has Articulation Agreements in place with with following Wisconsin Technical College Campuses: