Posted 4:57 p.m. Thursday, May 6, 2021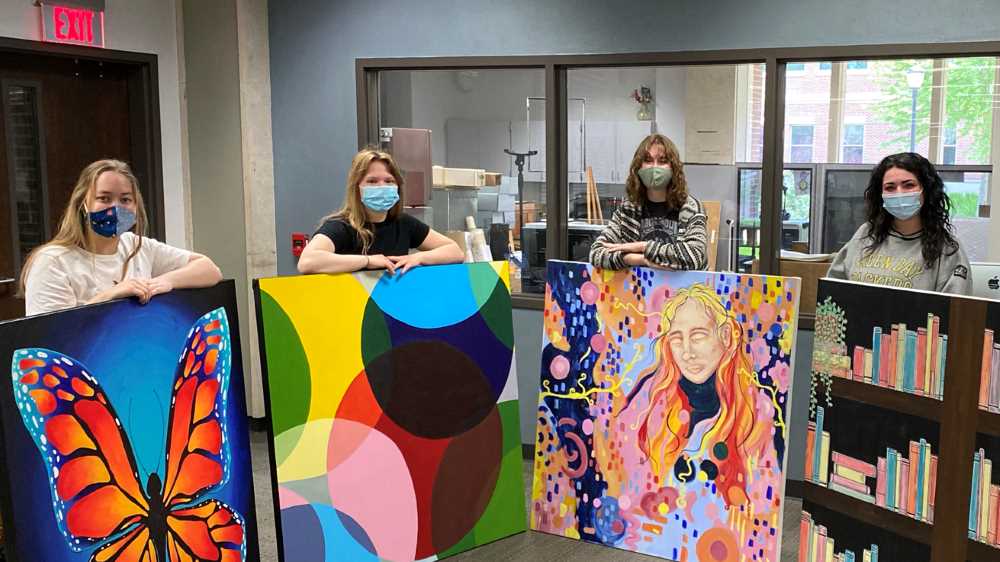 Inaugural student artwork collaboration coming soon to Murphy Library
Coming in June 2021!
Have you been in the library recently? If so, you may have noticed a very monochromatic look that does not represent or highlight our most important assets – the students, faculty and staff who use our spaces! In response, Murphy Library embarked on a project to bring more color and creativity to our walls. Thanks to a grant from the Murphy Library Endowment Fund, we partnered with Professor Jennifer Williams in the University of Wisconsin – La Crosse Art Department to bring student art into our library. The finished 4' x 4' paintings offer students a challenging and unique learning opportunity (that is one large canvas to fill!) and will benefit all who visit the library.
So, how does it work? In the spring of 2020, the library sent out a call for proposals to art students in Jennifer Williams's painting classes. Students were required to submit a short, written explanation and a miniature prospectus piece addressing one or more of the following themes:
Patterns

Why

ask

questions

Motivations

Connectivity

Transitions

Understanding truth
Then, a committee of library personnel gathered to select student works to move forward. Our committee was honored and excited to receive seven submissions and was ready to get to work. But then COVID hit. As we all exited campus, we halted all painting projects and were left wondering when and if we would continue.
Fast forward to spring 2021 where we returned to the project with renewed hope! With a mix of new submissions and returning students from spring 2020, we are excited to announce the following students' pieces were selected: Olivia Bull, Nikita Conway, Athena Gates, Abby Johnson, Maria Landgraf, Kenzie O'Shea and Phillip Vircks. We are excited to see the finished paintings hanging on our walls beginning in June 2021!
To help us launch other projects like this in the future, please consider donating to our endowment fund. There is nothing we like more than working with UWL faculty, staff and students to offer unique learning opportunities; we are so thankful that our endowment fund allows us to do so! Additionally, we would like to thank all the students who responded to our call to artists and submitted an image of their work. Your participation was very much appreciated.