Posted 1:19 p.m. Wednesday, Dec. 1, 2021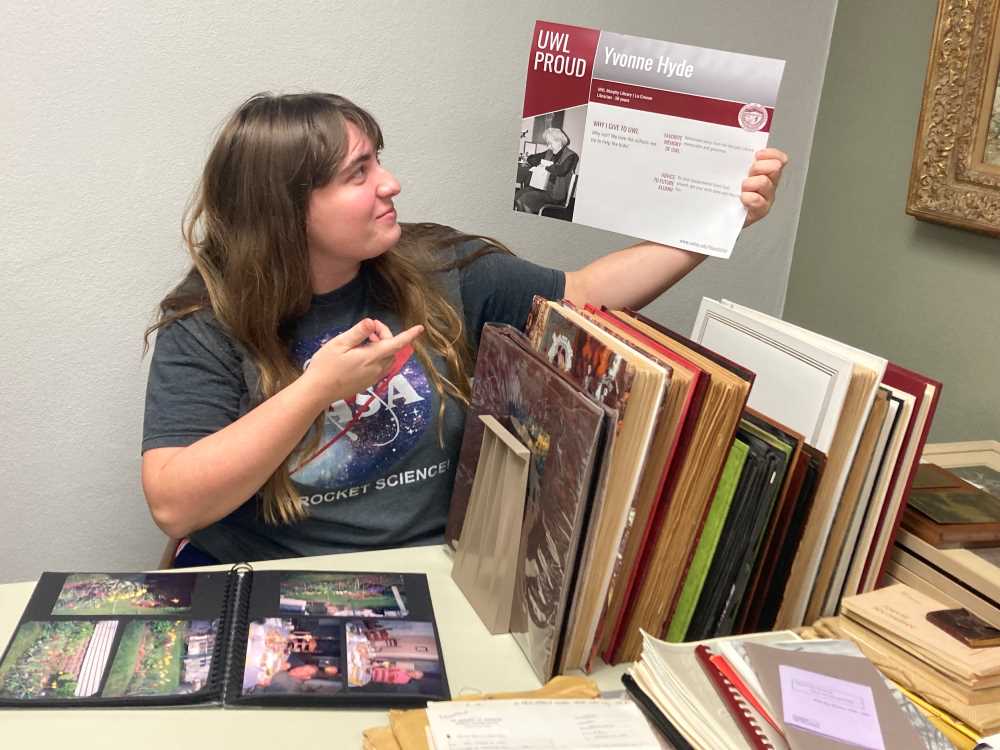 Meet Special Collections Student Worker, Samantha Norby
By Teri Holford
We employ many students in the library. When we meet one who is planning on pursuing graduate work in our own field, Library and Information Science, that makes our day! Samantha's enthusiasm for archival items, unique and rare books, and manuscripts made her the perfect student to start processing a very large archival donation we received this past summer from former University of Wisconsin – La Crosse Professor Emeritus William Hyde (English Department). Hyde was an avid Thomas Hardy scholar, and his wife, Yvonne, worked in Murphy Library for 38 years. To help a future librarian/archivist, we are happy to give Samantha as many relevant library experiences as possible to ensure a successful graduate school experience. Thank you for all your work, Samantha!
About Samantha
What is your major/minor?
My major is English literature, and my minor is in physics.
What year are you currently?
I am currently a fifth year, but I am graduating this semester.
How do you relate a physics minor to your English literature major?
I think being a physics major helped me in better appreciating the humanities. What physics gave me was an ability to understand complex concepts and to value empirical evidence. English on the other hand let me apply these concepts and communicate them with the people around me. The two together have made for a powerful tool in interpreting texts and people.
What research interests or projects are you involved with?
I have research interests in a lot of old texts, working with Old English and manuscripts. One of my projects I am involved with is looking at "The Divine Comedies" by Dante and how he uses souls to convey his message. I am also working on a project in Special Collections.
What do you do in Special Collections?
I am working on a large collection of books and other pieces that were donated to our library. Currently, I am still working on the inventory of the collection, but I will eventually be helping to create more of the documentation of this donation.
Why do you think collections like this are important to keep and organize?
I think collections like this are important because they have many historical pieces in them that we can help to preserve and appreciate. The collections also give us an idea of who the people were who donated these pieces and what kind of literature they enjoyed.
What has been your favorite part about working in Special Collections?
My favorite thing about working in Special Collections has to be the people I have come to know. Walking in and finding a community of people who appreciate these works was a wonderful experience. Something else I have enjoyed from my project has been getting to see the little bookmarks that the couple who donated their books made for each other – they are so cute!
What are your future plans?
I am planning to apply to graduate school next fall. I am hoping to get my master's in library science with a concentration on archival works. Someday I hope to be able to work on some sort of conservation of these pieces.
What do you like to do outside of being a student?
Being a student is pretty full time, but when I have time to myself, I enjoy working on small projects for my friends or my renaissance troop. Calligraphy and baking are two of my hobbies. Creative projects are a little outlet from the stress of classwork for me.
Anything else you would like the world to know about you?
I enjoy working in libraries, they always attract kind people.