Posted 3 a.m. Wednesday, May 3, 2023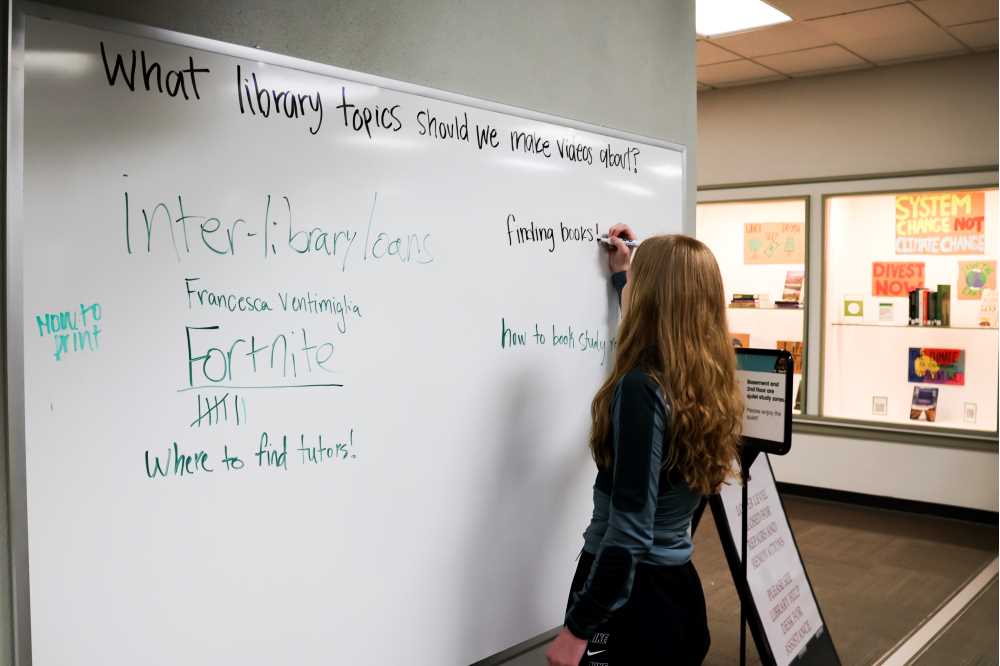 Engaging with our UWL community, one question at a time
By Amber Leibundgut-Peterson (She/her/hers)
You may have noticed a new addition as you enter Murphy Library: our "Tell us more" whiteboard. This board went up right before the fall semester as a way for all of us in Murphy to come together over a common question. What started out as a well-intentioned but wildly unplanned initiative has turned into a fun adventure that many look forward to each week! Topics vary in seriousness and popularity with a few of our favorites including:
"What do you make time for each day?"

"What do you love about libraries?"

"What are you looking forward to over spring break?"
Not only have we been surprised by the amount of participation, but we have also greatly appreciated the weeks where people have offered authentic feedback such as preferring a wellness room over a study room and what would make our library spaces better (Whiteboard tables! Bean bag chairs! The basement space we are all intensely wishing for!). We also look forward to using this board as one way to find out what we are doing right and what we can improve. For example, are there parts of the library that you are confused about (and how can we fix it)? Are we meeting your technology and teaching needs with our videos, library guides and website? Are there concrete ways we can make the space more welcoming and conducive to student success?
Visit the library's Instagram to see the board topics and responses from the past few months. If you are interested in asking a question on the board or would like to offer suggestions regarding the library, please reach out to Amber Leibundgut-Peterson at aleibundgut-peterson@uwlax.edu. The possibilities are endless, and we look forward to learning more together in the 2023-2024 year!