Posted 5:03 p.m. Thursday, May 6, 2021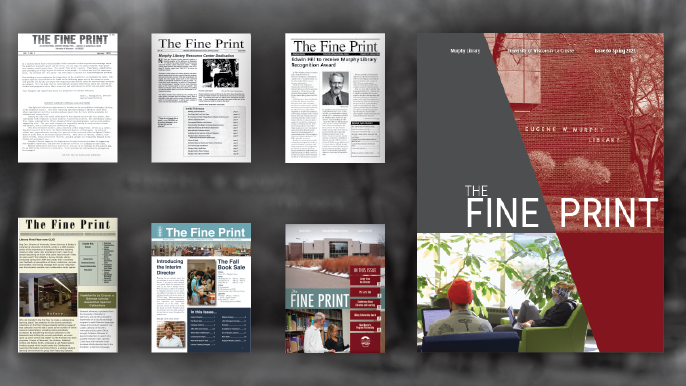 Using a new format to tell our story
While the past year has been a challenging one, it also provided an opportunity to reevaluate and think more creatively about some of the ways we do things in Murphy Library. For The Fine Print Newsletter, this meant we had the chance to reimagine the format we use to tell our story. The result was the merging of our newsletter and blog, which will allow us to publish individual stories on a more regular basis and share them more widely, while still being able to collect them all in one place as an online newsletter. Details will continue to evolve as we become more comfortable working in this new format, but we hope that our readers will find content easier to access and stories more relevant as we will be able to publish them as they happen. Click to read all the stories from The Fine Print Newsletter, Issue 65, Spring 2021.
I'd like to thank Amber Leibundgut-Peterson (Web & User Experience Librarian) and Jake Speer (Director of Web and Design Services), both of whom were a great help as we brainstormed ideas, finessed technical details, edited story submissions and more. I would also like to thank all the library faculty and staff who contributed articles and announcements for our first issue in this new format.
Previous issues of The Fine Print Newsletter will continue to remain available through our website or can be accessed in print through Murphy Library Special Collections.
If you like this new format or have any questions, let us know!