Posted 2:37 p.m. Thursday, Dec. 10, 2020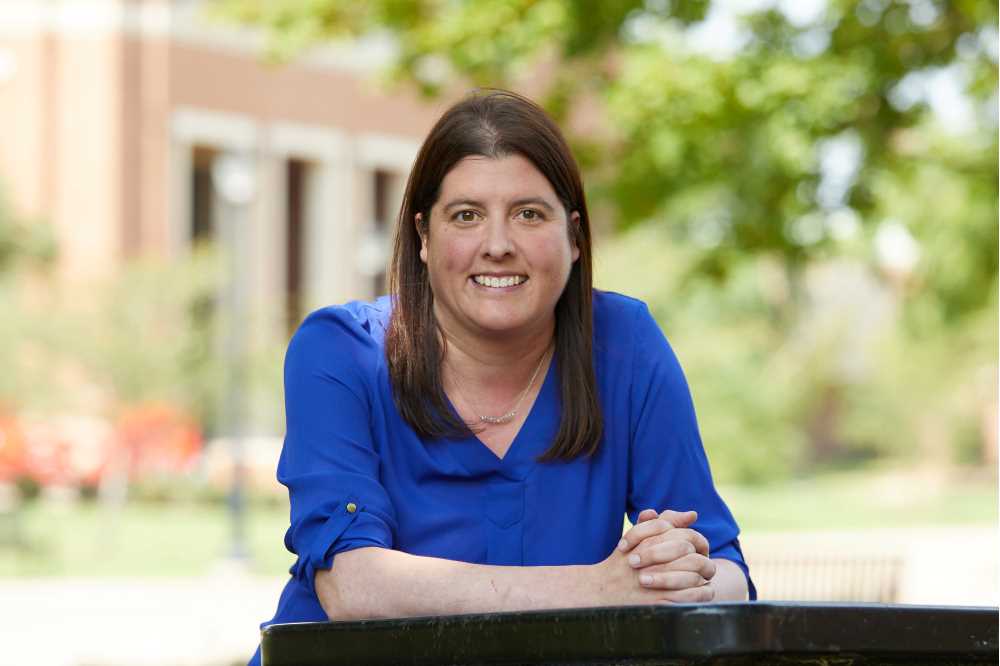 Jo Arney remembered for vibrant spirit, impactful career
UW-La Crosse has lost a kind soul, an infectious laugh and a fervent friend to students and colleagues alike.
Jo Arney, director of Student Success, died Nov. 19 of a serious medical condition. The 44-year-old is remembered for not just the quality of her work, but the boundless vitality with which she lived.
"Jo was everyone's fun-loving, quirky friend on campus," says Karolyn Bald, interim director of International Education & Engagement, and a longtime friend of Arney and her husband, Jeremy. "I would imagine that most people (who knew her) thought of her as a good friend, and that was the beauty of Jo. She genuinely loved people and made you feel heard and cared for, even if she only met you once or twice."
Arney was many things to many people — a friendly face, a trusted confidant, a practical joker and a reassuring voice during difficult times.
Whether you'd spent 10 weeks or 10 years at UWL, you probably had a Jo Arney story.
"Even as a colleague, she would be a personal cheerleader if you needed it," notes Lisa Weston, assistant director of Residence Life. "One particularly hard week last year, I attended a weekly meeting with Jo and other campus partners. I was clearly frustrated and feeling like the work in front of me was too difficult. Jo took off the bracelet she was wearing and gave it to me, and she said something like, 'Wear this until you don't need it anymore.' It was inscribed with the phrase 'Keep going.' I only wore it for that meeting, but that feeling stuck with me and still does. That's exactly who Jo was — she inspired you to keep going."
To Sarah Joslyn, coordinator of New Student & Family Programs, Arney was the quintessential people person — someone who knew the tremendous value of friendships.
"One of my favorite memories about Jo was when she invited myself and Karolyn Bald to lunch with her," Joslyn says. "Jo said to us, 'You are two of my favorite people, and I need you to know each other better.' We had a wonderful lunch swapping stories, laughing and enjoying each other's company. To me, this memory is just so very 'Jo,' because she was always bringing people together. She loved so many people and was always trying to help make connections."
And to Andrew Ives, Student Life specialist, Arney will be remembered as a fierce animal lover, among so many other things.
"Her love of animals was profound," Ives says. "My favorite memory of Jo is how she protected my and my husband's puppy from the roughhousing of her two dogs. She quickly took on the mama bear role with our puppy, Fred, and introduced him slowly to her pups. She cared so deeply for our family and only wanted the best for us."
Arney left an indelible mark during her 13-year career at UWL, which began as a professor in the Political Science and Public Administration Department.
Tim Dale, a professor in the department, said she approached her job with humor and professionalism, "and made everyone better at theirs."
But her impact on so many lives across campus did not end with the workday.
Arney was known to invite friends to "Skunk Hollow," her family's home and hobby farm near Coon Valley. There, she would tend to the garden, take long walks around the property and sit around the campfire with friends from UWL.
"It was and is our safe place to joke, be silly and, honestly, even vent," Bald explains. "At some point, during the ribbing of someone, she would yell out, 'Hey, I love them! I genuinely love them!' To which we would all bust out laughing and say back, 'Of course you do, Jo. You love everyone!'"
Arney's love for the people around her was perhaps most evident in her work with students.
A first-generation and transfer student, she knew firsthand the obstacles many face navigating college. She was willing to do whatever it took to help them meet those challenges.
It was not uncommon for Arney to call one of her colleagues, in tears, to share how proud she was with a particular student.
Those who knew Arney say there is no better measure of her legacy than the number of lives, especially young lives, she changed for the better.
"To all her students and alums … her heart was bursting with pride for all of you," Bald says. "She was so incredibly proud of your development, your achievements and your impact."
Memorial scholarship
A new scholarship program will honor Arney's remarkable life and career.
The Jo Arney Student Success Scholarship will be awarded to a new student with a first-generation and/or multicultural background.