Posted 12:09 p.m. Friday, Jan. 26, 2018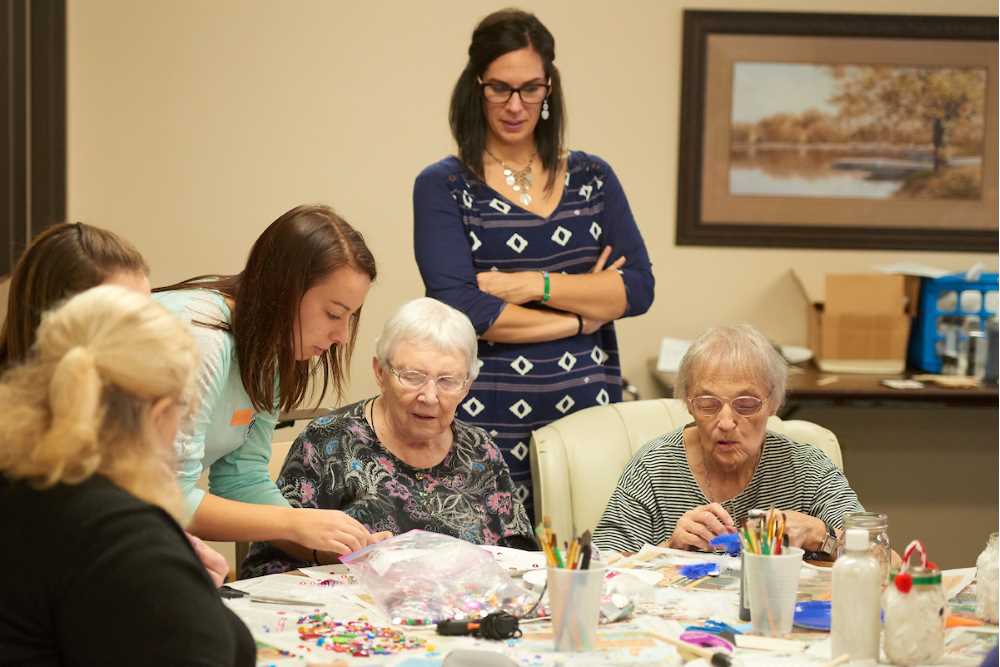 Campus age-friendly efforts reaching out to those growing older
Campus age-friendly efforts reaching out to those growing older
Baby Boomers are getting older. And some faculty at UW-La Crosse are working to get more of them involved on campus. UWL has been designated as an Age-Friendly University — the first university in the state to attain the designation. The Age-Friendly University (AFU) initiative is an international effort led by Dublin City University to highlight the role higher education can play in responding to the challenges and opportunities associated with an aging population. Five faculty members are part of the UWL's Gerontology Emphasis Group. Associate Professors Nancy Richeson,
Recreation Management and Therapeutic Recreation Department
, and Dawn Norris,
Sociology Department
, are leading the charge. They have reviewed the 10 AFU principles and UWL's distinctive contributions to responding to the interests, needs and opportunities for the growing, aging population in the Coulee Region. The group hopes to raise awareness and educate undergraduate and graduate students about aging issues, along with building support for an increasing age-diverse population. "Our response to the educational needs and interests of this emerging population calls for new opportunities and innovative practices of teaching, research and community engagement that colleges and universities are poised to offer," says Richeson. "The goal is to learn about emerging age-friendly efforts and to contribute to an educational movement of social, personal and economic benefit to students of all ages." With UWL in its early stages of
"Sustaining Excellence,"
the university's strategic plan, Richeson says it's an ideal time to probe improving efforts to reach out to older adults. "Volunteer, service learning, practicum and internships with older adults is a natural fit with the plan's goal of increasing community engagement," she explains. "And raising the visibility of age diversity – an important part of AFU initiatives — aligns with UWL's goal of achieving excellence through equity and diversity." UWL's new
gerontology emphasis
, open to all majors, is a great example of how the campus is providing cross-disciplinary education — another strategic plan goal — for gerontology students. UWL is making strides in becoming an age-friendly university, says Richeson. "More work can be done and some of the changes will require a paradigm shift in the way the university conceptualizes its student body," she explains. The plan is already moving forward, Richeson says. The UWL Age-Friendly University Task Force has engaged faculty and staff across campus to reach out to older adult students. "UWL can harness the AFU principles to create a rich environment to promote the growth of young and older students, staff, faculty, administration and community members," she says. Richeson says UWL will receive recognition from the
Association for Gerontology in Higher Education
in March at the Atlanta annual conference and at an international meeting in Dublin, Ireland. UWL will be listed on the association's and Dublin City University's websites for age-friendly initiatives.
The 10 Age-Friendly University principles include:
Encourage the participation of older adults in all the core activities of the university, including educational and research programs.
Promote personal and career development in the second half of life and support those who wish to pursue second careers.
Recognize the range of educational needs of older adults (from those who were early school-leavers through to those who wish to pursue master's or doctorate qualifications).
Promote intergenerational learning to facilitate the reciprocal sharing of expertise between learners of all ages.
Widen access to online educational opportunities for older adults to ensure a diversity of routes to participation.
Ensure that the university's research agenda is informed by the needs of an aging society and promote public discourse on how higher education can better respond to the varied interests and needs of older adults.
Increase the understanding of students of the longevity dividend and the increasing complexity and richness that aging brings to our society.
Enhance access for older adults to the university's range of health and wellness programs and its arts and cultural activities.
Engage actively with the university's own retired community.
Ensure regular dialogue with organizations representing the interests of the aging population.