'A real game-changer'
New Fieldhouse a hit among alumni, coaches, student athletes
cutline needed
Posted 1:21 p.m. Friday, Aug. 18, 2023
Alumni have one complaint about the new, state-of-the-art Fieldhouse: It wasn't around when they were students.
"The new Fieldhouse is an incredible facility for competitors and spectators, with so much more space than in Mitchell Hall," says Lace (Van Zeeland) Luedke, '97, who was among the 300-plus attending the Track & Field Alumni Weekend Jan. 13 and 14.
"The track on the upper level adds a great option for athlete warm-ups and another view for spectating," she notes. "I got to chase the UWL women racing the 400m and 200m at the alumni meet, and the new track is fast!"
The Fieldhouse, east of the Veterans Memorial Field Sports Complex, was completed in December 2022 after construction began in 2020.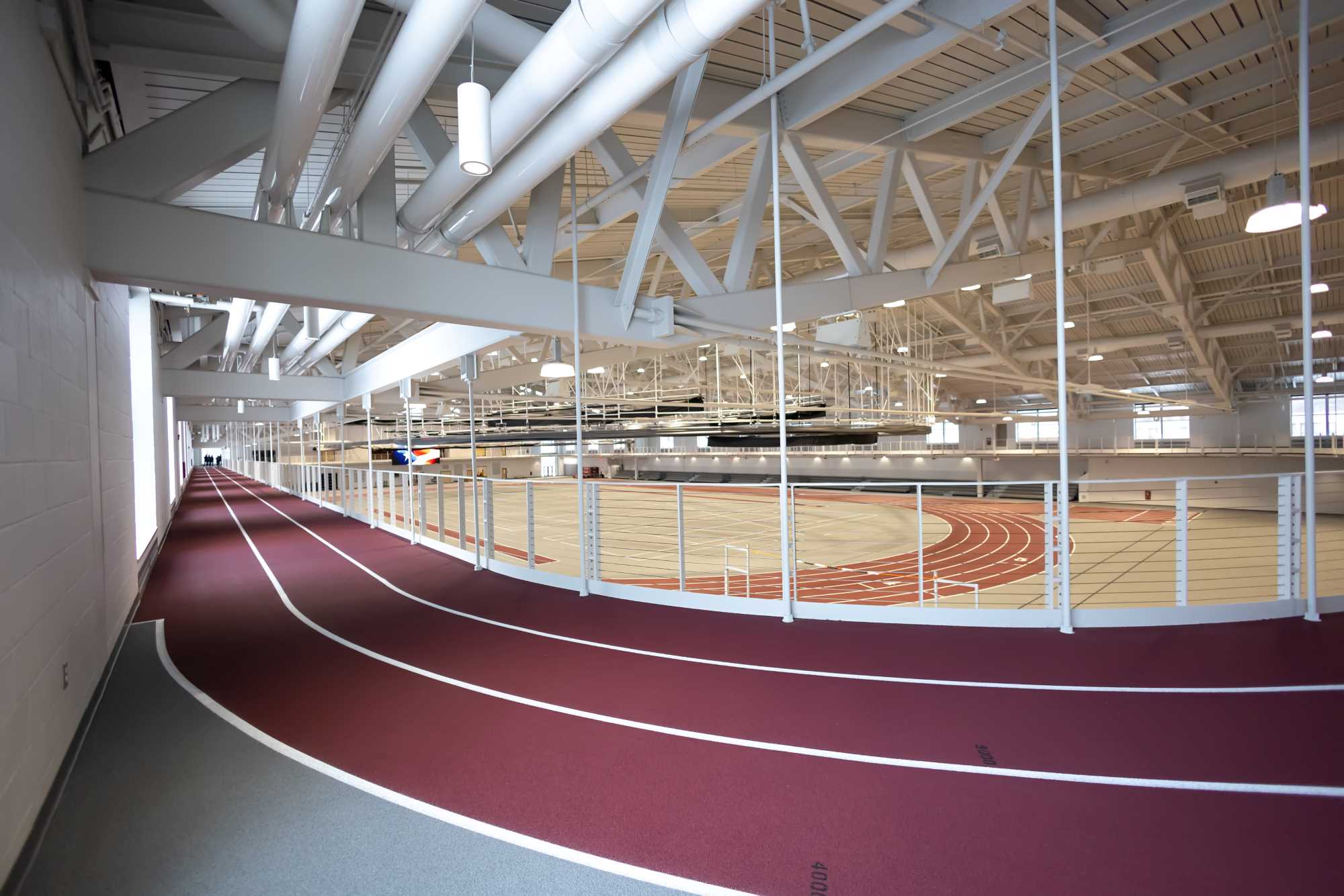 The 144,000 square-foot facility has a 200-meter NCAA competition track, an all-sport-surface infield, a second-floor walking/jogging track, modern locker rooms and meeting spaces, and capacity for 1,500 spectators.
Construction costs were covered by university program revenue and student funds; no state tax dollars were used.
"I am extremely impressed with the new facility. I think it has to be one of the best 200m facilities in the country," says Bill Schroeder, '93, who spent a decade as an NFL wide receiver, including several years with the Green Bay Packers. In addition to playing football at UWL, Schroeder competed in track from 1990-93. "The facility is far superior to Mitchell's fieldhouse because the fans can watch from anywhere, and the athletes have plenty of room to warm up and compete without having to worry about running into somebody."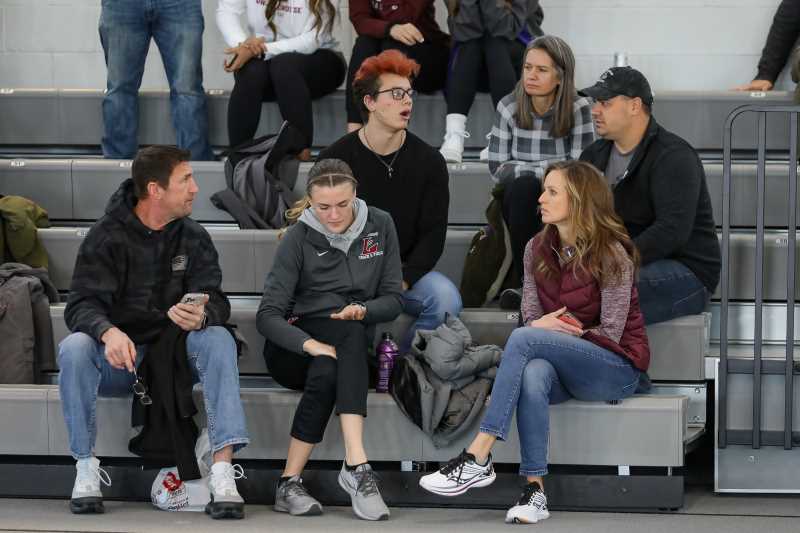 Eric Gansen, '97, remembers the tight turns and narrow lanes that plagued Mitchell. When he was a student, the runway for the long and triple jumps also overlapped the track, making it difficult to run events simultaneously.
UWL needed an upgrade, Gansen says, particularly due to the program's sustained success. The men's and women's teams have been powerhouses in recent years, including both claiming the NCAA III Indoor Championship in March — a first for D-III.
"Finally, UWL has an indoor track facility that reflects the success of the UWL track programs and the interest that the La Crosse area has in track and field," says Gansen, now a UWL physics professor. "I'm very much looking forward to running on the track and catching some track meets. I can't wait to see what kind of performances are achieved in the new facility."
The Fieldhouse is also a hit among student athletes and coaches.
JT Zell, a sophomore pole vaulter, says the natural light alone has made a significant difference. Training inside Mitchell Hall, he explains, was like training in "a black box."
"It's a Division I facility with Division I locker rooms and everything, but we're Division III student athletes," he says. "Having a facility like this is something we don't take for granted. We definitely feel blessed to be in here."
The Fieldhouse also makes UWL an ideal place to host indoor meets — much like the outdoor facilities at the Veterans Memorial Field Sports Complex have allowed UWL to host the WIAA State Track & Field Championships for decades.
The morale boost this has given our program is just incredible,"

says Nickolas Davis, head coach of the women's team. "We're excited to be able to host indoor meets and to have something on par with the great facilities we have outdoors. This is a real game-changer for us."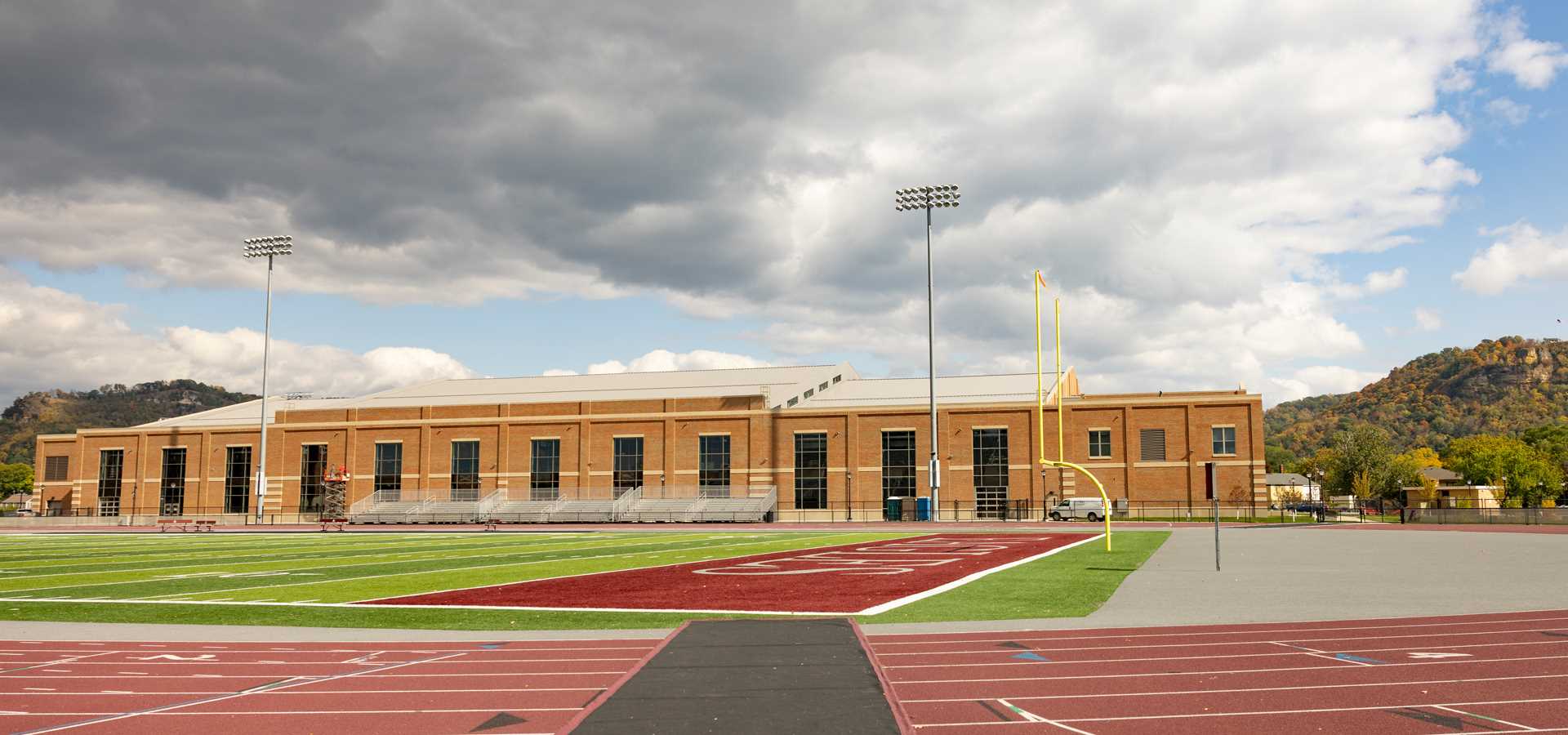 The Fieldhouse
Construction began in August 2020, opened January 2023.

200 meter-NCAA competition indoor track.

All-sport surface infield.

Walking and jogging track on the second level of the track.

Space for 1,500 spectators.

Men's and women's team locker rooms and showers.

Rooms for team meetings, training and multipurpose rooms.

Office suite.

Equipment storage.

Soccer field support building including press box, officials room, team meeting rooms, restrooms, equipment storage, and a first aid/training room.

Relieves congestion in Mitchell Hall; increases instructional space.

Allows UWL to keep pace with the continued growth in athletic, recreational, and exercise and sport science programs on campus.

Allows UWL to keep pace with the continued growth in athletic, recreational, and exercise and sport science programs on campus.