Posted 3:01 p.m. Monday, Nov. 9, 2020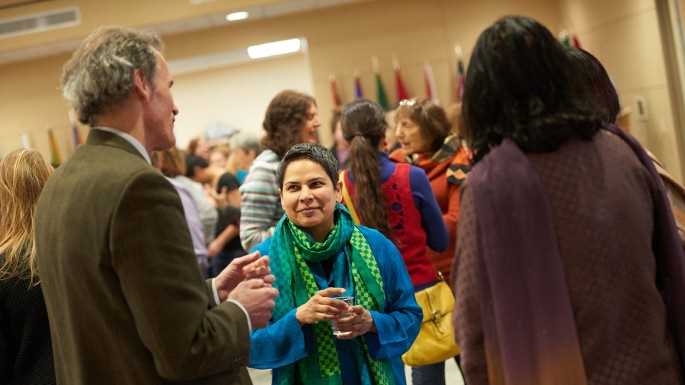 Film festival shines a light on women navigating challenges in their country.
Film festival shines a light on women navigating challenges in their country
A film festival on campus this week showed women from South Asian countries navigating the social, gender and cultural constraints they face in creative ways. Filmmaker Sonali Gulati, a featured speaker, shared her award-winning film, "I Am," which documents her journey home to India after 11 years where she confronts the loss of her mother whom she never came out to. Gulati led a discussion afterward about the documentary. "The topics she is exploring in her films resonate with students," says Mahruq Khan, associate professor of
Women's, Gender, and Sexuality Studies
and a co-organizer of the event. [caption id="attachment_45263" align="aligncenter" width="684"]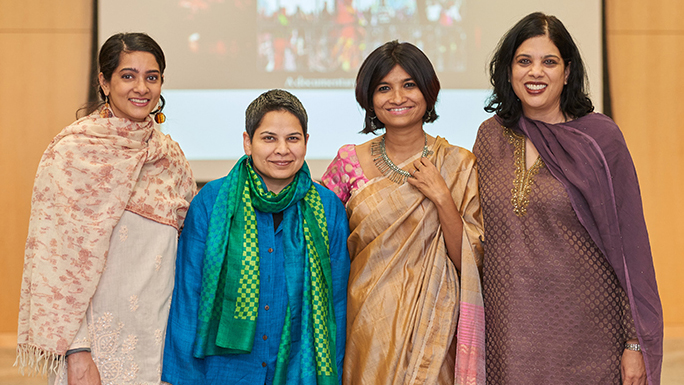 UWL faculty members and film festival organizers pose with Filmmaker Sonali Gulati during a reception with her. From left are: Mahruq Khan, Gulati, Nabamita Dutta and Gita Pai.[/caption] In addition to exploring race, gender, sexuality, globalization and more, the film festival was a way to increase understanding of South Asian countries in general. South Asia holds one fifth of the world's population and India has the second highest population in the world. Yet the UWL community does not have much exposure to the people or cultures of South Asia, explains Gita Pai, assistant professor of
History
and co-organizer of the event. That lack of understanding can lead to confusion about what life is like there, including the situation for women. Many of the messages westerners receive are based on stereotypes from the American media. A music video by Beyonce and Coldplay is an example of the exotification of Indian women, notes Khan. "India's Daughter," a documentary by a British filmmaker, which was shown Monday evening, leaves that impression that women in India are oppressed by the male patriarchy and need rescuing, says Pai. Meanwhile, not all women in India face oppression — cultural norms vary by region and community — just as they do in the U.S. Other films shown at the festival, like Gulati's, document how women are taking a stance and fighting back, adds Pai. "You can't make generalizations about any country — the people, the food, the climate or culture," says Nabamita Dutta, associate professor of
Economics
, one of the co-organizers. "There is a broad spectrum in terms of women's issues too — and the dynamic is changing." The need for such a film festival was to expose students from all disciples to critical issues facing women in India and make them realize the commonalities in such problems all over the world, adds Dutta.