Posted 2:33 p.m. Thursday, Dec. 10, 2020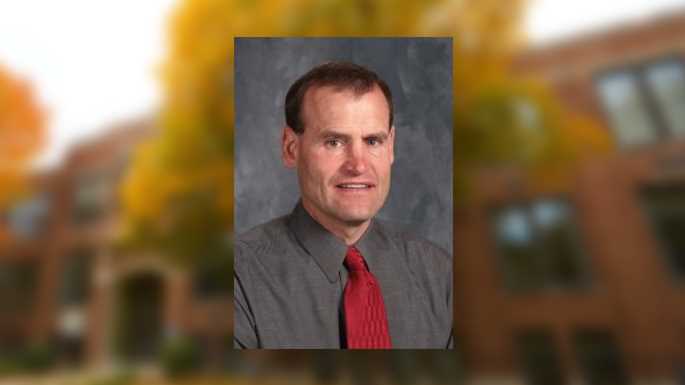 Alum recognized for transformative work in Wisconsin school district
Mark Gruen gave up golf because he only likes doing things that he can do well.
Luckily for his career and his community, he's better at leading a school district than hitting a little white ball.
Gruen, the superintendent of Royall School District in Elroy, was named the 2021 Superintendent of the Year by the Wisconsin Association of School District Administrators — a particularly gratifying award given the challenges he has faced in his rural district, 60 miles east of La Crosse.
"I don't want to badmouth bigger schools, because I've worked in bigger districts, and I know they have their own problems and successes," Gruen, '92, explains. "But when you're a small-town superintendent, you have to wear four or five hats. And you have to fight like the dickens for your district just to be average. It's a giant struggle to make that happen, so it's very tough to win this kind of award."
Gruen means no offense when he calls his district "average." To the contrary — he is a 1987 graduate of Royall — named for the three communities it originally served: Elroy, Kendall and Wilton. And he's proud of everything the district has accomplished since he returned as its head administrator in 2010.
But Royall has had to work hard to secure adequate funding and improve its academic standing — things more privileged districts might take for granted.
When Gruen took over, the district was staring down the barrel of school closures, was in deep debt and was graduating just 78% of its students.
A decade later, the district has reduced its physical footprint, balanced its budget and achieved a 100% graduation rate for students who spend all four years of high school at Royall.
"Gruen has led Royall on a total transformation academically, fiscally and structurally over the past 10 years," says Ryan McKittrick, who has served on the school board for much of Gruen's tenure. "We would not be where we are today without his relentless work ethic and deep commitment to our students' success."
No task is too big or too small for Gruen, who is just as comfortable rolling up his sleeves as he is wearing a coat and tie.
He spent early mornings and late evenings filling ice bags for student-athletes.
He recruited 50-plus volunteers to help him assemble new football bleachers on a hot July weekend.
And he cultivated mutually beneficial relationships between Royall and various community groups, which have proven especially helpful during fundraising.
Gruen's love for his job, he says, is a direct result of his love for working with young people.
"I've taught kids, coached kids, been around kids — I'm just a kid person," he says. "When I got here, I asked the question: 'Why does Royall feel like we deserve second-best things?' Now, we call it the 'Royall treatment.' We want our kids to get the same treatment and the same opportunities that kids in other districts get. We've worked extremely hard to do that."
Before coming to Royall, Gruen was the district administrator and high school/middle school principal in the Eleva-Strum School District. He has also served as a principal in the Onalaska School District and an activities director in the La Crosse School District.
Gruen earned his bachelor's degree in elementary education from UW-La Crosse, where he was on the wrestling team and in student government. UWL, he says, was the ideal place for him to lay the foundation for his career.
"I loved my time at UW-La Crosse," he says. "As a farm boy, La Crosse was big enough for me to feel I was away from home, but it still had that hometown draw. I love going back for the WIAA State Track & Field Meet, and I love seeing all the growth and changes that have happened over the years."
Be on the lookout
The winter issue of the Lantern that is normally printed will be exclusively online. Look for the new issue later this month. See the updated Wittich Hall, get the scoop on a Harley-riding alum who also leads yoga, and find out more about faculty favorite Anne Galbraith.