Posted 4:09 p.m. Tuesday, March 23, 2021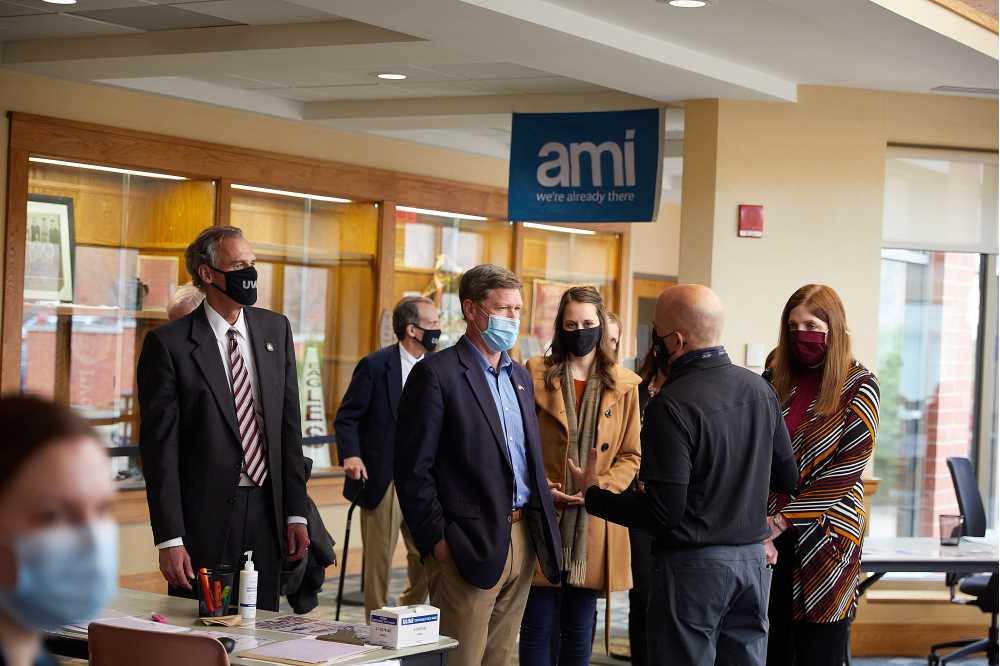 Rep. Kind praises vaccine clinic; capacity continues to grow
Rep. Ron Kind on Tuesday toured the community-based vaccination clinic at UW-La Crosse, as the site continues to expand access to the COVID-19 vaccine in the Coulee Region.
Kind was joined by officials from UWL, the La Crosse County Health Department, the Wisconsin Department of Health Services and AMI Expeditionary Healthcare — the four partnering organizations on the project.
The clinic, housed in the Cleary Alumni & Friends Center, has distributed more than 2,000 doses of the vaccine since opening March 9. After starting with a capacity of 200 doses per day, the clinic has ramped up to 250 doses, with the goal of hitting 1,000 by mid-April.
"This is an unbelievable vaccine site operation — it's a well-oiled machine," Kind said, noting that Wisconsin is among the top five states in the country when it comes to distributing vaccine in a timely manner. "It's because of planning, preparation and vaccine sites like this that keep people safe."
Kind said Wisconsin is nearly at a point where it can reopen its economy, send children back to school and return to life and business as usual. But first, more people must be vaccinated.
"We can see the light at the end of the tunnel — but we're not there yet," Kind said. "We're asking people to be patient. We don't want to take steps back when we're so close to the finish line."
Julie Willems Van Dijk, deputy secretary for the Wisconsin Department of Health Services, said it's been a team effort to get as many people vaccinated as possible, as quickly as possible.
"It's all players, all working together, all the time," she explained. "We've provided vaccine to health care, pharmacies, local health departments, employers, tribal nations … and they're all distributing the vaccine quickly."
While UWL plays no role in the day-to-day staffing or site operations, Chancellor Joe Gow said he is proud that the university can contribute by providing the facility.
The continued success of the clinic, he added, is a credit to the partnerships formed to meet this critical need.
"It's an honor to be the center of this local-state-federal-private partnership. It really underscores the importance of the time we're in," Gow said. "We're very proud that, when the history is written about this time, we'll be able to say that UWL kept going, and that's what it's all about."
The clinic is open Tuesdays through Saturdays from 11 a.m. to 7 p.m. on an appointment-only basis. The county is currently prioritizing people 65 and older, public-facing workers such as educators, and people with high-risk medical conditions.
Join the county's vaccination registry by visiting vaccinate.wi.gov/ or calling 1-844-684-1064. People will be contacted for an appointment when they become eligible.