Posted 8 a.m. Thursday, June 16, 2022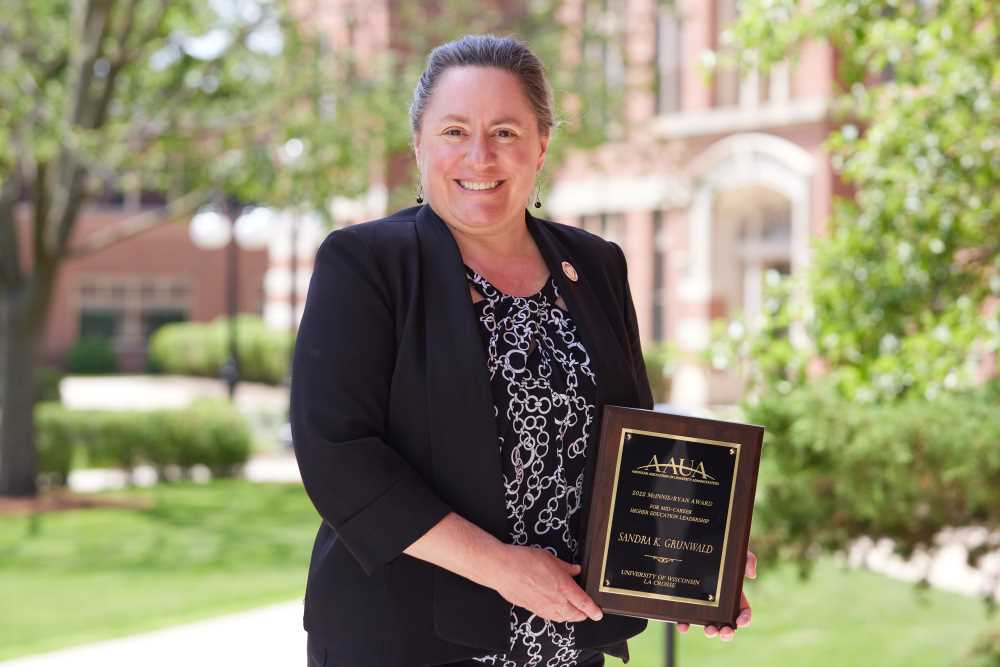 Sandy Grunwald recognized for outstanding leadership
For Sandy Grunwald, no two days are the same.
"My family often asks, 'What did you do today?' My response is usually, 'I went to a lot of meetings,'" says Grunwald, Associate Vice Chancellor for Academic Affairs at UW-La Crosse. "I intersect with a lot of initiatives, units and projects that focus on the student experience at UWL."
Wearing multiple hats is one thing; wearing them well is another. Those who work closely with Grunwald say she exemplifies consistency and a strong work ethic — as evidenced by her selection for the prestigious McInness/Ryan Award for Mid-Career Higher Education Leadership.
The award, given by the American Association of University Administrators (AAUA), recognizes individuals with five to 15 years of higher education administrative service who have demonstrated outstanding professional accomplishments and a personal commitment to quality leadership. Grunwald accepted the award at the award at the AAUA Leadership Seminar June 9 and 10.
"Dr. Sandy Grunwald is an extraordinary administrator who brings considerable intelligence, compassion and an exceptionally strong work ethic to the fundamentals of student success," Provost Betsy Morgan notes. "She actively searches for ways to improve student experience and then enacts positive changes. Simply put, I do not think that UWL would be such a strong institution without her work."
Grunwald joined UWL in 1997 as an assistant professor of biochemistry. She was promoted to associate professor in 2001 and to full professor in 2008.
In 2011, Grunwald began working on several projects within the Academic Affairs unit in the Provost's Office. That led to her appointment as Associate Vice Chancellor for Academic Affairs — first on an interim basis and then permanently in 2018.
Working with various offices across campus, she says, has given her a greater appreciation for the many people who help UWL run smoothly.
"I most enjoy working with the talented academic staff members within all the various units who support our UWL students and faculty on a daily basis," Grunwald explains. "As a faculty member, I was not as aware as I should have been of all the amazing staff we have at UWL who are passionate about what they do … helping make the UWL experience the best it can be for students."
As part of her role, Grunwald oversees several units and programs:
Financial Aid
Records and Registration
Academic Advising Center and Career Services
Institutional Research, Assessment and Planning
Research and Sponsored Programs
Center for Advancing Teaching and Learning
Additionally, Grunwald manages UWL's academic program review processes, including the approval of all new academic programs.
She also plays a leading role with STudent Advising, Registration and Transition, managing the advising appointments for roughly 2,200 incoming students each year.
Grunwald's colleagues describe her as a go-getter — someone who does everything in her power to successfully complete a project, and pushes others to do the same.
"Sandy is an outstanding leader motivated to help others succeed in their ambitions, while moving the university forward," says Louise Janke, director of Financial Aid. "Her dedication to UWL, our local community and other colleagues in higher education represent who she is as an individual — a truly wonderful person and an exceptional administrator."
For Grunwald, the McInness/Ryan Award is particularly meaningful because it is based on the opinions of her colleagues.
"I am humbled to receive this national award and so grateful to those that I work with who nominated me," she says. "Knowing that I am valued by those I work closely with is the biggest praise anyone can receive."