Posted 3:09 p.m. Thursday, June 20, 2019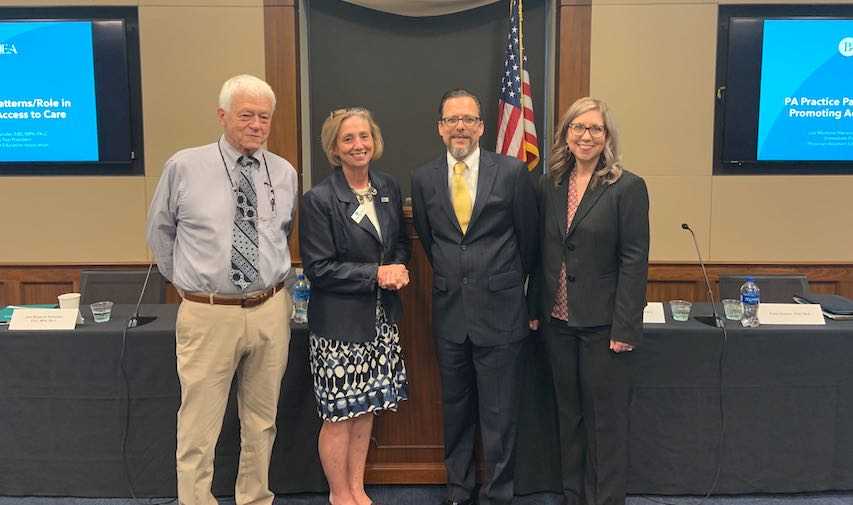 UWL faculty visits lawmakers to raise awareness for PA education, jobs.
UWL faculty visits lawmakers to raise awareness for PA education, jobs
There is a need for more healthcare providers in rural areas according to UW-La Crosse clinical associate professor of Physician Assistant Studies Karen Graham.
"Everyone can identify that we're facing a primary care provider shortage both nationally and in Wisconsin," says Graham.
She touched on the issue during a recent visit to Capitol Hill in Washington, D.C., and spoke to lawmakers on how programs such as UWL's could play an important role in the solution. UWL's PA Studies program provides students with experience at various partner medical institutions throughout Wisconsin, Minnesota, and Iowa. Since 2006, 100% of the program's graduates have been hired as physician assistants. Graham says support for rural clinic training sites would likely lead to more students seeking job opportunities in those communities.
"The goal is to increase the number of healthcare providers in rural areas," explains Graham. "People in these small communities need someone to go to."
Graham's presentation was part of a briefing sponsored by the Physician Assistant Education Association (PAEA). Later this fall, Graham will join PAEA for another visit to the nation's capital for the organization's annual forum. She says the event will include visits to Capitol Hill to further advocate for PA programs throughout the country.
"Big picture: we want people when they talk about healthcare on the hill to talk about PA's," says Graham. "Next time they are in a conversation about healthcare and the healthcare work force, they will think 'what about the PA's'?"
In March, a bi-partisan bill was introduced to provide federal funding for medical residency programs, as well as increased training opportunities for physician assistants in rural clinics.
About UWL's Physician Assistant Studies program
UWL offers a Physician Assistant Studies program that was recognized in 2019 as the #15 PA program in the United States by U.S. News and World Report. The program is a partnership between UWL, Gundersen Medical Foundation, Mayo Clinic School of Health Sciences, and Marshfield Clinic Health System.