Posted 7:03 a.m. Monday, July 3, 2023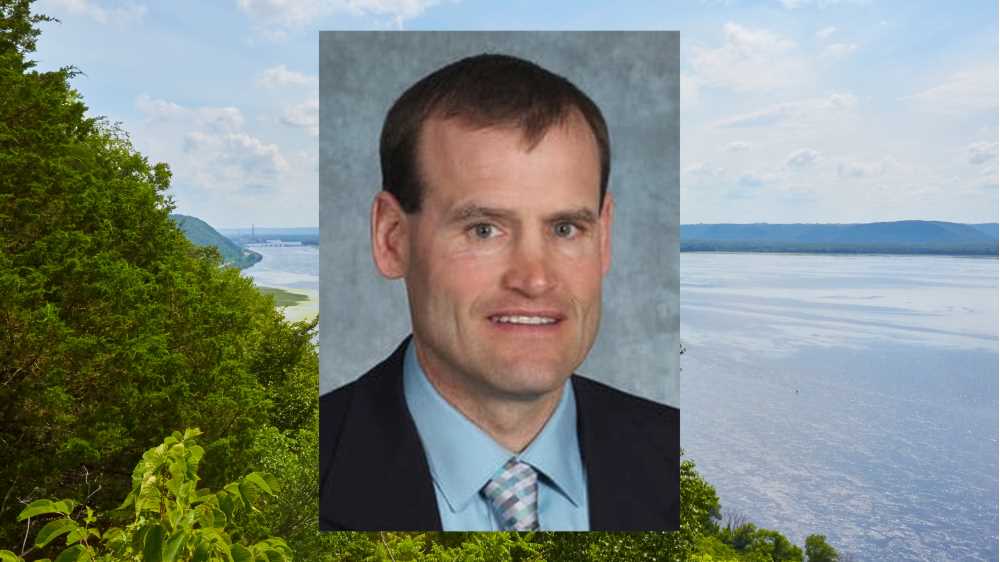 Mark Gruen, '92, known as transformational public school leader
Editor's note: The UWL Alumni Association is awarding graduates from the '60s through 2021 its top alumni awards for 2023. They're being honored for distinguished service and successful careers.
The distinguished alumni will return to campus Friday and Saturday, Sept. 22 and 23, to speak with students and take part in a panel discussion, along with being recognized during a brunch. Get details from the Alumni Association calendar.
When Mark Gruen became district administrator of the Royall School District in rural, west central Wisconsin, the district was on the verge of bankruptcy. Royall had gone through a detachment, had staff morale issues, and had overspent the budget in the two previous years, taking the fund balance down below $200,000 with no plan to balance. But with a new mission touting "Achieving Excellence Together…Whatever it Takes" and a lot of hard financial decisions, Gruen turned the district into one of the healthiest in the state.
During the transformation, Gruen championed the writing of a physical education grant by forming partnerships with 29 community organizations and businesses. During his second year, the partnerships helped land a grant exceeding $2.4 million — one of many grants the district would receive under Gruen's leadership.
During 12 years of leadership in the district, Gruen oversaw more than $8 million in improvements ranging from updating technology and curriculum, putting new roofs on most of the district's buildings, to a complete overhaul of the outdoor and indoor athletic facilities. The district also added a fitness center at no cost to taxpayers.
"Mark has proven over and over again that he has the personality, the people skills and the leadership skill to be a very effective leader," says Doug Waterman, president of the Royall School District.
Even more important, when Gruen started at Royall the graduation rate was just over 70%. With intense work and a concentrated effort, Gruen and his staff raised the rate to 100% and held it there for eight consecutive years.
During Gruen's tenure, Royall doubled its advanced placement course offerings, added servant leadership courses, and established multiple dual credit opportunities with a local technical college and university. Gruen also worked tirelessly to increase scholarships for Royall graduates. Annually, the district now awards approximately $60,000 to grads – an annual increase of over $50,000.
A Royall alum, Gruen understood the importance of school pride in the community. He was a founding member and first lifetime member of the Royall Alumni Association, and his group started the Royall Hall of Recognition. He is also deeply involved with the Royall Booster Club.
But Gruen's work didn't stop at the school building's door. He was a leader in the communities that make up and surround the Royall School District: Elroy and Kendall. He has been the vice president of the Elroy Area Advance Corp for the past 10 years. He has also been a WIAA licensed official for over 30 years, a hunter safety instructor for over 15 years, volunteer coach for multiple sports, and a civic volunteer. When the area suffered major flooding in 2018, Gruen coordinated flood relief efforts at Royall Elementary.
Gruen is also well known among his superintendent colleagues for his steady, and common-sense approach during the COVID-19 pandemic. Professionally, Mark has served on the WIAA Advisory Council for a record five terms – two stints as president. He is a leader on the Wisconsin District Administrators Child Advocacy Committee, serving as chair and vice chair for many years.
Gruen's many accomplishments haven't gone unnoticed by state colleagues. In 2020, the Wisconsin Association of School District Administrators named him the 2020 Wisconsin Superintendent of the Year. In 2021, the Wisconsin Rural school Alliance named him the Wisconsin Administrator of the year.
Prior to serving as Royall's superintendent, Gruen taught in Verona and held administrative positions in the Eleva-Strum, Onalaska and La Crosse districts. In July 2022, he became superintendent/business administrator at Johnson Creek.
Burt and Norma Altman Teacher Education Award
Honors and recognizes outstanding educators and the significant contributions they make to children and communities. Professor Emeritus Burt Altman and his wife, Norma, long-time supporters of teacher education, created the award in 2015.
Mark Gruen, '92
Distinguished and respected public school administrator; impactful instructor; educator; mentor, life-long learner.

Thirty-one years in Wisconsin education as administrator, teacher, principal, curriculum director and business manager; District Administrator at Johnson Creek since 2022.

Wisconsin Superintendent of the Year, 2021; Wisconsin Rural Administrator of the Year, 2021-22; various regional and state organization leadership roles.

Bachelor's degree in elementary education, 1992; master's degree in education, Viterbo University, 1995; specialist degree in education leadership, Winona State University, 2005.
Nominate deserving alumni
Nominate deserving UWL alumni for the university's distinguished alumni awards. Simply fill out the nomination form; the Alumni Office will contact nominees.
Nominations are accepted throughout the year but must be received by Oct. 1 to be considered for the award the following year.
See all past recipients.
Here are the award criteria.