Posted 9:11 p.m. Monday, May 17, 2021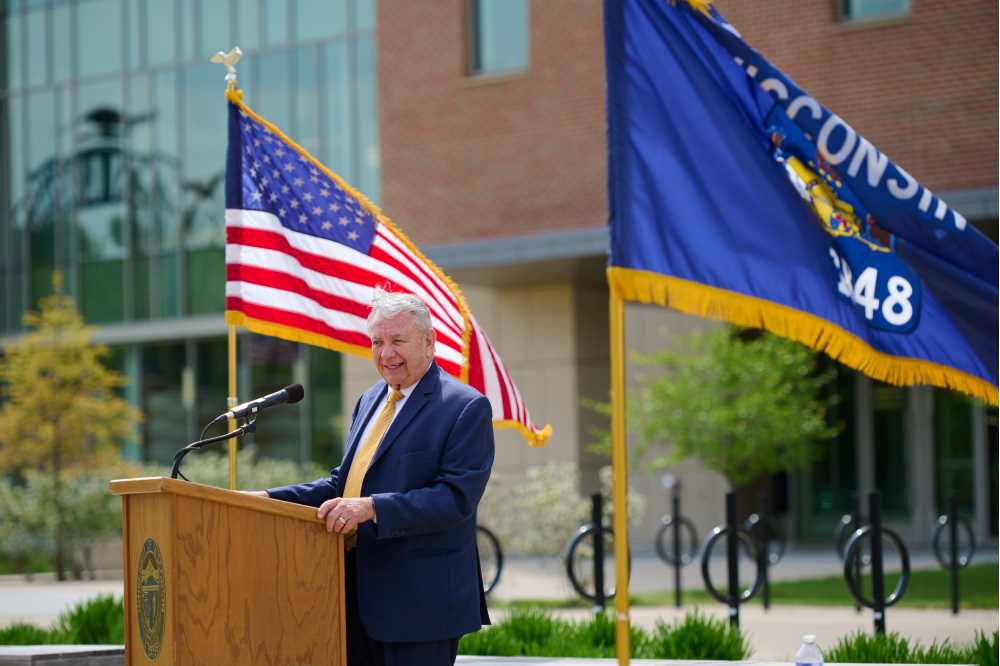 President Thompson receives UWL Student Association's Higher Education Advocate Award
During his illustrious career, UW System Interim President Tommy Thompson has received too many awards to count. But the four-term Wisconsin governor and former Secretary of the U.S. Department of Health and Human Services had never received an award from students.
That changed Friday, when the UWL Student Association presented Thompson with its 2020-21 Higher Education Advocate Award, given annually to a person who empowers students to be active members in the community, and who strongly advocates for higher education across Wisconsin.
"His leadership led the UW System through the COVID-19 pandemic and its challenges," Cate Wiza, 2020-21 UWL Student Association president, said at the award presentation. "With his knowledge and experience, President Thompson secured the necessary supplies to protect our campus community, and he played a vital role in the creation of community testing and vaccination centers on UW campuses, including UWL. His work has contributed to the protection and safety of the La Crosse community and our faculty, staff and students."
Chancellor Joe Gow said the Student Association couldn't have made a more perfect selection.
"I can't think of a person more deserving of an award that has the word 'advocate' in it," Gow noted. "An advocate is someone who gets something done by talking and moving things forward, and we can't have a better advocate than Tommy Thompson."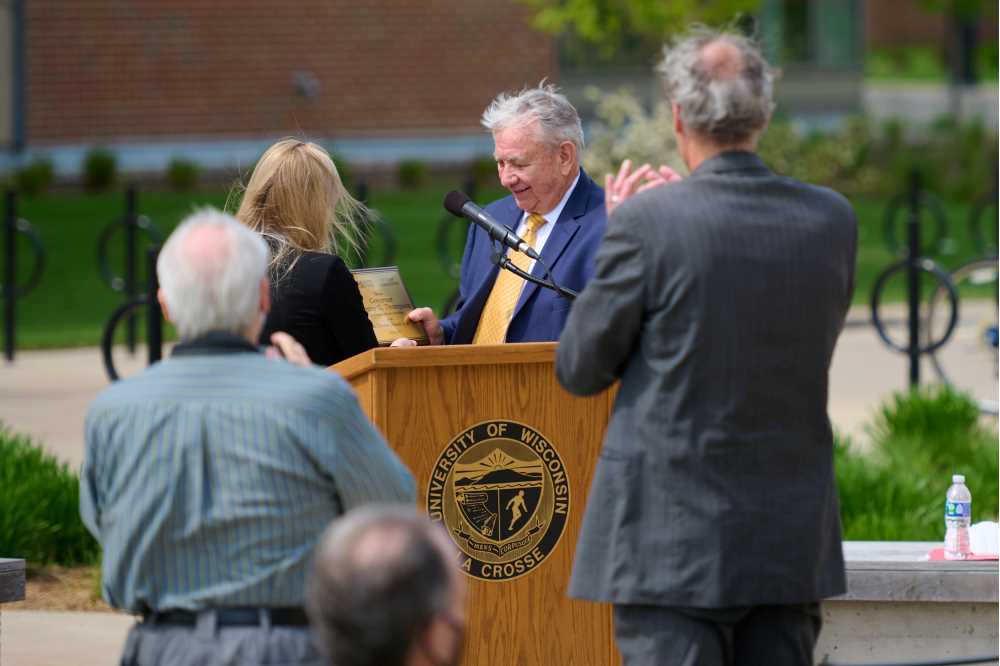 Thompson, who became interim president in July 2020, has guided the UW System through one of the most challenging years in its history.
He has acknowledged his decision to reopen campuses last fall was not entirely well received. But he backed it up by developing a robust health and safety plan, which included the creation of testing centers serving UW campuses and their surrounding communities. Some campuses, like UWL, even became regional immunization centers.
Thompson has also established ambitious benchmarks as the UW System eyes a return to normalcy in the fall, including a goal for 75% of classes to be held in person.
"This has been a difficult year — we all know this," Thompson said. "Above all, we're committed to the health and safety of our students and giving them the best education possible. They're the future leaders of our country. We need to give them a great education."
But it wasn't just COVID-19. In selecting Thompson, the Student Association also praised his advocacy for the second phase of the university's Prairie Springs Science Center. The project, which would replace Cowley Hall, is critical to UWL's mission to train the next generation of scientists, researchers and healthcare workers.
"I look around campus and see one building that's (in need of replacement): Prairie Springs phase two," Thompson said. "I'm committed to doing everything I can to see it finished."
Thompson, who traveled from Madison to receive the award in person, said it meant a great deal to be recognized by students he serves.
"I've never received an award from students in my whole life," he said. "This is very, very, very special."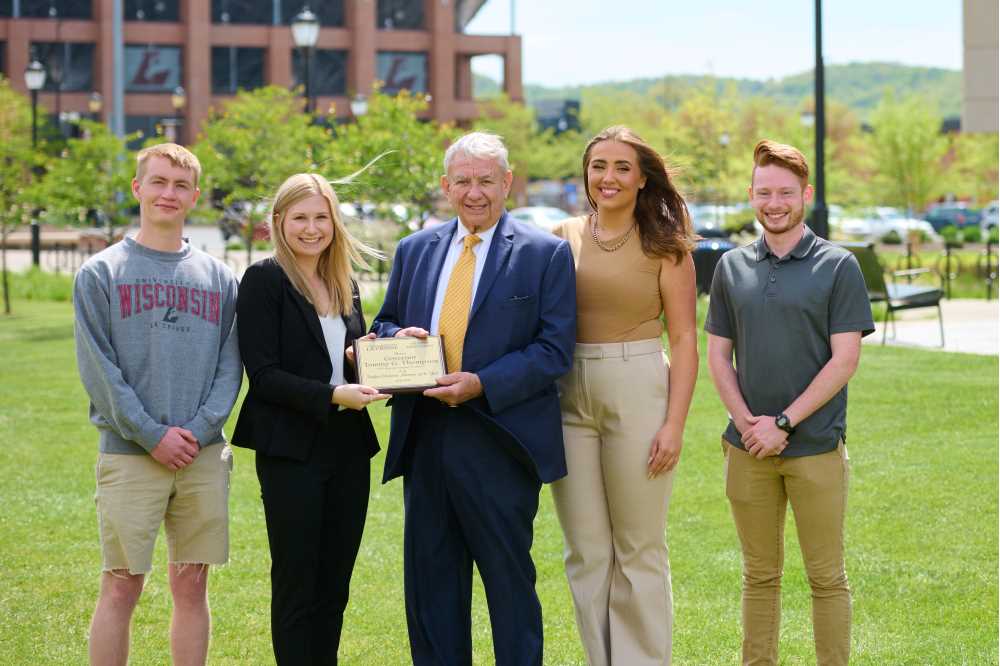 About the award
The UWL Student Association's Higher Education Advocate Award was established in 2008-09.
Past winners and their role at the time of their selection:
2008-09: Rusty Cunningham, La Crosse Tribune publisher

2009-10: Jennifer Shilling, state representative

2010-11: Brent Smith, UW regent

2011-12: Kevin P. Reilly, UW System president

2012-13: Joe Heim, UWL professor

2013-14: Jill Billings, state representative

2014-15: No award given

2015-16: Ron Kind, U.S. representative

2016-17: Jill Billings, state representative

2017-18: No award given

2018-19: Tony Evers, governor

2019-20: Larry Ringgenberg, University Centers director