Posted 3:26 p.m. Wednesday, Jan. 1, 2020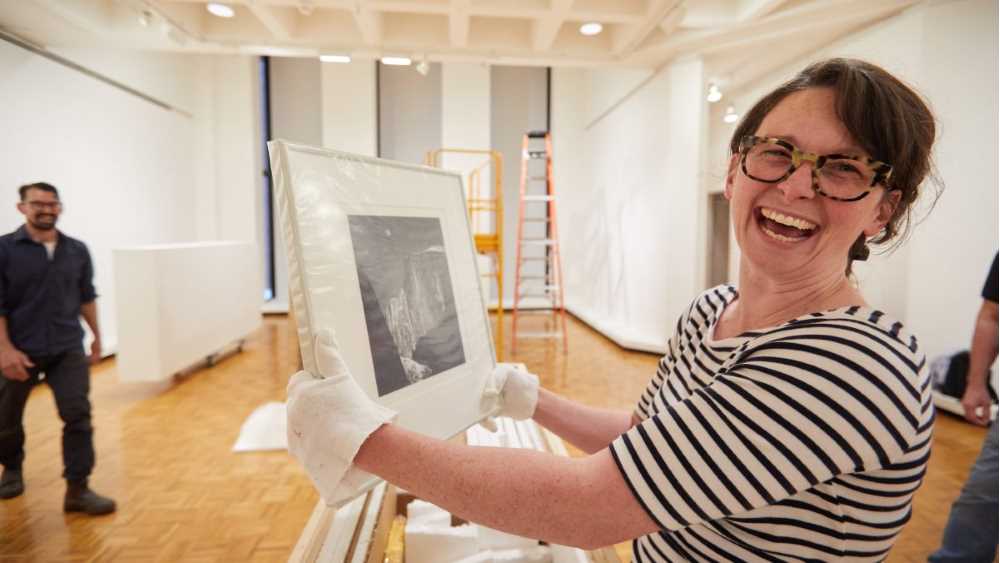 Alumna's collection of prints, financial gifts to change student lives
UWL Art Department faculty and staff gathered at the Art Gallery in mid-June to unpack two large crates. Their anticipation was palpable as the screws came out of the first box.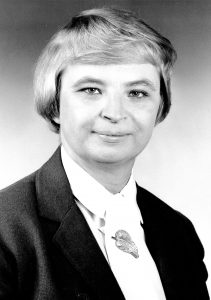 A donation of 90 prints, as well as fine arts books, from the late Gayle Anderson, '64, a Graff Distinguished Alumni Award Recipient from 1980, was appraised at nearly $65,000.
With works by photographers — Ansel Adams, Dorothea Lange, Imogen Cunningham, Sebastião Salgado and Paul Strand — the unpacking involved many long pauses with holding works out at arm's length to admire.
"This is a really a significant collection — it's fantastic," says Linda Levinson, UWL associate professor of art.
The history of photography is relatively short — spanning about 150 years. Levinson grew up learning about the photographers who captured these images.
"My teachers had these photographers as their teachers," explains Levinson. "It is a thrilling collection, and I hope we can utilize this work to promote the Department of Art, as well as the university in the future."
Kathleen Hawkes, assistant professor of art, looks forward to showing the works in classes and talking about the craft and artistry behind them, as well as having primary sources in art history discussion.
"Having students see these primary sources as opposed to reproductions has an immeasurable impact," she says. "Seeing it in books and on slides, you can't see the subtlety of tone that you can in person."
Hawkes is particularly excited about the prints by female artists as photography history is dominated by males.
"Some of the pioneers of art photography and significant iconic images are in this collection," notes Levinson.
It is coincidental that the individual who donated the prints was also a pioneer. Anderson launched into a successful banking career soon after graduating and became the first woman ever appointed as bank examiner of a state banking department in the U.S. She was highly regarded in the state banking department and among executives in California banks.
Anderson, of California, died in 2018. She loved photography, collected the prints and left them to UWL in her will. She also named UWL a beneficiary of her retirement account. The funds will benefit UWL students for years to come through the Gayle A. Anderson Scholarship; by providing contributions to the existing Robert C. Voight Scholarship Fund; and provide unrestricted funds to the UWL Foundation.
"She was a delightful lady — brilliant," recalls Al Trapp, former president of the UWL Foundation who visited Anderson a number of times at her California home. "She loved UWL and had a great deal of affection and gratitude for the education she got in La Crosse."
Anderson's friend Suzy Locke got to know her in the mid-1970s as they both joined a group of women entrepreneurs and business leaders in San Francisco. Around this time of the Women's Liberation Movement, the two were breaking glass ceilings — Locke as an entrepreneur and Anderson as a female bank president.
In her spare time, Anderson was an amateur photographer who also had a passion for collecting prints.
"She loved being surrounded by it, and she appreciated it because she knew what it took to do photography," says Locke. "She had an aesthetic appreciation and an appreciation for the history of photography."
Anderson was a humanitarian and a "no-nonsense person" with a great sense of humor, recalls Locke. She grew up on a farm where she learned the value of hard work and importance of family. She was involved in politics and cared deeply for the environment.
She enjoyed being in nature whether whale watching on excursions far away or viewing birds in her backyard. House-bound near the end of her life, Anderson spent long hours in a solarium off of her kitchen.
"She faced this wild area and she could see the birds and everything happening outside her door," says Locke. "She took great solace in nature."
The prints that hung all around inside her home reflected her diverse interests. Now Anderson's love for these works will take on a new life.
Remember UWL in your financial plans

By remembering the UWL Foundation in your estate and financial plans, you will make a lasting difference for the university and open new doors to future generations. Visit http://uwlax.mylegacygift.org/ to learn more on how to make a difference.

To donate a collection or other physical items to UWL, contact the UWL Foundation first at 877.895.3863.