Posted 9 a.m. Thursday, Oct. 28, 2021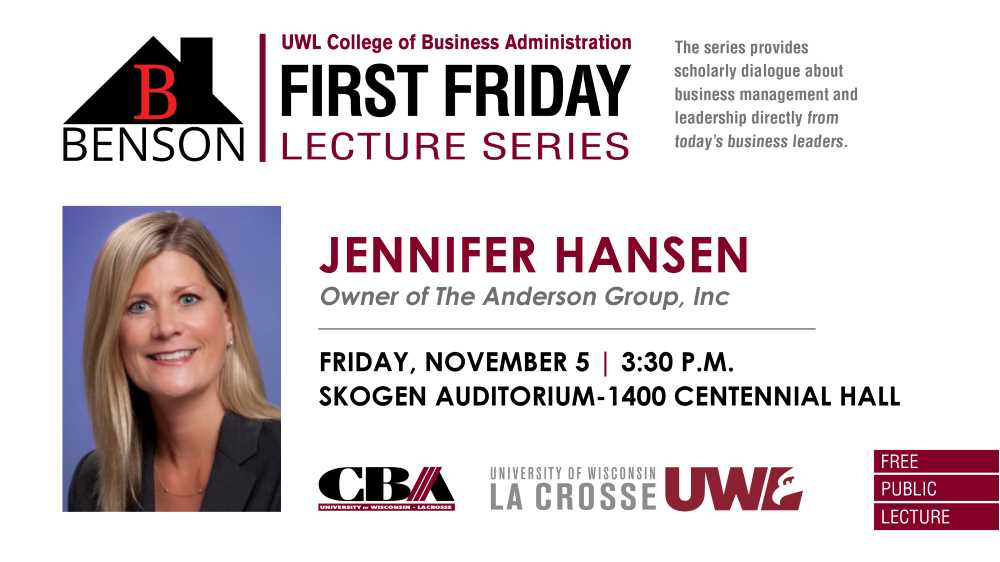 Jennifer Hansen, '93, to share experiences from the business world
UW-La Crosse's Benson First Friday Lecture Series is back with an alum who has started seven companies over the past 25 years.
Jennifer Hansen, '93, was the longtime president and owner of Anderson Seal and Anderson Packaging in New Berlin. She has more than 25 years in the distribution and service field, working with Original Equipment Manufacturers in the powertrain, medical, water, automotive, hydraulic and small engine industries.
Hansen will speak about her experiences at 3:30 p.m. Friday, Nov. 5, in Skogen Auditorium, 1400 Centennial Hall. The College of Business Administration event, free and open to the public, is sponsored by Benson Management.
Hansen, who majored in psychology at UWL, originally planned to work as a family and marriage counselor.
Instead, she was pulled into the family business and, after a trial year, made it her career.
Under Hansen's leadership, the Anderson Group twice received the Top 10 Business Award from the Small Business Times, in 2009 and 2013.
It was dubbed Large Business of the Year by the New Berlin Chamber of Commerce.
And it was named the Harley-Davidson Supplier of the Year and HUSCO Automotive Supplier of the Year.
In 2016, Hansen sold Anderson Seal to Trelleborg Sealing Solutions, which moved the company to a new, 55,000-square-foot facility in Menomonee Falls.
Anderson Packaging continues to provide after-market kitting and packaging solutions to Harley-Davidson dealers.
In 2019, Jennifer started a consulting company, Just Jennifer Consulting, which assists business owners in strategy execution for professional and personal growth.
Future lectures
The UWL College of Business Administration's next Benson First Friday Lecture will be held March 4, featuring Laura Miller,'04, the CEO of Pampered Chef. Details will be shared at a later date.