Posted 10:31 a.m. Monday, June 25, 2018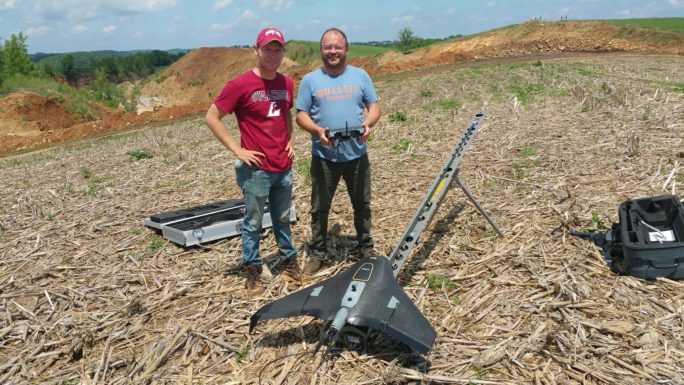 UWL ramps up drone research, teaching as industry grows to improve business.
UWL ramps up drone research, teaching as industry grows to improve business
In the last few years drones have become increasingly popular — not only as a techy new toy, but also as a tool to meet business needs in areas such as agriculture, mining and construction. Global sales of drones have more than tripled from $3 million in 2014 to an estimated $10 million this year, according to Business Insider Intelligence. More want to learn how drones — also referred to as Unmanned Aerial Vehicles (UAVs) — can help them save time and labor. That's what attracted Doug Kerns, project manager in the La Crosse City Engineering Department, to take some upper level UW-La Crosse
geography
courses. Kerns has grown increasingly interested in using the technology to help the city one day fly a drone as a more efficient method of surveying building project sites. For example, one drone flight could capture a 3D model of a land area and record the location of underground utilities versus the much more time and labor intensive process of recording those by foot, explains Kerns. "Using drone-based photography for the kind of work I do is leading, cutting edge — it's hitting all the civil engineering magazines," he says.
"Drones give you the overall ability to see the bigger picture to solve problems," says Radenz.
Growth of drone use in industry is what attracted UWL senior Jackson Radenz, a geography and earth science major, to plan a future career path using them. Regardless of whether he works in a mine, city planning, or mapping vegetation, he is excited about the prospect of quicker answers to big questions. "Drones give you the overall ability to see the bigger picture to solve problems," says Radenz. "Throughout human history we've been trying to solve problems by putting people on the ground. Now we are able to see the issue from above. And, as the technology becomes more powerful, we are able to solve larger and larger problems." At UWL, Radenz is working with his faculty mentor, Niti Mishra, to use drones to tackle research questions from climate change in the Himalayas to the amount of material in a local rock quarry. [caption id="attachment_52403" align="alignleft" width="169"]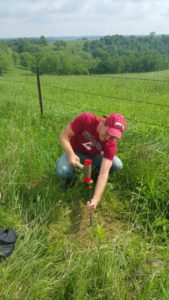 An important component to measuring change over time using drone imagery is accurately marking the points where the drone images will be matched by establishing ground control points or GCPs. Here student Jackson Radenz practices this technique.[/caption] The latter project is a collaborative one where Radenz, under the guidance of Mishra, is working with La Crescent Rock Products Inc. in nearby La Crescent, Minnesota. They flew the drone over the quarry earlier this summer and generated a 3D map of its space and stockpiles. They'll plan another trip later in July and use both to determine the volume of rock lost or gained over time through image analysis. This will help manage assets, which in the past was done using time-consuming ground surveys to manually measure resources, explains Radenz. Assistant Professor Mishra became interested in finding a quarry to partner with after attending a national drone conference where many were from mining and construction companies. When he returned, he asked Kerns if he had any local quarry connections via his position with the city. Kerns fostered those connections. Now UWL students will travel to La Crescent Rock Products Inc. in one of Mishra's fall semester courses, Unmanned Aerial Systems: GEO/ESC 395. Like Radenz, they'll learn the marketable skills of volumetric measurement and change analysis using drones. UWL now has three
courses in the Geography & Earth Science
Department where students learn about and use drones. Geo/Esc 345: Remote Sensing Geo/Esc 445: Advanced Remote Sensing Geo/Esc 395: Environmental Applications of Unmanned Aerial Systems Also, a 100-level course for freshmen introduces students to images and how they can be integrated. Mishra says whether conducting research or a class project, about 30 percent of time is spent flying the the drone and taking pictures. The other 70 percent is computer analysis of the drone information. The quarry collaboration is helping to broaden Mishra's drone research base to prepare UWL graduates for work within a variety of industries. [caption id="attachment_52402" align="alignright" width="300"]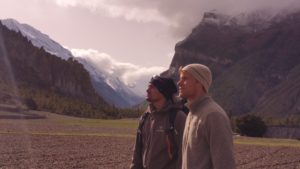 Jackson Radenz received a UWL Undergraduate Research and Creativity grant to conduct climate change research in mountains in Nepal this summer with faculty mentor Niti Mishra, left.[/caption] Mishra's primary research using drones occurs thousands of miles away in the Himalayas in Nepal where he took Radenz this summer. It's an ideal location to measure the impact of climate change with its great biodiversity and also, at high temperatures and elevations, greater pressures of climate change. Mishra is using drones to capture the location of the tree line where the forest begins on a section of the mountain range. Drone images and analysis have so far shown a pattern of vegetation moving up slope to live in cooler temperatures in response to increasingly hotter climate on the mountain. "In the future, we may have climates that don't exist on Earth now," explains Mishra. "Will these species be able to continue to migrate?" Radenz says all of his UWL research experiences are giving him great practice for his future. "I'm gaining confidence in myself, my ability to solve problems and overcome shortfalls too," he says. For Kerns, 49, whose already well into his career with the city, UWL's geography classes and drone-related research experiences are an exciting way to broaden his skillset with the potential to save the city resources and time. Not only that, it's a chance to pursue a personal interest. He says after a Geography 250 course, "Maps and GIS," he went out and bought his own personal drone. "I'm taking vacation days to do this," he explains. "This is very interesting to me."
Community connections
The quarry research isn't Mishra's first local community partnership, he's found numerous other ways to give students real-world research experiences, including this one last summer
using drones to conduct aerial surveys of purple loosestrife
in collaboration with the Brice Prairie Conservation Association.