Posted 3:29 p.m. Friday, April 24, 2015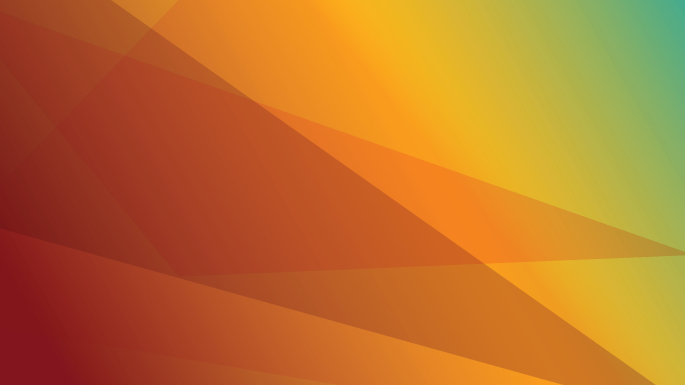 This week's news and events.

CLS to honor faculty, staff and students; excellence recognition is April 29

The College of Liberal Studies will honor top students, faculty and staff during its 14th annual "Evening of Excellence "Wednesday, April 29. A reception begins at 6 p.m. in the Center for the Arts Lobby, followed by an awards ceremony at 7 in Toland Theatre. 

Read more »

In this issue:

Announcements & Notices

Athletics

Be Well @UW-L

Campus Kudos

In The News

Murphy Library Notes

Organization for Campus Women
Distinguished alumni to be honored

Five alumni will be honored commencement weekend in May for distinguished service and successful careers. The UW-L Distinguished Alumni Awards Reception & Ceremony is set for Friday, May 8, at the Cleary Alumni & Friends Center. Tickets are $25 per person. RSVP to the Alumni Office, RSVP, by Friday, May 1. Read more »

UW-L Foundation to award $525K in scholarships

The UW-La Crosse Foundation will award more than $525,000 when it announces recipients of more than 600 scholarships and awards to students returning for the 2015-16 academic year. The students will be recognized during the annual Student Scholarship and Awards Program 

Monday, April 27

. 

Read more »

UW President to visit campus

UW System President Ray Cross will visit campus Friday, May 1. Since March, Cross has been hitting the road engaging students, staff and faculty around Wisconsin in conversations about the state budget process and the UW System's future. Read more »

Public lecture on student-athlete health, safety in the NCAA

Public concern for sport-related injuries, especially concussions, continues to rise. Director of the National Collegiate Athletic Association Sport Science Institute will share how the NCAA manages student-athlete health and safety during a public lecture Monday, April 27, at UW-L. 

Read more »

UW-L students talk self esteem, internet safety with local youth

UW-L students in the 

At-Risk Child And Youth Care minor

 are spreading awareness to area youth about Internet safety and self respect. This week 50 students in a senior capstone course launched 

Project You

. Read more »

UW-L launches program to support campus veterans

UW-La Crosse recently unveiled a new, online training program designed to create a more supportive and inclusive campus for student military veterans. 

Read more »

Ecologist shares how eating, Earth go hand in hand

Internationally-known ecologist David Tilman will discuss how eating right can save people and the Earth during a public lecture at UW-L. Tilman, whose groundbreaking experiments have broadened understanding of how organisms interact with one another, will speak at 5 p.m. Wednesday, April 29, at 1309 Centennial Hall. 

Read more »

Program prepares lab pros to meet national health care demand

UW-L Senior Kayla Kuhn had a couple of job offers and recently accepted a position at St. Nicholas Hospital in Sheboygan, Wisconsin. The career prospects for someone in her field — Clinical Laboratory Science — look good, she says. And, as a soon-to-be graduate of UW-L's program, the outlook is even better. Read more »

Physics faculty, students receive volunteer award

The Children's Museum of La Crosse recognized UW-La Crosse's Physics Education faculty and students as the 2015 Judith A. Bouffleur Outstanding Volunteers of the Year. The award was presented Monday, April 20. 

Read more »

UW-L to host state high school music competition

Thousands of dedicated middle and high school student musicians from across the state are preparing for the Wisconsin School Music Association (WSMA) State Solo & Ensemble Festival. UW-La Crosse will host one of the statewide events from 8 a.m.–4 p.m. Saturday, May 2, in the Center for the Arts, Centennial Hall and Graff Main Hall. The festival is free and open to the public. Read more »

UW-L, Central, Logan bands to perform May 3

The UW-La Crosse Wind Ensemble and Symphonic Band will join bands from La Crosse public high schools for a special spring concert. The bands will combine with Pulitzer Prize winning composer Michael Colgrass to perform at 2 p.m. Sunday, May 3, at the Viterbo University Fine Arts Center. Read more »

Public invited to join MVAC volunteer archaeology field survey

Volunteers are invited to help local archaeologists as they survey local fields to find unreported archaeological sites. The Mississippi Valley Archaeology Center is hosting the free event from 

8:30 a.m.-4 p.m. Saturday, May 2

, to celebrate Wisconsin Archaeology Month. The event begins at UW-L's Archaeology Center Lab. 

Read more »

Students spread awareness about Earth Day
[caption id="attachment_40691" align="alignnone" width="770"]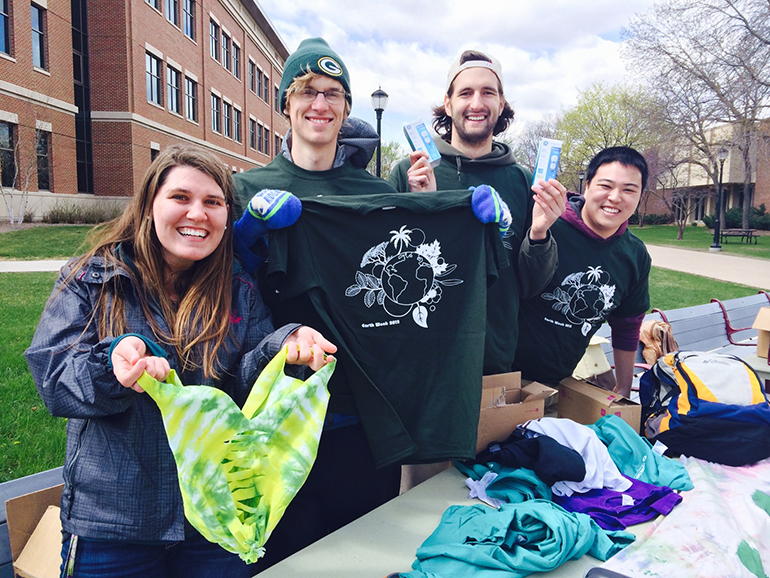 To help spread awareness about Earth Day on Wednesday, April 22, Students for Sustainability handed out water bottles and energy efficient light bulbs at Hoeschler Tower. They also showed passersby how to make a handy bag out of a used T-shirt.[/caption]
First, second English major Capstone Colloquia set for April 27, May 4
Senior English majors will present their capstone projects during the final two weeks of classes from
noon-2 p.m.
 in 117 Wimberly Hall. The first colloquium will be
Monday, April 27,
and will feature the work of literature emphasis majors:
Taylor Parrish – The Case of the Missing Mothers: Investigating Motherhood in "Mansfield Park"
William Ricioppo – "All is dross that is not Helena": Dr. Faustus, The Old Man, and Mephistopheles
Jon Brown – In Between the Stripes: Green Theory and Betwixtness in Penelope Fitzgerald's "Offshore"
Alicia Siebold – Navigating Gender in "Le Roman De Silence:" A Characterization of Silence
Zach Allen – Tales of the Old West: An Analysis of Layered Narrative in the American West
The second colloquium will be  
Monday, May 4,
and also feature the work of literature emphasis majors:
Cassandra Armstrong – Lost in Translation: Hmong Culture and Semiotics in "The Spirit Catches You And You Fall Down"
Peter Dziadowicz – God Save Thee, Ancient Mariner
Tia Haffenbredl – The Construction of Wilderness and Sacred Space at the Guadalupe Shrine
Joe Reuss – Beyond the Labyrinth: Fairy Tales, Colonialism, and the Globalization of Folklore
Katie Setzer – Annie Oakley and Sitting Bull: Frontier Motifs in the Rural Midwestern Gothic Exemplified by Campbell's "Once Upon A River"
Rhetoric/writing emphasis majors will present in the third and fourth colloquia from 10 a.m.-6 p.m. on Tuesday, May 5, and Thursday, May 7, in 226 Cartwright Center. The speakers will be Jordan Batchelor, Shiyang Chen, Chelsea Dolan, Jingjing Fang, Yi Huang, Erin Jahns, Mikaela Kornowski, Storm Larson, Ying Li, Chuying Liang, Jingyu Liang, Madeline Marquardt, Breanna Nachreiner, Martha Nedeau-Owen, Crystal Oravis, Samantha Sanders, Emily Schulz, Louis Schuth, Mark Springborn, Kyle Stokes, Jarrett Taivalkoski, Katie Terbeest, Christian Velguth, Danielle Weber, Yi Wei, Virginia Wightman and Zeyao Wu. Presentation titles will be announced next week.
The presentations are free and open to the public. Contact Natalie Eschenbaum, neschenbaum@uwlax.edu, with any questions or to arrange accommodations.
Farwell Street to be closed April 27-29
In order to safely remove the formwork from under the fourth level of the ramp and set it on top of the fourth level to pour the fifth level, the contractor will need to have a crane in Farwell Street south of the ramp. In order to safely facilitate this work, Farwell Street will be closed Monday, April 27, through Wednesday, April 29. Vehicle traffic will be closed at the entrance to the ramp and the circle at the daycare. Pedestrians will be routed around the crane. The crane will be enclosed with chain link fence panels for safety. For more information, contact Scott Schumacher at 
sschumacher@uwlax.edu
.
Faculty, staff parking permit sales for 2015-16 begin April 28
Parking permit registration for faculty and staff begins Tuesday, April 28. Online sales are available at the Parking and Transportation Services website at 
http://www.uwlax.edu/parking/
 through Tuesday, May 26. Permit sales will open to others Wednesday, May 27. Lots sell out quickly so do not wait to purchase a permit. Rates are posted on the website and remain the same as last year. Pre-tax payroll deductions, credit/debit card, or electronic check are accepted. Permits may also be purchased in the office during business hours. To purchase a permit:
Visit 

http://www.uwlax.edu/parking/

Select "Annual, Semesterly Permit Purchase" under "Purchase a Permit"
Use your UW-L NetID login credentials
Your current vehicle information will be displayed. Contact Parking Services at 

608.785.8061

 if you have a different vehicle and the same plates. If you have a new vehicle and new plates, enter the updated information online.
Call Parking Services at 
608.785.8061
 or 
email
 with questions.
'Light up a Life' April 29
The second annual "Light up a Life" will be held from
7-9 p.m.
Wednesday, April 29, 
at the Hoeschler Tower. The La Crosse Suicide Prevention Initiative will be at the ceremony for suicide awareness which includes luminaries and music. The event is sponsored by Active Minds. Active Minds promotes positive mental health for college students and strives to reduce the negative stigma that surrounds mental health. The public event is free. For more information contact the UW-L Active Minds organization at 
activeminds@uwlax.edu
.
McNair Scholars program to host open house April 30
Students who are ready to get started with undergraduate research and want to jump start preparations for graduate school should consider attending the McNair Scholars Program open house from
10 a.m.-2 p.m. Thursday, April 30,
in 106 Graff Main Hall. Staff members are eager to talk with students graduating in December 2016 or later who are considering doctoral programs, particularly in STEM areas. Stop by for snacks and a chance to chat one-on-one with program staff about future plans and eligibility for the program. Those unable to attend may contact Program Coordinator Jessica Thill at 
jthill@uwlax.edu
 or 608.785.6913.
LIVEMAROON Get-Together is Thursday, April 30; relax, enjoy dessert 11:30 a.m.-12:30 p.m.
Dessert is on us at the next LIVEMAROON Get-Together — and take some time to relax before the rush of semester's end! Enjoy ice cream with toppings from
11:30 a.m.-12:30 p.m. Thursday, April 30,
in the Cameron Hall of Nations, Centennial Hall. Stop by! Wear your LIVE
MAROON
 T-shirt or other maroon clothing. Visit with campus colleagues and get a chance to win LIVE
MAROON
 merchandise. Work with supervisors to ensure office coverage. LIVE
MAROON
 is a campus-wide effort to highlight the passion, friendship, community and pride found at UW-L. The initiative is coordinated and sponsored by Campus Climate, Classified Staff Council, University Communications and University Police. University Dining Services has funded the refreshments. No taxpayer dollars are used to fund the event. Get more on LIVE
MAROON
 at: 
http://uwlax.edu/livemaroon/
Love college? Get a job in Student Affairs
Help students make the most of their college career by becoming a Student Affairs Professional. Professionals enhance student development and growth in and out of the classroom. Attend this panel to learn more about what student affairs is, if it's right for you, and how to get started now on this career path.
When: noon to 1 p.m. Thursday, April 30 Where: Ward Room, Cartwright Center
For more information contact Alyssa Gostonczik at 
gostoncz.alys@uwlax.edu
 or 
608.785.6955
.
Rainbow Graduation slated for April 30
Help celebrate Rainbow Graduation. Refreshments will be served beginning at 
5 p.m. Thursday, April 30
, in Port O' Call, Cartwright Center-Gunning Addition. The program begins at
5:30 p.m
. Everyone is invited to attend. 2015 graduates are:
Nic Johnson *

Sawyer Johnson*

Bailey  Steckbauer*
Shaundel Spivey *
Savanna Flood *
Virginia Wightman *
Alex Olson
Alexis Klas
Phyllis Hand
Zach Shannon
Austin Werla
Lewis Youngren
Quinn Masterson
Names with * will be in attendance.
Pet puppies, donate pop tops at fundraisers
Golden Key International Honour Society is collecting pop tops from 
11:30 a.m.-1:30 p.m.
Thursday, April 30, 
in the Cartwright Center Lobby for the Ronald McDonald House Charities which provides support to families of children in treatment. Save pop tops year-round for this fundraiser. Stop by with pop tops and pet puppies at Delta Sig Dog Days 
Friday, May 1
, on Drake Field. Golden Key is teaming up with the Delta Sigma Phi fraternity to collect pop tops for 
Capable Canines

, 
an organization which is always looking for volunteers to train, foster and socialize puppies.
Justice, discontents to be discussed at May 1 Brown Bag Lunch talk
Ryan Friesen, English, will lead this week's Brown Bag Lunch Series talk "The Machinery of Justice and Its Discontents: Early Modern England's Belief in Fictional Witchcraft" from 1-2:30 p.m. Friday, May 1, in the Cameron Hall of Nations, Centennial Hall. The Food for Thought: Social Justice Brown Bag Lunch Series talks are held Friday afternoons to discuss contemporary research topics and featured issues related to social justice. Bring a lunch; cookies are provided. The free series is open to all and sponsored by Campus Climate, Institute for Latin American Studies, Social Justice Network and the Wellness Resource Center. For questions or to request disability accommodations, contact Campus Climate at 608.785.5094.
'The Unhappiness of Travel' is topic of May 1 lecture
UW-L Provost Heidi Macpherson will present "The Unhappiness of Travel" from 
2:30-3:30 p.m. Friday, May 1,
 in 113 Wimberly Hall. The English Department's 2014-15 William J. and Yvonne Hyde Colloquium Series event is free and open to the public. Contemporary Atlantic fiction offers a narrative of loss, regret, pain and defeat that sits uneasily with a history of triumphal travel narratives of progress and self-improvement. The journey depicted is often a complex and messy one, 
where escape and misdirection define the experience. 
Contemporary writers are revisiting the transatlantic space to reveal not simple forward movement but concurrent retreat, not a singular propulsion forward but a wavelike narrative structure that encapsulates the contrary nature of travel and its propensity to beguile and befuddle the traveler. Macpherson proposes Atlantic fiction offers an enriching landscape of confusion and coexistence that articulates an uneasiness with movement that perfectly matches its very subject. To arrange for disability accommodations, contact 
english@uwlax.edu
 or 
608.785.8295
.
Pink Floyd's 'The Wall' Disc 1 to be featured at May 1 Album Encounters
The next Album Encounters multimedia light and laser show will feature Pink Floyd's "The Wall" Disc 1 
at
 8 p.m. Friday,
May 1,
in 20 Cowley Hall. Admission is $5.
For more information, contact Bob Allen at
allen.robe@uwlax.edu
 or 608.785.8669. See more about the Planetarium at 
www.uwlax.edu/planetarium
.
UW-L orchestra sets Saturday afternoon concert at Viterbo Fine Arts Center
UW-L's orchestra will hold a concert at 2 p.m. Saturday, May 2, at the Viterbo Fine Arts Center. The concert features student concerto competition winner Justin Asher on the Weber "Clarinet Concerto No. 1." Selections include: "The Prelude to the Afternoon of a Faun" by Debussy and Haydn's "'Farewell' Symphony." The UW-L Orchestra is conducted by Assistant Professor of Music Thomas Seddon.  Admission is free. If you go— Who: UW-L Orchestra What: Concert When: 2 p.m. Saturday, May 2 Where: Viterbo University Fine Arts Center Admission: Free
9th annual Rob Wagner Cancer Benefit to be held May 2
The ninth a
nnual Rob Wagner Cancer Benefit
will be held at
2 and 7 p.m. Saturday, May 2
, in Valhalla, Cartwright Center-Gunning Addition. The event featuring UW-L football and dance teams dancing, along with performing hilarious antics, was born from an act of friendship, camaraderie and brotherhood.
Wagner, a UW-L sophomore and football player, was diagnosed with a rare form of bone cancer in 2006. To help Wagner and his family with medical expenses, Erik Johnson, one of Wagner's teammates, had the idea to put on a dance show featuring the UW-L football and dance teams.
Money raised will be donated to Midwest Athletes Against Childhood Cancer. For more information contact Lauren Lewellen at  lewellen.laur@uwlax.edu or 

608.807.6551

.
Wanted: info regarding Finals Week activities
Are you planning an event or activity for students during Finals Week, Monday through Friday, May 11-15? Email details by 5 p.m. Monday, May 4, to Kate Noelke, Wellness, at knoelke2@uwlax.edu, to include it on menu of Finals Week opportunities on campus. For more information contact Noelke.
[caption id="attachment_38333" align="alignright" width="134"]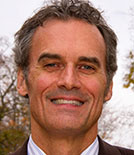 UW-L Chancellor Joe Gow[/caption]
Chancellor's Open Forum set for May 4
Chancellor Joe Gow will hold an Open Forum for the campus community
2 p.m. Monday, May 4
, in 1400 Centennial Hall. In addition to updates on the latest UW System news from Madison, Gow will answer questions and address other topics of interest. Work with supervisors to ensure office coverage.
CPR/AED training to be held May 5
University Police Officer David Pehl will hold the last American Heart Association CPR/AED training class of the semester from
6-9 p.m. Tuesday, May 5,
at the Police Services Building. Cost is $20, payable the night of class. Contact Pehl at 
dpehl@uwlax.edu
 with questions or to register.
Note construction details
Due to construction, note the following:
C-1 (Newman Center), C-8 (east of Mitchell Hall), and C-9 (south of Mitchell Hall) will close in March 2016 for construction and are anticipated to reopen in fall 2016. Anyone who purchases a permit for these lots will be directed to park in C-11 in mid-March when construction begins. C-11 is the temporary lot behind the stadium off Pine Street and across from C-8.
C-3 (Cowley Hall) will be available for parking through the 2015-16 academic year. The lot is anticipated to close in summer 2016 for the Cowley Science Labs Building Construction Project. Once construction begins, C-3 permit holders will be authorized to park in other commuter lots through Aug. 31.
Levels 1-3 of the parking ramp are anticipated to be available to commuters in late August. Note the ramp will shut down this summer for construction. Permit holders may park in other lots in summer.
Employee Enrichment Day is July 21; mark your calendars now
A day of informative sessions will enhance working experience at UW-L
. 
All employees are invited to the second Employee Enrichment Day
Tuesday, July 21
. Employees should work with supervisors to ensure office coverage. [caption id="attachment_40683" align="alignright" width="250"]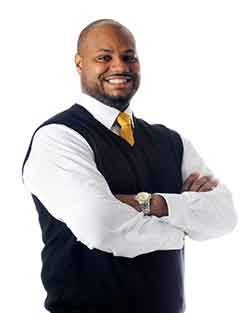 Alonzo Kelly[/caption] Here are some of the highlights:
Get motivated from keynote speaker Alonzo Kelly, Founder and Principal of the Kelly Leadership Group.
Network with campus colleagues.
Hear informative sessions to help you get ahead at work and home. Sessions tentatively planned: Employee benefits; University Personnel Service; Budget update; and more!
Take part in the flexible schedule. Sessions will be repeated, so you may attend morning or afternoon time slots.
It's free and open to all university employees.
Employee Enrichment Day is organized by the following staff: Rachel Berry, Tammy Haakenson, Carmen Hetzel, Brad Quarberg, Kathy Ring, Terry Stika, Sheila Wirkus and Becky Yoshizumi.
If you go— 
What: Employee Enrichment Day When: 9 a.m.-4:15 p.m. Tuesday, July 21 Where: Centennial Hall Cost: Free to all UW-L employees Plus: Wellness events beginning at 7:15 a.m.!
MTU circulator route to begin Sept. 8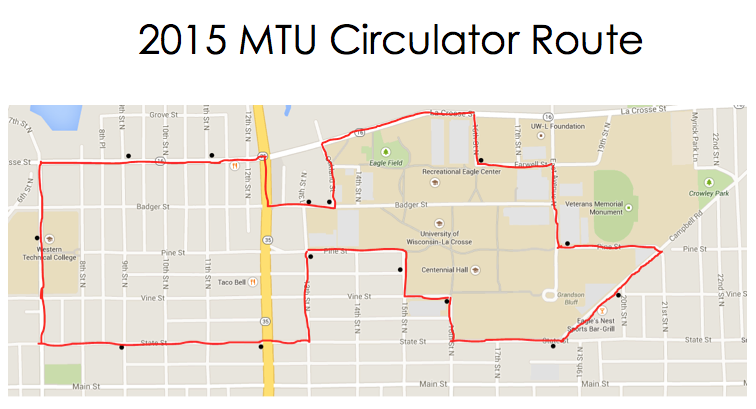 The La Crosse MTU Circulator Route will begin Tuesday Sept. 8
. 
The Circulator Route will operate Monday through Friday with 10-minute service from 7:10 a.m.-5:10 p.m. and 20-minute service from 5-10 p.m. The Circulator Route will provide access to most academic buildings; a quick connection between the Allied Health Center and Western Technical College; and better access between the student intensive residential areas, UW-L and WTC.

News and upcoming events
Men's

 and

Women's

 Track are hosting the WIAC Outdoor Championships starting at 10 a.m. Friday, May 1, and Saturday, May 2.

Baseball

 will play Hamline University Saturday, May 2. The first game will start at 4 p.m. and the second game at 7 p.m. This game will be played in honor of Autism Speaks to raise awareness of autism.

Baseball

 plays Edgewood College 1 p.m. Sunday, May 3. Love Your Melon will be selling their spring collection of hats at the game.
Mark your calendars for the 

14th Annual Eagle Eye Open

. This golf outing features UW-L athletic teams at each hole, and includes 18 holes with a cart, box lunch, dinner social, golf polo, a sleeve of golf balls, and the opportunity to enter a raffle and silent auction. Register 

here

 for this event.

Eagles Swimming

 has five new clinics scheduled for all swimmers. The Freestyle Clinic is April 27; the Backstroke Clinic is April 28; the Breaststroke Clinic is April 29; the Butterfly Clinic is May 1; and the Starts and Turns Clinic is May 2. For more information about each clinic and to register, visit 

http://swimming.uwlcamps.com/technical-swimming-clinics.cfm

.
Tennis will be holding their 

Spring Tennis Clinics

 Mondays and Wednesdays, May 4-20. Participants will play games against others in the same age range. There is a spot on a team for everyone regardless of skill level. For more information, click 

here

.
Follow the Eagles anytime online and through social media to have a chance to win prizes at athletic events 
Website |

uwlathletics.com

Facebook | uwleagles | 

Click here

 for each team

Twitter | @uwleaglefan

SnapChat | uwlathletics

Instagram | uwlathletics
Eaglez Kidz Klub
 | 
Group Outings
 | 
Get Involved
 | 
Maroon Platoon
 | 
Mascot
 | 
Tickets
 | 
Events & Promotions
 | 
L-Club
 | 
Donate

#UWL take a break
A haiku is a traditional form of Japanese poetry consisting of three lines. Use the simple rules five syllables, seven syllables, five syllables to share observations made around the ... 
read more
.

Jeff C. Bryan
, Chemistry, presented "Nuclear Science and Fiction in Star Trek" to the Illinois-Iowa section of the American Chemical Society at Loras College April 20.
The invited talk covered the current understanding of nuclear chemistry and physics as it is portrayed in the five Star Trek TV series.
Sam Cocks
,
Ronald Glass
 and
Mary Krizan
, all Philosophy, presented papers at the Wisconsin Philosophical Association Annual Meeting at UW-Stevens Point April 10. Cocks presented "Self-Awareness and Animals." Krizan presented "Extension in Aristotle contra Proclus."
Glass
presented "Ethical Relativism Reconsidered."  Eric Kraemer organized the conference.
Tushar Das
, Mathematics, presented an invited research talk, "Dimension rigidity in conformal structures," at the Geometry & Topology Seminar at Yale University 
April 21
. Several members of the
English Department
Bowled for Kids' Sake to support Big Brothers Big Sisters of the 7 Rivers Region April 10. The English Department team raised $1,060 to support the ongoing efforts of BBBS in the region, including match support, counseling and match activities for Littles and Bigs.
Lalita Hogan,
 English, presented "The Danger of Trusting Too Far: Rituparna Ghosh's 'The Last Lear'" for the Roundtable on Cognitive Perspectives in Renaissance Studies" at the annual meeting of the Renaissance Society of America March 29. Hogan also published a review of "
Et tu Brute
," a short film on Julius Caesar, directed by Arin Paul, at KolkataAlive March 15.
Tom Kernozek,
 Health Professions-Physical Therapy Program, and
Nathan Vannatta, 
DPT graduate '14, published "Patellofemoral Joint Stress during Running with Alterations in Foot Strike Pattern" in Medicine and Science and in Sports and Exercise, 2015, May, 47(5):1001-8.
Barrett Klein
, Biology, in addition to the recently published "Animal Behaviour" paper and wrote the introduction for an art exhibit catalog on which he served as juror in Austin, Texas. See 
http://issuu.com/artsciencegallery/docs/buzzcatalogue_20150411_1608
 and 
www.pupating.org
. 
Tom Seeley
and Klein collaborated on a study investigating the use of visuals in animal behavior publications and its decline over the course of journals' histories. The study, "The declining use of animal and behaviour images in animal behavior journals," will appear in print in the May issue of Animal Behaviour. See: 
http://authors.elsevier.com/sd/article/S0003347215000603
 and 
http://dx.doi.org/10.1016/j.anbehav.2015.02.004
.
Matthew A.M. Thomas
, Educational Studies, received the Faculty Grant Award from the Open Arab University-Kuwait for the Gulf Comparative Education Society. Thomas presented the paper "Comparing education with educators: Exploring the utility and sustainability of comparative education coursework for future teachers" in Dubai, United Arab Emirates, April 16-17. UW-L's 
mathematics team
won the meritorious award in the Mathematical Contest in Modeling (MCM) 2015. They scored in the top 15 percent among 2,137 international teams. Team members are
Jacob Gloe
,
Yu Guan
and
Fan Ou
, and are advised by
Song Chen
, Mathematics. During the past five years, UW-L students maintained a premium performance in local and international mathematical modeling competitions. Since 2011 Chen,
Eric Eager
and
Chad Vidden
have organized an annual regional Wisconsin Mathematical Modeling Contest at UW-L. — Chen and Vidden are currently directing a mathematical modeling club on solving problems for the local community. Those who enjoy puzzles and challenges, or want to discover the applications of math in sports ranking, marketing, fishing and Minecraft, contact the Mathematics Department about the Mathematical Modeling Club.

UW-L in the news
A summary of some of the stories about UW-La Crosse spotted in the news. "
UW-L chancellor blasts proposed cap on tuition
," April 15, Jackson County Chronicle. University of Wisconsin-La Crosse Chancellor Joe Gow doesn't see the value in Gov. Scott Walker's proposal to cap tuition at UW System campuses to ... "
DOT grant to aid in pedestrian and bicycle safety
," April 17, WEAU. Now thanks to a new grant from the Wisconsin Department of Transportation, the La Crosse Police Department and university police will have extra ... "
James Murray: UW-L partnerships benefit community
," April 17, La Crosse Tribune. One year ago, recent UW-L graduate Tyler Heinz opened Grand Bluff Running, a running specialty store, in downtown La Crosse. The idea for the ... "
An ultimate race will help UW-La Crosse students advocate and show their support for sexual ...
," April 17, La Crosse Tribune. Modeled after the TV show "The Amazing Race," the UW-La Crosse Ultimate Race takes place from 6 to 9 p.m. April 23, starting at Hoeschler Tower. "
'Tempest' brought to life on UW-L stage
," April 19, Jackson County Chronicle. The University of Wisconsin-La Crosse's production of William Shakespeare's "The Tempest" gives this year's graduates the opportunity to go out with ... "
Shelby Beckman: Switch should boost recycling at UW-L
," April 19, La Crosse Tribune. I'm concerned about the low recycling rates of my fellow students at the University of Wisconsin-La Crosse. Thankfully, the university recently ... "
UW-L fraternity hosts Sara Softball Tournament to honor fallen f - WXOW News 19 La Crosse, WI ...
," April 19, WXOW.com, La Crosse, WI. UW-La Crosse's Chi Phi fraternity hosted the third annual Sara Softball Tournament Saturday to honor Sara Hougom and ... "
Tours of historical La Crosse areas
," April 19, News8000.com - WKBT. ... have a history of the community and once you do then you see simply beyond just the individual," said UW-La Crosse History Professor Chuck Lee. "
UW-L cutting 45 positions, increasing enrollment to bridge budget gap
," April 21, La Crosse Tribune. Nearly 50 positions at the University of Wisconsin-La Crosse will be cut in order to balance an estimated $7.6 million reduction in state funding. "
Bracing for proposed cuts, UW-L plans to cut 45 jobs
," April 21, News8000.com - WKBT. The University of Wisconsin System is bracing itself for a possible $300 million cut. After two months of meetings UW-La Crosse has come up with a ... "
Flags at half-staff for UW-L grad who died in Japan
," April 22, The Courier Life News. Tomfohrde is a 2011 graduate of Auburndale High School and was enrolled at the University of Wisconsin-La Crosse. A service with full military ...

Murphy Library Fine Print newsletter now available
Read the spring 2015 edition of the 
Murphy Library Fine Print
 either as a
PDF
file or browse as a
periodical
to find the answers to questions such as:
Which e-books are the most popular?
How can the library's subscription to Morningstar help with your investment research?
How is the process to request items from other libraries changing?
What is the library's new service related to data sets?
Why were so many high-school students in Murphy Library this semester?
What are some new titles in reference — both in print and online?
The Fine Print is temporarily highlighted on the library home page and is available at 
Fine Print as a PDF file here
 or 
browse as an online periodical here
.

OCW Book Club to discuss 'Modern Motherhood: An American History' May 12
OCW's Book Club will discuss "Modern Motherhood: An American History" by Jodi Vandenberg-Daves from
noon-1 p.m. Tuesday, May 12,
in Murphy's Mug. The book, by the UW-L professor of 
History
 and 
Women's Studies

,
 is the first comprehensive history of motherhood in the U.S. The 344-page book, released by Rutgers University Press last May, explores the multiple and complex societal roles mothers have endured throughout history. The OCW discussion will focus on chapters seven and eight. Vandenberg-Daves will be at the discussion and will sign books. The book is available at Murphy Library and several other UW campuses via the library loan service, at the La Crosse Public Library and at Pearl Street Books. It's available at the University Bookstore and 
online
for $37.95.
Read more about Vandenberg-Daves and the book at "
UW-L author writes book on the history of motherhood
." The OCW Book Club is open to the campus community. Find out more about
OCW
.